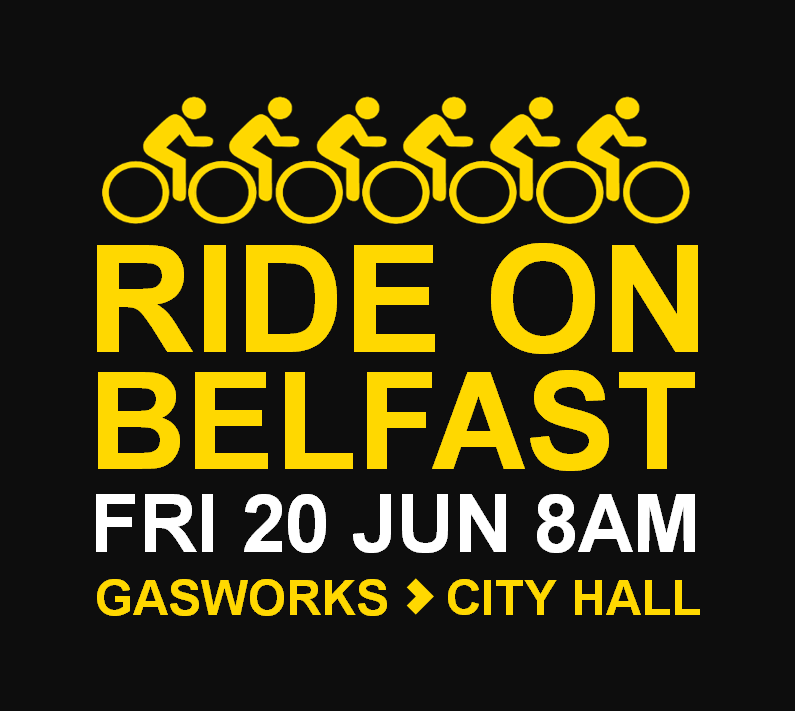 ,
On Friday 20th June 2014, the second annual Ride On Belfast event took to the city streets. Last year, around 70 people rode from the Gasworks to the City Hall, inspired by and assembled under the banner of The Fréd Festival. This year the theme was ruthless expansion, with the twin aims of:
being the biggest peloton in Belfast since the Giro d'Italia
encouraging people not used to cycle commuting to try it out
That was the simplest expression of what Ride On Belfast is about – people riding bicycles in Belfast for their own reasons, whether being the most practical way to work, for the school run, for their health or just the enjoyment. It's not a protest, it's not 'taking back' the roads, it's not causing aggro to others – just riding a bike.
But to make this year really special, we needed some new, innovative tactics..
The Weather Underground
Belfast is used to long arid summers, heatwaves lasting months and emergency air-drops of Mr Frostie supplies, but Fréd and his goons needed to be sure that precipitation wasn't going to affect Ride On Belfast. There was nothing for it – with a brass neck, we tweet-bombed all of the finest weather presenters on local television, and Frank Mitchell too.
And by jove, the BBC crew got into the spirit, with Angie Phillips retweeting, Barra Best tweeting his own predictions, and the fabulous Cecilia Daly (the new darling of Belfast cycling) going the extra mile..
And so, the day before Ride On Belfast gathered, we got our first official 'national' weather forecast!
[gigya src="https://abfiles.s3.amazonaws.com/swf/default_player_10.swf" style="background-color:transparent; display:block; box-shadow:0 0 1px 1px rgba(0, 0, 0, 0.15); min-width:349px; max-width:700px;" flashvars="image_option=small&imgURL=https%3A%2F%2Fd15mj6e6qmt1na.cloudfront.net%2Fi%2F9638374%2F300x300%2Fc&link_color=%23c70067&mp3Author=nigreenways&mp3Duration=45505.0&mp3LinkURL=https%3A%2F%2Faudioboo.fm%2Fboos%2F2273070-ride-on-belfast-gets-a-personalised-weather-forecast&mp3Time=11.43pm+21+Jun+2014&mp3Title=Ride+On+Belfast+gets+a+personalised+weather+forecast&mp3URL=https%3A%2F%2Faudioboo.fm%2Fboos%2F2273070-ride-on-belfast-gets-a-personalised-weather-forecast.mp3%3Fsource%3Dwordpress&player_theme=dark&rootID=boo_player_1&show_title=true&waveimgURL=https%3A%2F%2Fd15mj6e6qmt1na.cloudfront.net%2Fi%2Fw%2F724171″ width="600″ height="150″ allowFullScreen="true" wmode="transparent"]
And as it turned out, the weather was just about perfect on the day..
The Gathering
This year's Ride On Belfast was helped by some last minute news from Translink, as their early morning ban on bicycles on trains was eased to accommodate those travelling for the event:
This was a most welcome nod to active travel, and hopefully will give Translink and DRD pause to consider trialling this over a longer period.
The gathering crowd was impressed to see Northern Ireland's Transport Minister Danny Kennedy ride into the bunch with his new Cycling Unit in tow. Regular cyclist and MLA Sammy Douglas also joined in.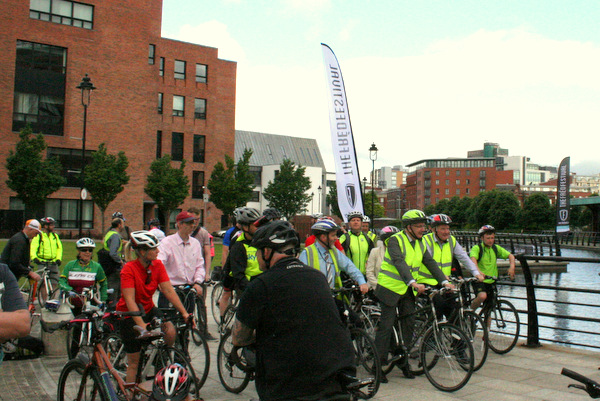 The Grand Départ
Under severe pressure from hungry commuters, the peloton set off a little earlier than planned. With a tight first turn from the Gasworks green onto the road, the Minister seized his opportunity and put in a devastating early kick. This split the peloton at the Ormeau Road crossing, and the breakaway group was never caught again. Apparently, Danny Kennedy's sprint finish down Donegall Place was a phenomenal sight.
[youtube https://www.youtube.com/watch?v=XbGdaI6zEqc?rel=0&w=600&h=338]
On The Open Road
This year Ride On Belfast took an extended trip around Belfast, leading to an iconic roll down Royal Avenue towards the City Hall. The PSNI officers took a relaxed back seat this year, yet the busier junctions were taken with ease. Notable pinch points (again) were the length of time to traverse Shaftesbury Square (not great for cycling at all) and the bus lane at Great Victoria Street (still not great for buses, never mind cycling). Holding the outside lane along Carrick Hill worked to control what was expected to be the busiest and fastest traffic of the ride. The traffic-restricted streets of the city centre were a joy.
[youtube https://www.youtube.com/watch?v=5uxRPmcbSYY?rel=0&w=600&h=338]
Selfie On Belfast
After the last year with Máirtín Ó Muilleoir as Lord Mayor, Belfast has fallen in love with the selfie. As well as people just taking them for the craic, See.Sense also ran a competition for the best selfie taken by their stand at Belfast City Hall..
https://twitter.com/GeoffCaves/status/479915437950763008
City Hall and well-earned grub
A huge thank you again to Travelwise and Belfast City Council for providing a free breakfast at the Bobbin Cafe (and the new option of a free coffee at Javaman) for those who completed Ride On Belfast. The City Hall grounds became a sea of bicycles for the morning, while local cycle lighting tech firm See.Sense showed off their wares and PSNI bike officers were busy security-marking bicycles for the punters.
Inside the City Hall, the breakfast queue stretched out the door (which is testament to the rise in participation at Ride On Belfast) and we're all grateful to the Bobbin staff for coping under severe pressure.
The Media
Straight after the event, our Twitter traffic was enough to set #RideOnBelfast trending locally – maybe next year "sectarianism" can be beaten by cycling? Little steps..
Paul Reilly brought the UTV cameras down to see what all the fuss was about, and importantly set the day in context with a reminder of the shocking scene of a child's bicycle under a truck at Ballyhackamore the day before. Along with the tragic death of 5 year old Conor O'Neill 9 days before, Bike Week had a strong focus on road safety and infrastructure improvement this year.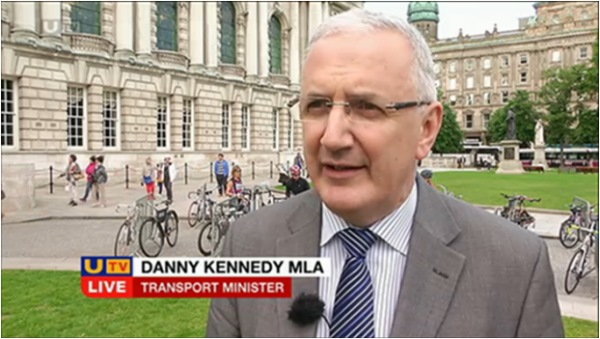 The Irish News covered the event in its Saturday edition. Might need to check that ear-to-shorthand connection though, as 'enthusiast' (a word I'm almost violently resistant to when it comes to practical cycling) somehow crept into a quote. And "giro d'italia" needs capitals. #facepalm
The Aftermath
Ride On Belfast turned out to be a really positive, fun event and this was reflected in social media comments directly afterwards. We had new cycling commuters, people trying out cycling for the first time in years, as well as familiar faces.
https://twitter.com/donnakmonteith/status/479984227816337409
In the end, the various breakaway groups which started from the Gasworks numbered 150, with close to 200 registered for the bicycle breakfast at City Hall. Overall that was a doubling of participation from 2013, which is a credit to all involved – The Fréd Festival, Travelwise (DRD) and Belfast City Council.