EXISTING GREENWAYS IN NORTHERN IRELAND
We're working towards a 1,000km network of greenways across the country, but there are general-use traffic-free paths already in existence. These are a mix of recent greenway openings, centuries-old towpaths, coastal walkways and a handful of former railway conversions which will (hopefully) form the backbone of the future network.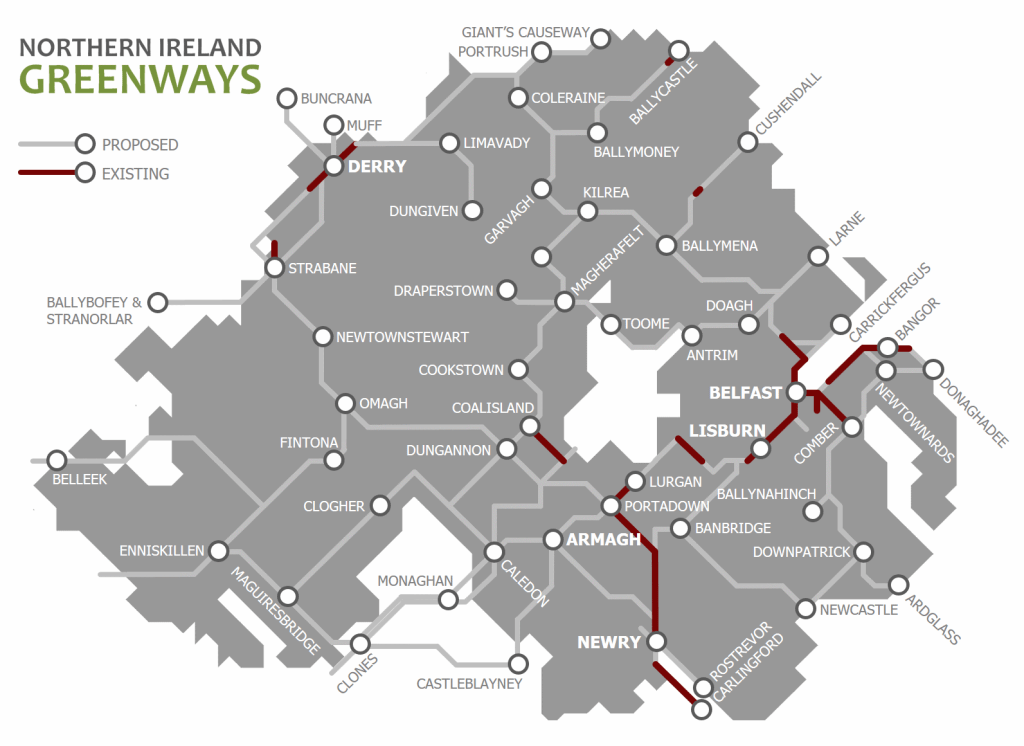 Click on the main project pages below for more information on the area, including resources which can point you in the direction of visiting these pathways.
GREENWAY PROJECTS WITH EXISTING SEGMENTS
An upgrade and extension of a coastal path to link Bangor with Groomsport and Donaghadee past Orlock Point.
A developing system of urban cycleways to link every part of the city and the surrounding greenway route network.
FORTH MEADOW COMMUNITY GREENWAY
A new £5.1m project to connect existing open spaces in north and west Belfast along a 12km route from Clarendon Playing Fields to the new Transport Hub in the city centre.
Following the route of the Lagan Canal out from Lisburn to Lough Neagh and down towards Lurgan to form a 29km greenway.
A 42km route linking the historic port of Newry with the working port at Greenore along Carlingford Lough shore all the way around to Dundalk.
Following the old 'Derry Road' line, this potential 60km greenway would run from Omagh through Strabane and along both banks of the Foyle into Derry.
A developing network of traffic-free routes through Derry linking communites with shopping, leisure, employment and transport hubs.