"Derry Urban Greenways"
A developing network of urban greenway routes on both sides of the River Foyle linking communites and increasingly looking outwards from the city core.
| | |
| --- | --- |
| Length | TBC kilometres |
| Estimate | Unknown |
| Timescale | 2020 to 2030 |
| Type | Urban greenways |
| Border area | No |
| Councils | Derry City Council |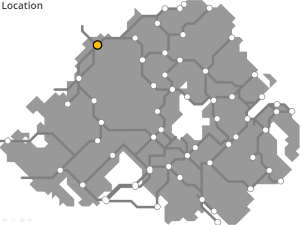 March 2018: [JH] This map is a work in progress (sorry!) please feel free to chip in..
GREENWAY PROJECTS WHICH INTERSECT
A 14km route from the current railway line at the Lough Foyle coastline in to Limavady and on through the countryside to Dungiven.
A 10km route proposed to run along the western edge of Lough Foyle linking the City of Derry with the town of Muff in Donegal.
Following the old 'Derry Road' line, this potential 60km greenway would run from Omagh through Strabane and along both banks of the Foyle into Derry.
Successful greenway projects are driven by the passion of local people. If you have an update to share, a story to tell about the history of the route or future of the Derry Urban Greenways, or if you want to submit a picture or video to this page, please get in contact.