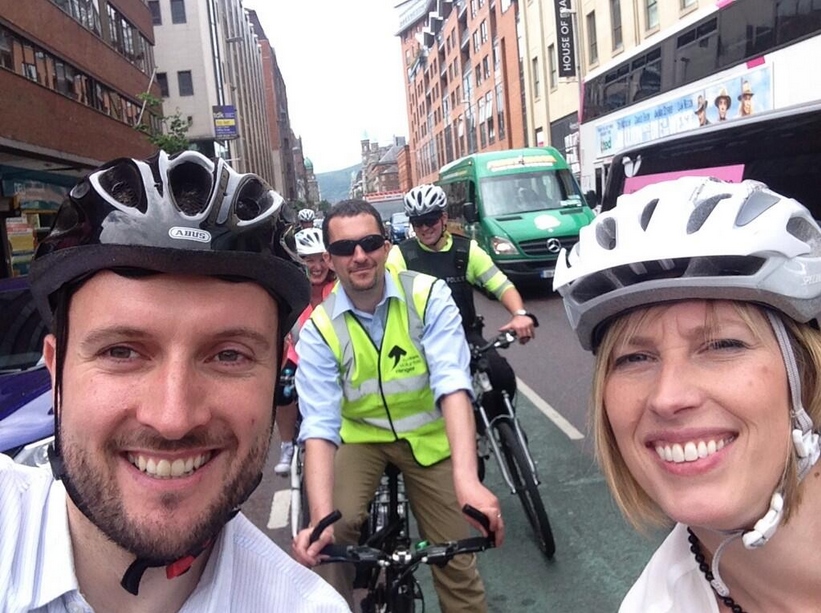 Cyclegeddon, an impressive political focus on cycling, rumbled for the first five weeks of the 2013-14 Northern Ireland Assembly session. Cycling has risen up the political agenda like never before in Northern Ireland.
The early throes of #Cyclegeddon started with the encouraging announcement of a new DRD Cycling Unit to co-ordinate policy across departments. This seems to have made MLAs more eager to probe into past, current and future policy ideas from various Ministers.
The scale of the response from MLAs is remarkable. Within the first five weeks of the 2013-14 Assembly term, 118 questions on cycling issues have been asked. This surpassed the 100 questions asked in the whole of the last year at Stormont.
The top 3 MLAs included the Chair of the new All Party Group on Cycling Chris Lyttle, and winner of the 2011-12 Most Engaged MLA on Cycling Peter Weir. But leading the way was a fresh face on cycling issues, Daithí McKay, who asked half of all cycling questions during Cyclegeddon.
Number of cycling questions asked by MLAs since 2/9/13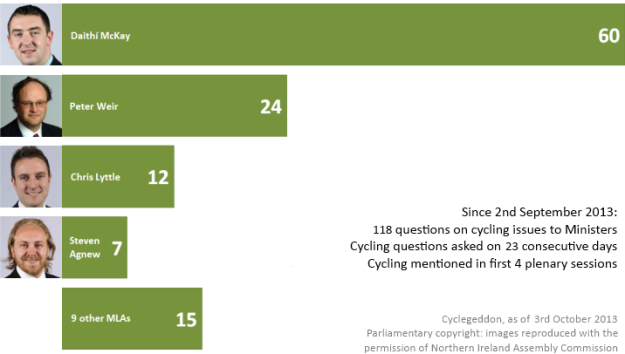 Cyclegeddon can be followed using the Northern Ireland Assembly's excellent AIMS Portal, but for easy searching every question asked is listed below, with a link to the answer when it becomes available.
The questions have been grouped below into general areas of interest.
Blocked cycle lanes (6)
Constituency business (20)
Cycling strategy (19)
Giro D'Italia (3)
International best practice (5)
Public transport (16)
Safety (19)
Schools (4)
Strategic investment (26)
Browse the topics, and if you don't find the issue you want raised being asked, simply contact your local MLA and get them involved.
Note: Question text has been truncated to include just the title of the department – full text available through the NI Assembly AIMS Portal.
Blocked cycle lanes
Whether [DRD] intends to introduce tougher penalties for drivers who park in cycle lanes?
ANSWERED Daithí McKay (AQW 25216/11-15, 4th Sept)
How much value does [DRD] believe there is in a cycle lane that has cars parked all the way along it?  What, if anything, is [DRD] doing to address the issue of cars parking in cycle lanes?
ANSWERED Steven Agnew (AQO 4474/11-15, 9th Sept)
Pursuant to AQW 25216/11-15, to detail the advisory cycle lanes that [DRD] is considering designating as mandatory cycle lanes.
ANSWERED Daithí McKay (AQW 25968/11-15, 19th Sept)
Whether [DRD] plans to introduce a penalty for drivers who park in advisory cycle lanes, particularly during peak times?
ANSWERED Daithí McKay (AQW 25969/11-15, 19th Sept)
Outline the legal standing and enforceability of Advisory Cycle Lanes. [DRD]
ANSWERED Peter Weir (AQW 26112/11-15, 23rd Sept)
Detail the number of fines which have been issued to people illegally parked in cycle lanes, in each of the last twelve months. [DRD]
ANSWERED Steven Agnew (AQW 26420/11-15, 27th Sept)
Constituency business
What plans [DRD] has to make access safer for pedestrians and cyclists at Dee Street Bridge which links the Titanic Quarter cycle lanes?
ANSWERED Sammy Douglas (AQO 4480/11-15, 2nd Sept)
Whether any cycling infrastructure schemes are planned for North Down in the next three years? [DRD]
ANSWERED Peter Weir (AQW 25420/11-15, 2nd Sept)
How much [DRD] has invested in cycling infrastructure in (i) Moyle; (ii) Ballymena; and (iii) Ballymoney in each of the last five years.
ANSWERED Daithí McKay (AQW 25261/11-15, 4th Sept)
An update on the Belfast Public Bike Hire Scheme. [DRD]
ANSWERED Daithí McKay (AQW 25357/11-15, 6th Sept)
The [DRD] Minister made a statement last week and referred to some up-and-coming projects, one of which was a public hire bike scheme for Belfast.  Can he give us some more detail on that please?
ANSWERED Rosie McCorley (AQT 4/11-15, 9th Sept)
Are there plans to extend the [bike hire] scheme beyond the city of Belfast to other parts of the North in future? [DRD]
ANSWERED Rosie McCorley (AQT 4/11-15, 9th Sept)
How much [DRD] has invested in cycling infrastructure in Belfast, in each of the last five years.
ANSWERED Chris Lyttle  (AQW 25413/11-15, 9th Sept)
How much [DRD] has invested in cycling infrastructure in (i) North Down; and (ii) Ards in each of the last five years.
ANSWERED Peter Weir (AQW 25487/11-15, 10th Sept)
Whether [DRD] has plans to develop a cycle route from Victoria Park to Holywood?
ANSWERED Chris Lyttle  (AQW 25539/11-15, 11th Sept)
How [DRD] plans to improve cycling safety and infrastructure in Ballymena.
ANSWERED Daithí McKay (AQW 25543/11-15, 11th Sept)
An update on [DOE's] approval of the proposed No Cycling By-Laws for North Down Borough.
ANSWERED Kieran McCarthy (AQW 25785/11-15, 17th Sept)
Are [there] any plans to complete the cycle lane between Tillysburn Roundabout and Holywood Exchange on the seaward side of the road? [DRD]
ANSWERED Steven Agnew (AQW 25810/11-15, 17th Sept)
When the feasibility study for a cycle/pedestrian footbridge over the River Lagan, close to the Gasworks site, will be completed. [DRD]
ANSWERED Daithí McKay (AQW 25970/11-15, 19th Sept)
Detail the number of bicycle stands that will be installed in each council area in the next three years. [DRD]
ANSWERED Daithí McKay (AQW 26103/11-15, 23rd Sept)
Whether there are plans for the provision of new cycle lanes in North Down, and if so, to detail the location? [DRD]
ANSWERED Peter Weir (AQW 26176/11-15, 24th Sept)
What proportion of the cycle lane provision in North Down has been provided within the last five years? [DRD]
ANSWERED Peter Weir (AQW 26169/11-15, 24th Sept)
Detail the location and extent of the cycle lane provision in North Down. [DRD]
ANSWERED Peter Weir (AQW 26168/11-15, 24th Sept)
What consideration [DRD] is giving to developing and funding a cycling greenway between Holywood and Belfast city centre.
ANSWERED Steven Agnew (AQW 26419/11-15, 27th Sept)
[DRD] assessment of the proposal for a cycling and walking greenway from Victoria Park via Alderman Tommy Patton Memorial Park, the railway line to George Best City Airport and Belfast Harbour Estate to link with the North Down Coastal Path at Holywood.
ANSWERED Chris Lyttle (AQW 26463/11-15, 30th Sept)
What plans [DRD] has to upgrade the road surface at the Dee Street/Mersey Street junction, particularly for cyclists travelling over the Dee Street bridge, in order to link with the Comber Greenway. [Priority Written]
ANSWERED Sammy Douglas (AQW 26527/11-15, 1st Oct)
Cycling strategy
An update on [DRD's] proposal to allow all taxis to use bus lanes.
ANSWERED Kieran McCarthy (AQO 4481/11-15, 2nd Sept)
What facilities exist for trial biking; and if [DARD] plans to improve the facilities?
ANSWERED Steven Agnew (AQW 25340/11-15, 6th Sept)
Outline the initiatives in place to increase the percentage of journeys taken by bicycle? [DRD]
ANSWERED Peter Weir (AQW 25653/11-15, 12th Sept)
Outline the plans [DRD] has to cycle-proof new transport policies.
ANSWERED Peter Weir (AQW 25690/11-15, 13th Sept)
What steps [DRD] is taking to encourage Departments and Local Authorities to work together to ensure that the Cycle to Work scheme assists in implementing sustainable transport objectives.
ANSWERED Daithí McKay (AQW 25716/11-15, 16th Sept)
What steps [DRD] is taking to promote the Cycle to Work scheme.
ANSWERED Daithí McKay (AQW 25717/11-15, 16th Sept)
Detail the number of miles cycled in 2012 compared with 2011, broken down by constituency. [DRD]
ANSWERED Daithí McKay (AQW 25776/11-15, 17th Sept)
How [DRD] measures the number and percentage of people cycling; and to detail the latest figures?
ANSWERED Daithí McKay (AQW 25967/11-15, 19th Sept)
[DRD's] assessment of whether unmaintained cycle lanes act as a deterrent to people considering cycling.
ANSWERED Daithí McKay (AQW 26184/11-15, 24th Sept)
Whether Roads Service have made an assessment of cycle lane lines that require re-painting. [DRD]
ANSWERED Daithí McKay (AQW 26183/11-15, 24th Sept)
Whether [DRD] will commission research, similar to that published by the Australian government, measuring the benefit to the economy each time a person cycles or walks for at least twenty minutes to and from work.
Daithí McKay (AQW 26314/11-15, 26th Sept)
Outline the strategies being pursued to increase the number of people using cycling as a means of transport. [DRD]
ANSWERED Peter Weir (AQW 26330/11-15, 26th Sept)
If the cycle to work scheme has been promoted equally within all public service departments and organisations that are applicable and if the scheme is advertised annually to all civil servants. [DFP]
ANSWERED Daithí McKay (AQW 26378/11-15, 27th Sept)
Detail how many members of staff in each department have availed of the cycle to work scheme in each year since its introduction. [DFP]
ANSWERED Daithí McKay (AQW 26376/11-15, 27th Sept)
I understand that the [Integrated Transport] pilot scheme is mostly about public transport.  What role does the Minister envisage that cycling can play in the integration scheme?
ANSWERED Anna Lo (AQO 4667/11-15, 30th Sept)
What measures are in place to ensure that bus drivers do not park in cycle boxes? [DRD]
ANSWERED Daithí McKay (AQW 26455/11-15, 30th Sept)
What discussions [DRD] has had with the PSNI on enforcing cycle boxes?
ANSWERED Daithí McKay (AQW 26454/11-15, 30th Sept)
Detail the number of complaints received by (i) [DRD]; and (ii) Translink regarding buses stopping in an a cycle box.
ANSWERED Daithí McKay (AQW 26453/11-15, 30th Sept)
**Belfast Telegraph story on this Assembly Question**
Whether [DRD] plans to introduce legislation, taking into account jurisdictional differences, that would share the aims and objectives of the Active Travel Bill in Wales.
ANSWERED Daithí McKay (AQW 26640/11-15, 1st Oct)
Giro D'Italia
How [DRD] will ensure that the Giro D'Italia 2014 leaves a lasting legacy for everyday cycling.
ANSWERED Chris Lyttle  (AQW 25537/11-15, 11th Sept)
What improvements to cycling provision [DRD] aims to have in place before the start of the Giro Italia 2014?
ANSWERED Daithí McKay (AQW 26026/11-15, 20th Sept)
[DETI] assessment of the recent announcement that the route of the Giro d'Italia 2014 will not include the Mournes.
ANSWERED Chris Hazzard (AQW 26571/11-15, 1st Oct)
International best practice
[Does DRD have] any plans to explore the possibility of bringing the international cycling conference, Velo-city, to Belfast?
ANSWERED Chris Lyttle  (AQO 4521/11-15, 3rd Sept)
What examination has been or is intended to be done, either through the new unit or [DRD], of cycling infrastructure models in other jurisdictions to see what lessons can be learned for Northern Ireland?
ANSWERED Peter Weir (AQO 4474/11-15, 9th Sept)
Whether there has been a study completed on Wales' travel legislation to ascertain what lessons can be learned for Northern Ireland, particularly in relation to cycling? [DRD]
ANSWERED Peter Weir (AQW 25589/11-15, 12th Sept)
Whether [DRD] has any plans to apply to bring the international cycling conference, Velo City, to Northern Ireland?
ANSWERED Chris Lyttle  (AQW 25633/11-15, 12th Sept)
To ask the Minister of Education whether, like the [DRD] Minister, he wants to be a revolutionary in cycling, and, to that end, will he look at the promotion and facilitation of cycling in places such as Denmark and Holland and at the lessons we can learn here from that?
Daithí McKay (AQT 58/11-15, 16th Sept)
Public transport
What consideration [DRD] has given to introducing bicycle racks on Ulsterbus and Metro services?
ANSWERED Daithí McKay (AQW 25213/11-15, 3rd Sept)
Whether [DRD] has given consideration has to installing vertical storage facilities for bicycles on trains, to provide more space for cyclists and other passengers?
ANSWERED Daithí McKay (AQW 25214/11-15, 3rd Sept)
If [DRD] has any plans to allow cyclists to bring their bicycle on to trains at all times?
ANSWERED Daithí McKay (AQW 25264/11-15, 5th Sept)
Detail the number of secure bicycle parking spaces at each (i) train halt; (ii) train station; and (iii) bus station. [DRD]
ANSWERED Daithí McKay (AQW 25681/11-15, 13th Sept)
How many bicycles were carried on trains, in each of the last five years? [DRD]
ANSWERED Daithí McKay (AQW 26027/11-15, 20th Sept)
How many bicycles were carried on buses, in each of the last five years? [DRD]
ANSWERED Daithí McKay (AQW 26028/11-15, 20th Sept)
(Pursuant to AQW 25213/11-15) What assessment was made of the extent to which bicycle racks obscure driver vision and affect driving performance; and whether [DRD] considered the experiences of other countries that introduced bicycle racks when making this decision.
ANSWERED Daithí McKay (AQW 26029/11-15, 20th Sept)
What strategy is being pursued to integrate transport facilities, including cycling? [DRD]
ANSWERED Peter Weir (AQW 26111/11-15, 23rd Sept)
Whether the new [DRD] cycling unit will consider the use of bicycles on public transport?
ANSWERED Daithí McKay (AQW 26230/11-15, 25th Sept)
Pursuant to AQW 26029/11-15, when Translink will be able to provide bicycle racks on either the inside or the exterior of a bus. [DRD]
ANSWERED Daithí McKay (AQW 26367/11-15, 26th Sept)
What consideration [DRD] has given to developing secure covered bicycle storage facilities at train stations, that are monitored by CCTV, similar to those used by Mersey Rail.
ANSWERED Steven Agnew (AQW 26493/11-15, 30th Sept)
Pursuant to AQW 25681/11-15, to detail the stations in which bicycle storage will be expanded; and the number of new spaces that are being considered at each. [DRD]
ANSWERED Daithí McKay (AQW 26440/11-15, 30th Sept)
Whether [DRD] plans to increase the capacity of railways to enable cyclists to bring their bicycles onto trains before 9.30am.
ANSWERED Steven Agnew (AQW 26579/11-15, 1st Oct)
Detail the planned investment for encouraging mixed bicycle and rail transport use. [DRD]
ANSWERED Chris Lyttle (AQW 26521/11-15, 1st Oct)
What correspondence there has been between Translink and bus providers regarding cycling storage facilities on buses. [DRD]
ANSWERED Daithí McKay (AQW 26511/11-15, 1st Oct)
Whether [DRD] will include specifications for bicycle storage when procuring for buses?
ANSWERED Daithí McKay (AQW 26510/11-15, 1st Oct)
Pursuant to AQW 26028/11-15, how [DRD] plans to ensure that the number of cyclists using buses and related demand levels are measured.
ANSWERED Daithí McKay (AQW 26641/11-15, 1st Oct)
Safety
Detail the number of cyclists killed or seriously injured in road traffic accidents, in each of the last five years. [DOE]
ANSWERED Daithí McKay (AQW 25215/11-15, 3rd Sept)
Whether Roads Service have consulted with cycle groups regarding proposed changes to the East Bridge Street junction, Belfast? [DRD]
ANSWERED Daithí McKay (AQW 25259/11-15, 4th Sept)
Outline (i) the safety issues that [DRD] has identified for cyclists using the route from Central Station to the Belfast City Centre; and (ii) how these will be addressed prior to the introduction of the Belfast Public Bike Hire Scheme.
ANSWERED Daithí McKay (AQW 25260/11-15, 4th Sept)
What actions or initiatives are in place to reduce the number of road deaths and serious injuries amongst cyclists? [DOE]
ANSWERED Peter Weir (AQW 25331/11-15, 5th Sept)
[DRD] assessment of whether the Highway Code is adequately providing for cyclists and other road users.
ANSWERED Mervyn Storey (AQW 25390/11-15, 6th Sept)
Has [DRD] had any discussions with cycling clubs regarding the use of public highways and road safety.
ANSWERED Mervyn Storey (AQW 25392/11-15, 6th Sept)
Outline the legislation that is applicable to cyclists on public highways. [DRD]
ANSWERED Mervyn Storey (AQW 25394/11-15, 9th Sept)
What steps [DRD] is taking to address the rise in cyclists killed or seriously injured?
ANSWERED Chris Lyttle  (AQW 25536/11-15, 11th Sept)
What action [DOE] is taking to prevent cyclists being killed or seriously injured on roads?
ANSWERED Daithí McKay (AQW 25631/11-15, 12th Sept)
What proposals [DOE] has to make roads safer for cyclists?
ANSWERED Daithí McKay (AQW 25637/11-15, 12th Sept)
What plans [DRD] has to produce a cycle safety strategy?
ANSWERED Daithí McKay (AQW 25680/11-15, 13th Sept)
How many adverts [DOE] has commissioned, and plans to commission, to raise awareness of cyclist safety among motorists?
ANSWERED Daithí McKay (AQW 25692/11-15, 16th Sept)
Outline any new [DRD] initiatives to encourage cycling.
ANSWERED Peter Weir (AQW 25793/11-15, 17th Sept)
[Does DRD] plan to review the Highway Code to account for the safety needs of cyclists?
ANSWERED Daithí McKay (AQW 25883/11-15, 18th Sept)
What steps are being taken to improve road safety for cyclists? [DRD]
ANSWERED Peter Weir (AQW 25942/11-15, 19th Sept)
Given the increase in the number of cyclists using rural roads, what plans [DOE] has to enhance road safety for cyclists?
ANSWERED David Hilditch (AQW 26043/11-15, 20th Sept)
What is the legal enforceability of the Highway Code as it pertains to measures to protect cyclists? [DOE]
ANSWERED Peter Weir (AQW 26063/11-15, 20th Sept)
Whether [DRD] has considered introducing awareness measures for motorists similar to Transport for London's 'look out for cyclists when getting out' campaign?
ANSWERED Daithí McKay (AQW 26113/11-15, 23rd Sept)
Schools
What progress has [DRD] made towards meeting the targets of children walking and cycling to school, as set out in the Programme for Government 2011-2015?
ANSWERED Chris Lyttle  (AQW 25538/11-15, 11th Sept)
What steps [DOE] has taken to increase the opportunities for children to learn cycling safety at school?
ANSWERED Peter Weir (AQW 25585/11-15, 11th Sept)
What level of cycling is contained within the school sports curriculum? [DEd]
ANSWERED Daithí McKay (AQW 25638/11-15, 12th Sept)
Whether [DRD] have had discussions with the Department of Education regarding cycle training for all primary and secondary school-age pupils.
ANSWERED Daithí McKay (AQW 25714/11-15, 16th Sept)
Strategic investment
In light of the Westminster Government's plan to provide £94m to boost cycling infrastructure, what finance [DRD] will make available to ensure that the cycling infrastructure for commuters and leisure cyclists is improved?
ANSWERED Karen McKevitt (AQO 4474/11-15, 2nd Sept)
How many cycle hoops have been installed in each council area in each of the last five years? [DRD]
ANSWERED Daithí McKay (AQW 25212/11-15, 3rd Sept)
What plans does [DRD] have to raise the annual spend on cycling infrastructure in Northern Ireland from approximately 58p per person each year to at least £10 per person each year, as suggested by the 'Get Britain Cycling' report that was roundly endorsed by the Westminster Parliament?
ANSWERED Chris Lyttle  (AQO 4474/11-15, 9th Sept)
Is [DRD] satisfied that the investment in cycling infrastructure is sufficient to make a real impact on the healthy lifestyle and change to the environment that he called for in an earlier reply?
ANSWERED Karen McKevitt (AQO 4474/11-15, 9th Sept)
Whether any funding allocated to the A5 road scheme has been reinvested in cycling? [DRD]
ANSWERED Chris Lyttle  (AQW 25535/11-15, 11th Sept)
Detail the capital work schemes aimed at increasing (i) pedestrian; and (ii) cyclist travel in each of the (a) last; and (b) next five years. [DRD]
ANSWERED Daithí McKay (AQW 25542/11-15, 11th Sept)
How [DRD] estimates future levels of bicycle use when predicting spending on roads?
ANSWERED Daithí McKay (AQW 25544/11-15, 11th Sept)
Whether [DHSSPS] is promoting the need for proper cycling and pedestrian infrastructure as an aid in improving public health?
ANSWERED Daithí McKay (AQW 25634/11-15, 12th Sept)
What communication [DHSSPS] has had with [DRD] on the link between better cycling infrastructure and improved levels of public health?
ANSWERED Daithí McKay (AQW 25635/11-15, 12th Sept)
[DRD's] assessment of the Get Britain Cycling Report which recommends that a minimum of £10 per head is spent annually by the Government on cycling.
ANSWERED Peter Weir (AQW 25650/11-15, 12th Sept)
Whether [DRD] has any plans to increase spending on cycling initiatives?
ANSWERED Peter Weir (AQW 25651/11-15, 12th Sept)
Why there are no measurable targets on the percentage of cycling journeys in [the DRD] publication, Building an Active Travel Future for Northern Ireland?
ANSWERED Peter Weir (AQW 25652/11-15, 12th Sept)
Whether there are plans for strategic long term infrastructure for cycling? [DRD]
ANSWERED Peter Weir (AQW 25654/11-15, 13th Sept)
If there are plans to review the guidance on cycle-friendly planning and design, in conjunction with local authorities and other partners, to ensure that opportunities to improve cycling conditions are incorporated, wherever possible, into roads, traffic planning schemes and all planned road maintenance work. [DRD]
ANSWERED Daithí McKay (AQW 25715/11-15, 16th Sept)
How many staff will be employed in [DRD's] cycling unit?
ANSWERED Gregory Campbell (AQW 25753/11-15, 16th Sept)
What plans [the Assembly Commission] has to promote cycling to people based in Parliament Buildings.
ANSWERED Daithí McKay (AQW 25779/11-15, 17th Sept)
What plans [DFP] has to make the Stormont Estate more facilitative for cyclists.
ANSWERED Daithí McKay (AQW 25780/11-15, 17th Sept)
Are [there] any plans to increase the cycling parking provision within Parliament Buildings car parks? [Assembly Commission]
ANSWERED Daithí McKay (AQW 25781/11-15, 17th Sept)
Outline [DRD] plans following the recent announcement by H.M. Government on additional investment for cycling.
ANSWERED Peter Weir (AQW 25791/11-15, 17th Sept)
What plans [DRD] has to increase spending on cycling initiatives, shown as a proportion of total departmental spend?
ANSWERED Peter Weir (AQW 25794/11-15, 17th Sept)
Detail the total kilometres of cycle lanes in each district council area. [DRD]
ANSWERED Daithí McKay (AQW 25803/11-15, 17th Sept)
Has [DRD] considered piloting the use of segregated cycle lanes using planters and armadillos, such as those that are being introduced in London?
ANSWERED Daithí McKay (AQW 25875/11-15, 18th Sept)
Whether [DRD] plans to adopt derelict railway line routes to create cycling and pedestrian green ways?
ANSWERED Daithí McKay (AQW 25966/11-15, 19th Sept)
How many new cycling/pedestrian bridges are currently under consideration by [DRD]; and to detail the status of each one?
ANSWERED Daithí McKay (AQW 26030/11-15, 20th Sept)
How many extra cycle lanes have been provided, in each of the last five years? [DRD]
Peter Weir (AQW 26170/11-15, 24th Sept)
and finally…
Regional Development Committee probes the new DRD Cycling Unit
On Wednesday 2nd October the Regional Development Committee heard a briefing from DRD officials on the October Monitoring Round and various budgetary moves by the department. Deputy Chair Seán Lynch took the opportunity to ask about how much clout the new DRD Cycling Unit would have:
Seán Lynch: "You mentioned the £2m in relation to Bike It for schools, it comes at a time when the Department is creating a new Cycle Unit, will this new Cycling Unit have a capital budget of its own?"
DRD official: "That might come in later, but the intention is to try to draw together the various aspects of cycling from across the Department into one central place, and the intention would be then to consolidate elements of capital funding from different parts of the Department to devote towards cycling, and taking cycling initiatives forward."
Seán Lynch: "What you're saying is it would have a capital budget of its own, that particular unit?"
DRD official: "The budget would be coming from different parts of the Department to that unit. It may be they're the ones who decide then where the money's spent. In terms of actually spending it on the ground; if it's putting a new lane, for example, beside a road, it would be [Roads Service] who would spend it, but they would be the ones deciding where the budget would be going, would be where I see it working, once they get this funding put together, and also funding from other parts of the Department pulled in."