Belfast cyclists have again demonstrated that illegal parking on cycle lanes is creating danger on our roads and wasting public money.
16 volunteers – ordinary everyday people getting to work – logged 143 journeys over 5 days in November 2012, encountering 878 illegally parked vehicles along the way.
The Reclaim Belfast's Cycle Lanes 2 survey shows that a typical cycling trip has an illegally parked vehicle blocking every 5 minutes or 3 times per journey. But what concerns cyclists most, and remains ignored by DRD, is that Belfast's rush hour cycle lanes are blocked every 250 metres by an illegally parked vehicle.
It may be difficult to grasp the scale and difficulties caused by this problem if you don't cycle in rush hour. Participants took video footage of some journeys during the survey week so that you can share the experience:
[youtube http://www.youtube.com/watch?v=OvqGnlhWHGs]
.
The survey has grown to be city-wide, but some areas have regular and stubborn clusters of illegal parking on cycle lanes. Here were the worst 5 roads by average number of blocks per trip:
Shankill Road – 49
Springfield Road – 27
Castlereagh Road – 15
Crumlin Road – 15
Cregagh Road – 7
A new Belfast record was set on the Shankill Road with 53 illegally parked cars blocking the cycle lane on one trip. The survey shows once more the useless nature of advisory cycle lanes, legally unenforceable except during urban clearway times. DRD compromise this 'cycling'  infrastructure from the start to allow parking outside rush hour, but fail to make them available to cyclists during rush hour.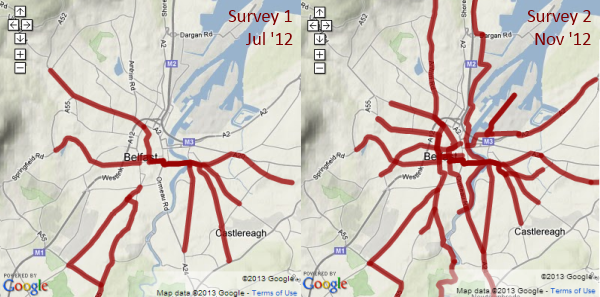 The outcome of the first survey in July 2012 was largely ignored. DRD promises of reviewed parking enforcement making a difference have not borne fruit.
Belfast commuter cycling grew 60% in the decade to 2011; there are thousands of cyclists on the city's roads every day. Belfast is in the top 10 UK cities for cycle commuting increases. The Department for Regional Development (DRD) say they have spent millions on Belfast cycling, but they are not providing a cycle network – they've created a network of parking lanes. This is against a backdrop of cycling casualties continuing to rise, which bucks the trend of safer roads in Northern Ireland.
Reclaiming our cycle network is important for many reasons:
safety of vulnerable road users
increasing cycling rates among women, school children and the elderly
decreasing rush hour congestion
improved health for the local population
better environment for our city
Pressure must be brought on DRD and Minister Danny Kennedy to stop ignoring the problems which hold down sustainable transport in Belfast . Lack of DRD enforcement is putting some of the most vulnerable road users in harm's way every day.
Our piecemeal cycle network lies useless, while at the same time DRD plans to flood Belfast's bus lanes with over 2,000 taxis. DRD only pay lip service to sustainable transport. Belfast cyclists are determined to change this.
Let your MPs, MLAs, Councillors, DRD and Roads Service know how your cycling journey is made more dangerous by illegal parking. Only through concerted action can we hope to see real change.
The people behind Reclaim Belfast's Cycle Lanes are:
Belfast commuters
Northern Ireland Greenways blog