With all eyes on Bus Rapid Transit as the holy grail of Belfast's transport future, simple measures to encourage cycling as a means of commuting are being ignored, for the sake of a few parked cars.
Belfast residents are currently grumbling about road works in the city centre. This is part of the Sustainable Transport Enabling Measures (STEM) redesign of the streets to accommodate the future bus rapid transit system. Bad enough are the delays associated with traffic cones and reduced road space, but motorists can see the writing on the wall – new bus lanes are taking priority away from the car.
But even worse, there's talk of cyclists taking over Belfast too! That rare species in these parts, the cycle lane, is apparently going to make its first real stamp on the city centre. Comments to recent articles in the newspapers have been full of bluster and rage.
Forgetting for a moment the rose-tinted press releases and sensational articles, are we about to redesign our city to suit both the bus and the cyclist? Belfast Bike Lanes cuts through the bull and explains things very succinctly – new cycle lanes will be very thin on the ground. The Department themselves even admit that new dedicated cycle lanes in the city will only cover 1km  – even if the new bus lanes will be shared space.
But look beyond the strategic routes and you begin to see the real level of commitment to creating dedicated cycling space in Belfast city centre. Within the centre there's just one separated mandatory cycle track, 240 metres long, running along Alfred Street. This is plagued by illegal parking and is seen as a handy storage area for commercial bins – but it's an example of what the south side of the centre could look like.
To the south of the City Hall is the major office district in Belfast. Shop density is low, leaving many streets with a sole purpose of providing parking spaces for city centre shoppers. Looking at the STEM plans, and white paint appearing on the streets, it seems the southern approach roads are about to be reprioritised too. Alfred Street's one-way direction is about to reversed and Linenhall Street will get an identical northbound one-way stub behind the City Hall.
But wait – if Alfred Street can accommodate a mandatory cycle lane, why is this not being considered for Linenhall Street, which is approximately 5 metres wider? The plans indicate the 17 existing on-street parking bays on both sides to Franklin Street are going to be designed into the street architecture. No cycle lane here, Belfast! Better to have one row of 9 parked cars than high quality separated access for truly sustainable transport.
And never mind that the Alfred Street cycle lane stops at a crossroad junction, where currently a countrybound cyclist needs to switch lanes across the junction, giving way to traffic from 4 different directions. It seems never to have occurred to Roads Service to extend this mandatory lane to Ormeau Avenue, creating a tiny section of a quality cycling 'highway' to encourage better access to the city centre. Even shorter-sighted thinking appears to be behind the Linenhall Street decision.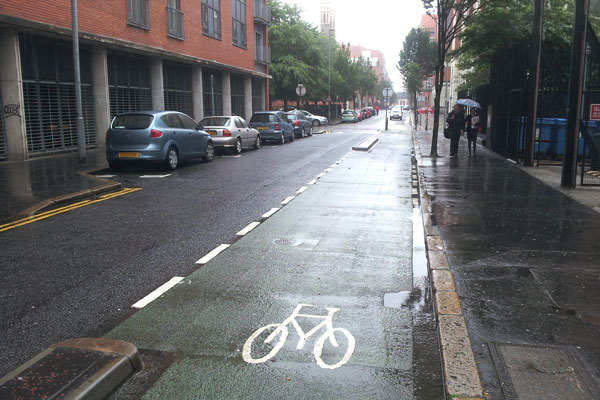 The 'square' of streets lying between Great Victoria Street, City Hall, Cromac Street and Bankmore Street serve as little more than one large 486 space car park, with a large part of traffic simply rotating round looking for an elusive free space. This area is primed for reprioritisation and reduction in motor traffic. But instead of designing in new ways of travelling, Roads Service is further hard-wiring in the car as the dominant users of these streets.
Removing on-street parking bays on the east side of Alfred Street (28 spaces) and Linenhall Street (36 spaces) would allow mandatory lanes to run the full length of these streets and send a powerful message about Belfast's sustainable transport aspirations. This kind of opportunity would be automatically grasped by planners in Amsterdam or Copenhagen, but in Belfast and Northern Ireland we lack concrete targets, budget or vision to implement relatively cheap yet important changes. Why would Roads Service think to plan new cycle lanes when they're not compelled to?