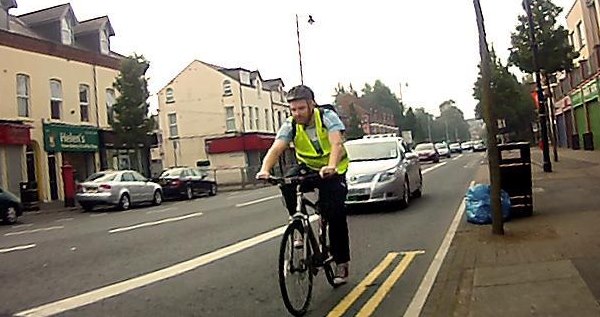 Roads Service are about to make Belfast roads significantly more dangerous for cyclists, and risk jeopardising  commuter cycling levels. A consultation on plans to open bus lanes to all taxis is closing shortly, but what is driving their preferred option?
Roads Service's stated preference is to allow taxis to use bus lanes, despite presenting no evidence of an overall benefit, save to taxi firms and drivers. Meanwhile, practically the only form of city-bound cycling infrastructure in Belfast is about to get much busier, and more dangerous.
The taxi situation
Currently bus lanes are dedicated space for buses, cyclists, motorcyclists and public hire taxis (black hackney cabs and 'taxi buses'). These taxis had a monopoly in Belfast on the ability to pick up passengers from the street. Private hire taxis were only available through prior booking, and had no access to bus lanes. Although the legislation is NI-wide, I'm focusing on Belfast, as the majority of NI's bus lanes are on this city's arterial routes.
From 1st September new taxi regulations came into force which effectively levelled the playing field in Northern Ireland – all taxis operate under one system, and any taxi can be hailed and pick up a fare from the roadside.
Now that the two-tier system is defunct, Roads Service are considering three options for future access to bus lanes:
no access to taxis (not favoured – "removing a facility, that is currently operational without any apparent major impact, would be hard to defend")
access to wheelchair accessible taxis only (possibility – "This could be a viable option providing it does not present practical difficulties in terms of enforcement, and identifying accessible vehicles. Some potential users would view limiting access to accessible taxis only as being overly restrictive.)
access to all taxis (preferred – "to preclude a section of taxis … would disadvantage both the taxi, as a business entity, and the intending passenger, who as a user may reasonably expect a taxi to stop when hailed.")
In the absence of genuine opposition from cyclists and groups interested in sustainable travel, implementation of Option 3 will follow the consultation period.
Why does this matter to cyclists?
Belfast has very little dedicated cycling infrastructure, and commuter cyclists rely on the relative calm of bus lanes for a safer journey during rush hour. Numbers of cyclists appear to be on the increase, and although hard targets for uptake don't exist in Northern Ireland, we have 'aspirations' to increase the number of journeys by bike.
But what stops more people from commuting by bike? Belfast City Council's response to a recent consultation on the draft Northern Ireland Active Travel Strategy is instructive. A short council staff survey on attitudes to cycling (and walking) showed that "a lack of adequate infrastructure closely coupled to personal safety issues have been the primary barriers to the uptake of active travel in Belfast" and further pointed to the Department for Transport Local Transport Note 2/08 on Cycle Infrastructure Design which "recommends that traffic volumes and speeds should be reduced where possible to create safer conditions for cycling."
Allowing access to competitive commercial operators will both increase the volume of traffic and add more fast vehicles to bus lanes. How does this encourage more people to cycle, when instances of pressure from slowed taxis and dangerous overtaking attempts will increase?
The published considerations for and against
Negatives
"any increase in accessibility to bus lanes has the potential to impact on current usage"
A survey showed that on one route, public hire taxi levels were 3 per hour – adding the observed private hire taxis under the new proposed framework could see that figure jump to 20 per hour. This would represent a near doubling of combined bus and taxi traffic within this lane (but again the impact on bus efficiency is all that is of concern, not cyclists)
The impact will be lessened because taxis use lanes illegally now anyway (so that's okay then)
A report commissioned from Amey in 2008 noted and recommended:
there should be no change to current arrangements under new licensing system i.e. only wheelchair accessible taxis be allowed in bus lanes
"bus lanes are currently underperforming against targets…additional vehicles in the bus lane … would probably contribute to further reduced bus journey speeds"
"there was little evidence from other UK cities, of any movement to allow private hire vehicles into bus lanes during the hours of operation" (so Belfast is actually leading the way in suppressing sustainable transport!)
"there was little evidence that private hire vehicles play any role in delivering sustainable transport systems"
"of road user groups surveyed (motorcyclists; bus drivers; bus passengers; cyclists; car drivers; public hire taxi drivers; and, private hire taxi drivers) the only group that supported allowing private hire taxis into bus lanes was the private hire taxi drivers. The reasons given for opposing access being concerns over the impact on bus lane performance, sustainability, defeating the purpose of a bus lane and safety"
Positives
"availability of bus lanes to all taxis would better serve the needs of all users with disabilities and not just those who use wheelchairs" (in this case, then why are blue badge holders prevented from driving private cars in operational bus lanes?)
"Taxi services provide an important element of the overall public transport service in the BMA"
The arguments put in favour of allowing taxis access to bus lanes reaches its nadir: "Currently these taxis will generally be moving and will only stop to set down a fare, it would be rare that they would stop to pick up. It is felt this situation may not change greatly with the change in the taxi licensing regime, regular intending passengers on the routes in question will in all probability have chosen to use the cheaper bus service. It is also felt that dropping off may be fairly rare given that the destination will generally be the city centre or somewhere else away from the bus lane." So to summarise, taxis really really need access to bus lanes, even though we think there'll be little business for them there.
Roads Service lays bare its complete lack of regard for cyclists – fast travelling taxis shouldn't hamper buses too much. But where is the consideration that fast moving taxis and relatively slow cyclists, the group who we nominally want to grow, don't mix well?
What is the best option for cyclists?
Option 1 would clearly be the best situation, if we value bus lanes as a way to encourage sustainable transport. Any slowing of bus journeys or increased conflict with vulnerable road users runs against all sense. Taxis are not a sustainable mode of transport and therefore should not enjoy a privileged position on the road.
Option 2 is effectively a continuation of the current situation. It won't do much to improve bus journey times or cycling uptake, but is an acceptable compromise. But continuing a two-tier system risks disadvantaging taxi drivers who do not drive wheelchair accessible vehicles.
Option 3 should be rejected outright by Roads Service.
Why is Roads Service confusing the issue?
A simple and obvious option has not been included in the consultation. A less kind commentator might suggest deliberate obfuscation by Roads Service.
There is a fundamental difference between 'right of access' to enter a bus lane and 'right of travel' for the length of a bus lane. The preferred Option 3 gives taxis full right of travel, a clear advantage over private cars and commercial vehicles to skip past queues of traffic. Yet the only Roads Service arguments presented in favour of option 3 concern the right to access a bus lane to pick up or drop off passengers. These are wholly separate arguments.
The current legislation states "a person shall not…cause or permit any vehicle…to enter, proceed or wait in a bus lane", apart from those permitted. The solution is to grant in legislation the right for taxis being hailed to enter a bus lane and temporarily stop to collect a passenger. However, the taxi must then exit the lane and continue its journey in the main traffic flow.
Under Roads Service's preferred option, taxis will be routinely stopping in bus lanes for this purpose anyway, holding up other permitted traffic. It's the general usage of the lane for travelling which brings taxis directly into conflict with cyclists, something the consultation document utterly fails to address. But this is not surprising given our record on cycling measures.
Giving taxis full right of travel in bus lanes harms the effectiveness of the scheduled public transport system, dissuades current and potential cyclists from using the lanes, and makes a mockery of Northern Ireland's sustainable travel aspirations.
Northern Ireland blind spot on cycling gets worse
I have come to the conclusion that civil servants and politicians in Northern Ireland are trying everything in their power to drive cyclists off the road. Wasting money on unenforceable advisory cycle lanes is one thing, concentrating what budget is left on cycle boxes which cyclists can't safely get to is another. But proactively creating conditions to scare potential cycle commuters to stay in their cars, while happily accepting slower bus journey times, and making the road conditions less pleasant and more dangerous for existing cyclists is moving things on to a new level of incompetence.
Buses and cyclists are an uneasy mix in Belfast, but the current situation seems to be just about acceptable to increasing numbers of commuter cyclists. We share the bus lanes with a few motorcyclists, and the occasional black cab. Northern Ireland has been crawling slowly towards a more sustainable transport system, despite best efforts to obstruct progress. Throwing hundreds of taxis into the rush hour mix is simply crazy, but an understandable product of our current road strategy and mismanagement.
What can be done?
The consultation is open until Friday 21st September 2012. It is imperative that the views of cyclists who use bus lanes are made clearly to Roads Service. Despite the clear preference, there remains the possibility to change minds. Give your response to the consultation here, and raise the issue with your local councillors and MLAs. Take action before it's too late.