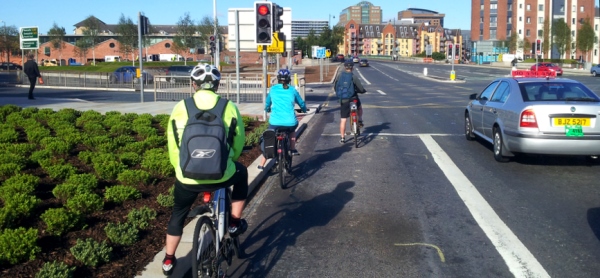 As 2013 arrives, some of us will be taking stock of life, waistlines or bank accounts and deciding to start afresh with some New Year's resolutions. It's traditionally a bad time of year for the luxuries in life, while gym owners fill their boots on new memberships – before willpower inevitably fades.
Perhaps these are clichés, or maybe it is a good time to try something new. One of the barriers to making major a successful change in your lifestyle is finding time. There is one activity which ticks the fitness, finance and quality of life boxes, and doesn't require significant extra time – cycling to work.
Why do I cycle to work?
It's an easy argument to make as a regular bike commuter in Belfast, but here's a secret – I don't always cycle. I own a car, and I occasionally use it for the work run. I've been a regular commuter on the Metro bus system. I've even been known to walk to work too – it's just under 3 miles door-to-door. Forget about labelling me as a "cyclist". I'm a commuter.
But on balance I've made the decision to use the bike for commuting all year round for a number of reasons; the short distance, the time saved over other forms of transport, the money saved, and the regular exercise.
I've previously posted about why Belfast has the potential to be a great cycling city, and my own commuting journey is fairly typical in Belfast, a small city with a quite centralised employment. So why do more people not use a bike to get from A to B?
It turns out more people already are. In 2001 just 1.4% of Belfast workers listed cycling as their main form of commuter transport. Over 10 years, the number of people cycling has increased by 60%, and cycling now has a 2.1% share.
Comparing journey options
Using the bike certainly feels like the most efficient way to get to work. A steady 15 minutes maximum journey time for a trip of just under 3 miles, regardless of traffic conditions, and no per-journey costs. Even if I didn't know the comparative journey times, the traffic queues are ever-present and fun to whizz past. Despite cars overtaking me in short stretches, I'll consistently beat any car door-to-door. But as a multi-modal commuter, I can record and compare my transport options.
Assuming 233 working days a year (subtracting weekends and 28 days statutory leave) I can work out the actual cost savings I make by cycling over taking the car, the bus, or walking. These personal costs can be measured in time and money.
Bicycle vs walking
Walking compares favourably to cycling on cost, as each journey is free – unless you're counting shoe wear. However, it takes the longest of all options, 45 to 50 minutes. Unless there's a particular reason to walk (and in Belfast, issues such as flag protests do crop up), it's not an attractive option. Compared to cycling, I lose 233 hours a year travelling, or 10 full days annually. This is time lost from home life and makes walking my least favoured option.
Bicycle vs bus
During rush hour, it is rare that any Metro bus will stay ahead of me for more than 2 stops. Indeed, the scheduled timetable puts the average rush hour speed at around 8mph, easily slower than the bike. The Metro system in Belfast means that my route has a regular 10 minute service at peak times. While this is very a reliable option, if I exclusively used the bus all year round, the service intervals means the average bus journey includes 5 minute wait at the bus stop. Adding two more 5 minute walks from stops to work and home means that my average journey time is already 15 minutes – the same as the cycling door-to-door – and I haven't even added the actual bus journey part yet. This is a major disadvantage.
Overall I will lose 155 hours a year, or approximately 6 days, travelling by bus rather than by bike. Bus fares are £1.70 per journey, but if this was my main transport option, taking advantage of a Metro Smartlink card would see that discounted to £1.10. Still, over a year, that's £513 pounds out of my pocket for slower journeys.
Bicycle vs car
Attempting to work out costs for my car faces a major variable factor – Belfast city centre parking. I don't have access to a free car parking space, and I doubt many of us do. My two main choices are on-street parking around my workplace, or a cheaper 'all-day' car park.
The on-street option gives me an average door-to-door journey of 25 minutes, but at £1.20 per hour (£9.60 per day) it really hurts the wallet. The closest car park with a 'commuter' offer is Castle Court, which has a £4.50 maximum daily rate. However the trade-off is an extra 10 minutes per journey walking to/from work. Petrol costs only around 85p for the round trip each day.
Compared to the bicycle annually, using the car park I lose 155 hours (4 days) and I'm £1,247 worse off, while the on-street option sees me lose just 78 hours (approximately 3 days) but leaving me a whopping £2,435 poorer.
Comparing time and money costs of bike commuting vs walking / bus / car
The significant personal journey costs of car commuting are not limited to this example, as the large monthly repayment hole in my bank account will attest. Depreciation, hefty insurance and VED costs, servicing and MOTs must be considered as well.
According to the 2011 Census, 40% of Belfast households have no access to a car or van, and the cost disadvantage must be one of the primary reasons.
Completing the comparison fairly, bikes themselves are not free. However, picking up your main form of transport for between £100-£300, and modest servicing costs from your friendly local bike shop, there really is no comparison to a car on cost.
Witness the fitness
Okay, this blog post can't ignore the fitness aspect. First, if you met me in person you'd be unlikely to think 'that person cycles every day', so cycling to work won't necessarily give you the figure of an Olympic athlete. But I've built 30 minutes of exercise into every working day. That's a base level of activity that I'd need to find time for elsewhere in the day, for a trip to the gym or swimming pool – time most of us just don't have. It's also exactly what the NHS recommends as the level of physical activity needed to stay healthy. So if you want to sneak up on yourself with some exercise, burn a few more calories, and arrive at work invigorated rather than snoozing on the bus or frustrated by gridlock, cycling could be for you!
All things being equal
These are very basic comparisons, which ignore many aspects which are in favour of private car travel, or reduce the choices available to people. The challenge is laid firmly at the feet of the Northern Ireland government to create the conditions for real choice in Belfast.
Some jobs designate workers as essential car users, with sales posts and others requiring quick flexible transport on a daily basis. There is no doubt that the current public transport system, and road infrastructure, doesn't offer realistic alternatives to some people. However, many arguments for car travel should be first evaluated with the query 'how do they do it in the Netherlands?' If cities elsewhere with similar climates have people happily getting on with commuting, shopping, doing the school run and more by bike, and can have modal shares upwards of 20%, even 30%, we're failing if we say it can't be done.
Local retailers cry foul when the status quo on our roads is altered, as we've seen with Belfast bus lanes. But research is starting to show that cycling customers spend more than car drivers. If the 'shop local' agenda is truly to help the many independent retailers dotted around our unique city, advocates need to take safe cycling and walking infrastructure seriously as a means to drive footfall and revenue.
A key argument against cycling infrastructure is that the car is the dominant travel form here because people make rational informed decisions on transport. When the government spends money on "sustainable"  transport, it is an artificial distortion of market forces, prioritising transport modes that will never, or need never threaten the motorised hegemony.
Choices are not equal though. If the main barrier to cycling uptake in Belfast remains fear of the roads, then until we have the type of cycling infrastructure where people of all abilities from 8 to 80 feel safe and secure, then it's not an equal choice. Yes, this may mean segregation in some places, wide areas of 20mph residential streets as standard, better routes to schools, and a recognition that advertising, inconsistent cycle lanes and unenforced cycle boxes alone will not make a significant difference to uptake.
Despite the problems, a 60% increase in 10 years is good news. Why not think about trying the bike for work, seeing for yourself what the benefits are. Maybe your workplace already operates a cycle to work scheme? And if fear is putting you off, try asking you elected representatives for action on creating a better city for you and your family.
You can also use this handy cycle to work calculator if you want to try some calculations on what you could be saving.
Happy New Year!