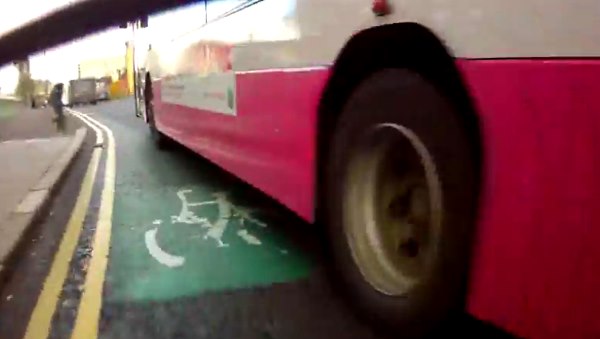 A dangerous overtake by a Metro bus on Wednesday 23rd October 2013 left me shaken and angry. Metro have now responded to a complaint about the incident, which is as much a factor of poor road design as unusually impatient driving.
For many people cycling in from East Belfast, the Albert Bridge is one of the major hazard points. Roads Service engineers accept that as many as 50% of people cycling across the bridge take to the footway rather than face the horrible road conditions.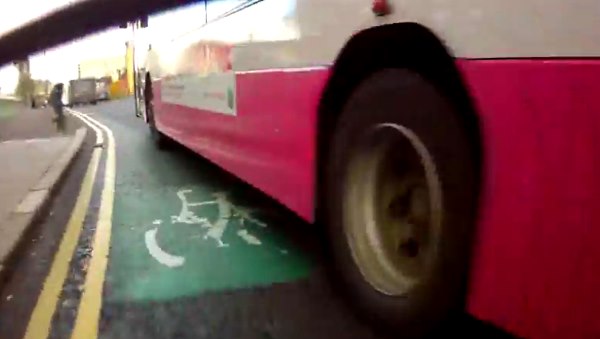 The main issue is the convergence of the bus lane at the point of entry to the bridge. Traffic in the middle lane tends not to give way to bus lane users, causing conflict and a high degree of perceived danger for those cycling.
Overtaking other bus lane users is rare, given the bus lane width and the short distance between the Ravenhill junction lights and the bridge. Apart from the occasional chancer taxi driver, bus lane users mix well here. With many years of cycling experience, having a large bus behind you at the lights is mostly a good thing, blocking much of the traffic from your right. And then this happens..
[youtube=http://www.youtube.com/watch?v=kct7su8LG_k&w=600&h=450]
.
Whatever we may be told about the benefit of Belfast's bus lanes to cycling, this video goes some way to demonstrating why the great cycling cities don't mix buses and bikes. And the vast majority of the population of Belfast (those we want to encourage out of cars and on to bikes) would never want to be cycling anywhere near buses. The chance to develop fully separate cycling facilities throughout this intersection was recently squandered by the Department for Social Development (see the nice green cycle track-sized strip of grass in the video) and a continuous cycle track across the bridge is possible if the ugly crash barriers are removed – but that's not on anyone's agenda.
It was important to register a complaint with Metro to ensure the driver was aware of how dangerous this incident was. As the video states "most Metro drivers know better" and I've never encountered this from a bus in many hundreds of journeys across the bridge, although others have. While all bus lane users continue to struggle with the poor road design here, we need to give the fullest consideration to each other.
The complaint
I want to record a complaint about an incident with the inbound Metro 19 service (BCZ 2764) on Wednesday 23rd October 2013 at approximately 9.22am on the approach to the Albert Bridge.
It's simplest if you view the video – if you have difficulty with this please contact me and I can arrange for the file to be delivered via a USB stick.
The driver was too impatient to allow me safe passage onto the bridge – I'm forced to brake sharply, swerve off course, or face being knocked off by his rear quarter as he passes.
This is a dangerous section of road, and 99% of Metro drivers seem to understand how to interact safely with cyclists here (we face the same problems filtering with general traffic from the right lane). This one rare instance was reckless at best.
The Metro response
Thanks for your feedback.
Firstly, please accept my sincere apologies for this unpleasant incident.
We have now completed a full investigation of this matter and I can report as follows.
The driver involved on the date in question has been identified and interviewed by his Service Delivery Manager, whereupon both your comments and available footage of this incident have been made known to him.
At Translink the safety of our passengers and fellow road users is of paramount importance and this is an issue which we never compromise on. The driver involved has been reminded of his duty of care as a professional driver and he has been advised that such actions are totally unacceptable and will not be tolerated. He should ensure that he gives cyclists ample space when overtaking them and should only do so when he can make such a maneouvre in a safe manner. Please be assured that appropriate action has been taken, with the member of staff involved and this matter has been officially recorded and documented, which I hope will help prevent any similar re-occurrence.
Once again, please accept my apologies for this unpleasant experience.
Thank you for bringing this matter to our attention.