There is cause for optimism and much to applaud in the Department for Regional Development (DRD) strategy document for cycling in Northern Ireland. Here are some highlights, slightly trimmed for space:
"..to provide greater choice in the way people travel [we] will work .. to reduce the need for longer journeys and to increase the opportunity for travel by bicycle. This will entail the development of high quality local cycle facilities within new developments and the provision of links with other urban cycle networks, public transport interchanges, the National Cycle Network and the countryside."
The "..strategy identifies a range of measures that will seek to improve conditions for cyclists and establish a pro-cycling culture. If more people are to be encouraged to cycle, a fundamental shift in attitude will be needed in every part of our society. An increase in safe utility, recreational, tourist and competitive cycling can have economic, health and environmental benefits for society as a whole."
"Concerns about road safety and our climate are often quoted as reasons why few people cycle in Northern Ireland. However, significant increases in cycling have been achieved through pro-active policies and actions in other European countries having similar weather conditions."
The "..creation of a cycle-friendly road network is important if more people are to be encouraged to cycle. The traffic management measures needed to improve conditions for cyclists .. will involve the re-allocation of road space from the motorist to the cyclist, however, this will require a fundamental shift in attitude on the part of transport and infrastructure providers and the support of the general public."
"Our long-term infrastructure objective is to create a network of high quality cycle routes .. [these] may be on-road or off-road and will include dedicated cycle tracks, shared use surfaces, traffic calmed roads and may make use of paths across parks and other open spaces."
The "..conversion of footways and footpaths to shared use by cyclists and pedestrians will only be considered where there is no other opportunity to improve conditions safely for cyclists on the carriageway or elsewhere."
We will "..implement an ongoing programme of secure, convenient and, where appropriate, covered cycle parking provision at new and existing main public transport interchanges and park and ride sites .. [and] in main town centres."
We will:
develop local cycling targets and strategies that will encourage more people to cycle
implement a programme of traffic calming schemes and 20 mph zones and afford greater priority to collisions involving cyclists in the prioritisation of these schemes;
monitor road traffic collisions in which cyclists are involved and initiate appropriate remedial action
improve cycle access in towns by the development of planned urban cycle networks and provide at least an additional 50 miles of urban cycle route
adopt recognised good practice in cycle-friendly provision and apply detailed cycle audit procedures to ensure that pro-cycle facilities are actively considered during the design of road schemes
apply cycle review procedures to major commuter corridors in Belfast and Londonderry
"In developing an action plan to address these issues, the objective will be to achieve a shift in the perception and behaviour of a large section of the general public."
Targets:
double the number of trips by cycle in 5 years
quadruple the number of trips by cycle in 15 years
The "..strategy represents a significant commitment to cycling by Government."
The strategy contains some excellent and progressive content, setting a strong commitment to embedding cycling firmly within the transport mix in Northern Ireland. There's even recognition that "dedicated cycling tracks" are needed in urban areas which will take road space away from motor vehicles. It talks the talks, and promises to walk the walk – just what a progressive cycling strategy needs to be in 2014.
Except (if you haven't it figured out by now) this isn't from the new draft Bicycle Strategy for Northern Ireland 2014.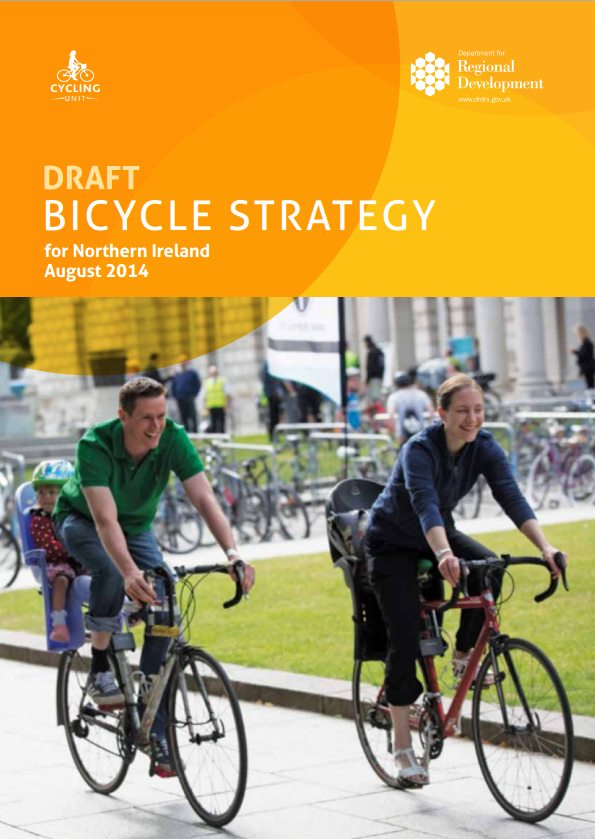 This is all lifted from the Northern Ireland Cycling Strategy 2000 (PDF, 8.56MB) published back when the politician at the DRD helm was the future First Minister of Northern Ireland, Peter Robinson (to this day a regular cyclist). Technically, it's still the framework for cycling in Northern Ireland (that second target was to 2015).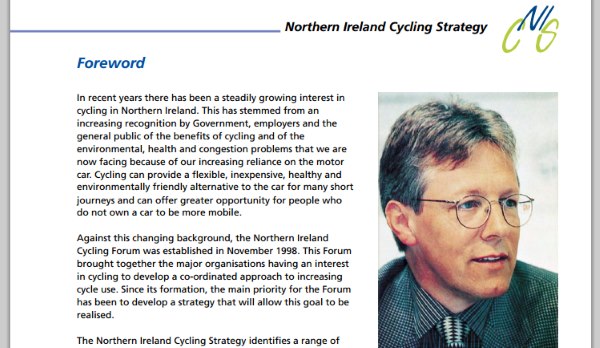 This isn't a full autopsy on the 2000 strategy to determine its failures and successes; for the most part, that will be obvious with even a basic knowledge of current cycling conditions here. In reading DRD's new strategy, it's important to remember our history, so that we are not doomed to repeat the mistakes.
I'm not even going to critique the new draft Bicycle Strategy for Northern Ireland line by line – smart heads in DRD have kept it light and punchy, easy to read – so go and draw your own conclusions (PDF, 699K). It's in consultation until Friday 21st November, so if you have even a passing interest in seeing cycling conditions improve in Northern Ireland please send your views to cycling.unit@drdni.gov.uk. I'll publish my submission when it's sent.
Cargobike Dad tackles the new strategy and matches my own positive thoughts on how its shaping up. However, this includes the concerning use of cyclist 'user profiles' to influence future route design. Dutch cycle network design principles and density means everyone can cycle everywhere. DRD want to be "visionary in our approach and we want to embrace innovation" so why this rush to compromise at the outset? Hopefully concerns will be taken on board.
.
In the encounters I've had with DRD staff who wrote the strategy (the new Cycling Policy Unit) I've found them to be genuine, passionate, open, honest, pragmatic but genuinely open to ideas, savvy operators in a tough Departmental environment and (should it matter) all normal everyday cyclists – the right people in the right place at (hopefully) the right time. They deserve a chance to make a difference.
.
What I'm looking for in the new Bicycle Strategy are signs that DRD thinking has moved on from the previous strategy:
that best practice in infrastructure design and network density from established cycling countries will factor in plans and, crucially (given past experience) that cycling plans won't be vetoed within DRD / Transport NI by more influential voices
that DRD recognises and wants to grasp the unique opportunity and tools of centralised government executive powers to set Northern Ireland on a course to surpass other areas of the UK and Ireland, not coast in the wake of their failure (in comparison to Netherlands / Denmark etc)
Despite the hyperbole of Danny Kennedy's call for a "cycling revolution", I am sold on the Minister's commitment (and that of his advisors and staff) to what cycling investment can deliver for his department and for Northern Ireland.
Yet two things might override these good intentions:
elections in May 2016 which will almost certainly see a new Minister in place (likely from a different political party) who may not share the developing vision for cycling
an over-reliance on 'gambling' for monitoring round money to deliver cycling projects, rather than a fixed proportion of central funding
Austerity is beginning to rain down hard on budget rounds, and only half of DRD's £2m capital bids for cycling in June were approved. What chance will cycling have during future budget squeezes, without reliable core ring-fenced funding?
One sentence from the new strategy shows why this is fundamental to success, and why the old strategy didn't achieve much:
"Since 2002 the Department has invested over £10 million in the development and expansion of cycle lanes and on cycling infrastructure measures."
Which broadly speaking means DRD committed around 50p per head of Northern Ireland population each year for most of the lifetime of the 2000 strategy, compared to €24 in the Netherlands. And the headline result*?
NI bicycle journey share in 2000? 1%.
NI bicycle journey share in 2013? 1%.
In hindsight it's fortunate that the 2000 strategy tried to "encourage cyclists to wear helmets" because that's 14 years of head-butting brick walls. However there are some encouraging recent signs of cycling growth in Belfast especially, and DRD's future plan to raise annual per head spending to £4 may begin to make some impact.
It's important to set the new Bicycle Strategy for Northern Ireland in this context – it's a positive high-level vision, but words don't guarantee significant change, as the 2000 document shows. The devil will be in the detail of delivery plans, local masterplans, securing continuous funding and retaining political will. Hopefully this time round things are different, and I wish DRD well at the start of their new journey.
*DRD NI Travel Survey: Average number of journeys per person per year