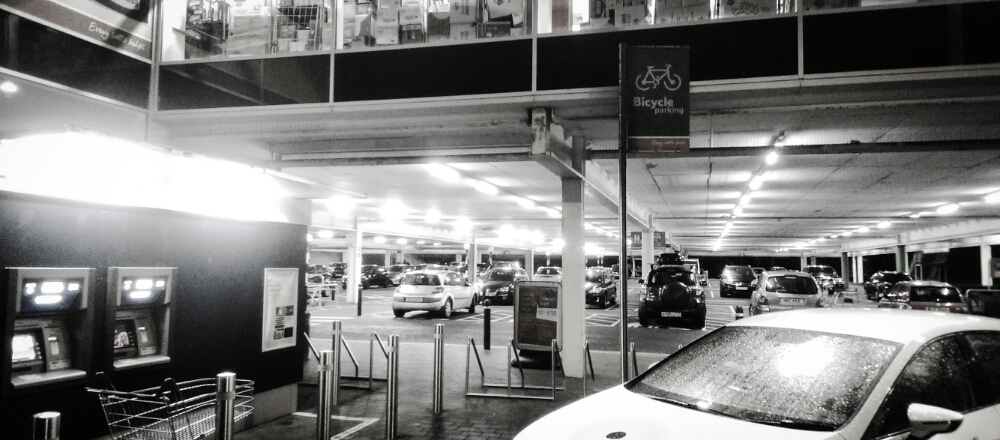 Over November and December 2015, Northern Ireland Greenways surveyed cycling facilities at the 40 chain supermarkets in Belfast. Tesco's 8 major supermarkets were included, along with the flagship city centre Metro store at Castle Place. For consistency across the survey, smaller Tesco Express stores were excluded.

This system means we can independently rate any supermarket against a consistent benchmark out of 7 points for the quality of facilities laid on for customers choosing to arrive by bicycle.  A score of 6-7 would identify a store offering adequate to good facilities. So how does each Tesco store in Belfast rate for cycling facilities?
---
Tesco Antrim Road

2 points for Tesco Antrim Road, for 5 racks and proximity to the entrance. However there are big problems here. For a start, there are only 2 usable racks here due to their position (park your bike one way, you render the racks on the other side redundant).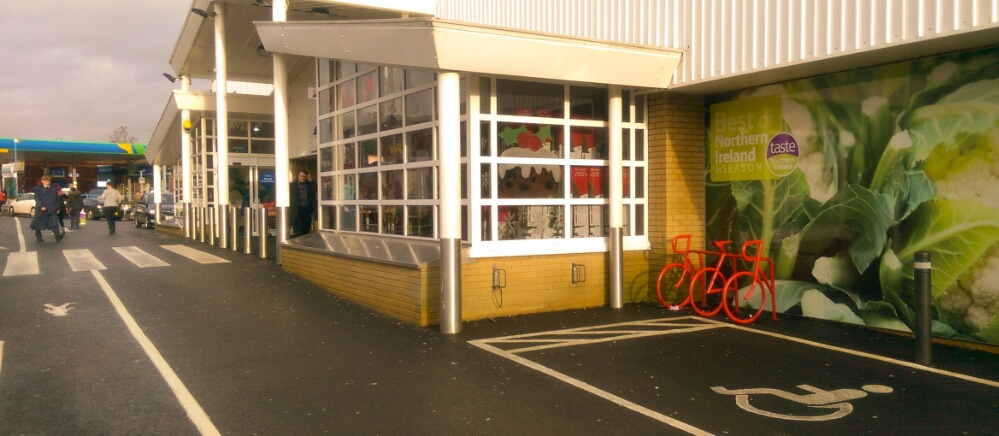 Then there's the strange decision to place the red racks in direct conflict with a blue badge car parking space.
So no marks for quality, and despite the position near the entrance, CCTV coverage would go a long way to improving the feeling of security, with the racks being needlessly tucked away in a dark corner.
---
Tesco Ballygomartin

Just 3 racks but an impressive 5 stars for Tesco Ballygomartin – what gives? There is plenty to praise here – although there is a small walk to the entrance, it's close enough for a point, especially given the double-whammy of safety. There's a CCTV camera in clear sight of the racks as well as the large windows looking into the till points – you would need a real brass neck to attempt to steal a bicycle here.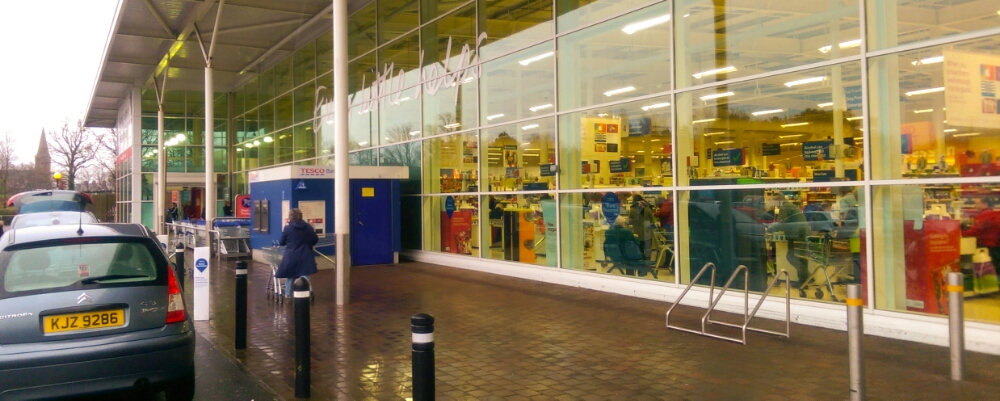 Add in good shelter, half-decent quality of racks and you're a few additional racks away from challenging the very best in Belfast.
---
Tesco Castle Place

2 points for Tesco Metro Castle Place – are these racks owned and installed by Tesco or government agencies in Northern Ireland? For this survey it's not so important – the ability to lock your bike outside the store is – but Tesco loses out on the extra point for rack quality as a result, even though these Sheffield stands are excellent.
The location already benefits from a Belfast Bikes station directly across the road, but there's plenty of space to work with at the front of the store. No shelter and no CCTV coverage keeps the score low.
---
Tesco Castlereagh

On first view, compared with Ballysillan above, you might wonder what's wrong with the scoring system that would rate a store with 12 racks lower than one with just 3.
Indeed, Tesco Castlereagh's attempt to make a high-profile dent in the bicycle traffic passing by its front door moved me to write an article in 2012. But things didn't work out as I or Tesco hoped here.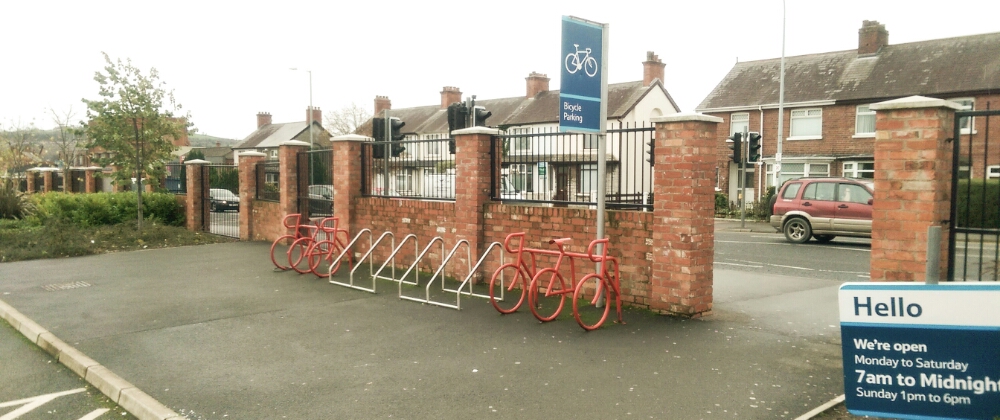 The 3 points for Tesco Castlereagh are for double figures of bicycle racks (2 points) and quality of racks (1 point) but that's it. While the sign located at the side entrance is great, positioning the racks here around 60 metres away from the store entrance is a mistake. Most days you'll see more bicycles latched to the trolley cages than the bicycle racks.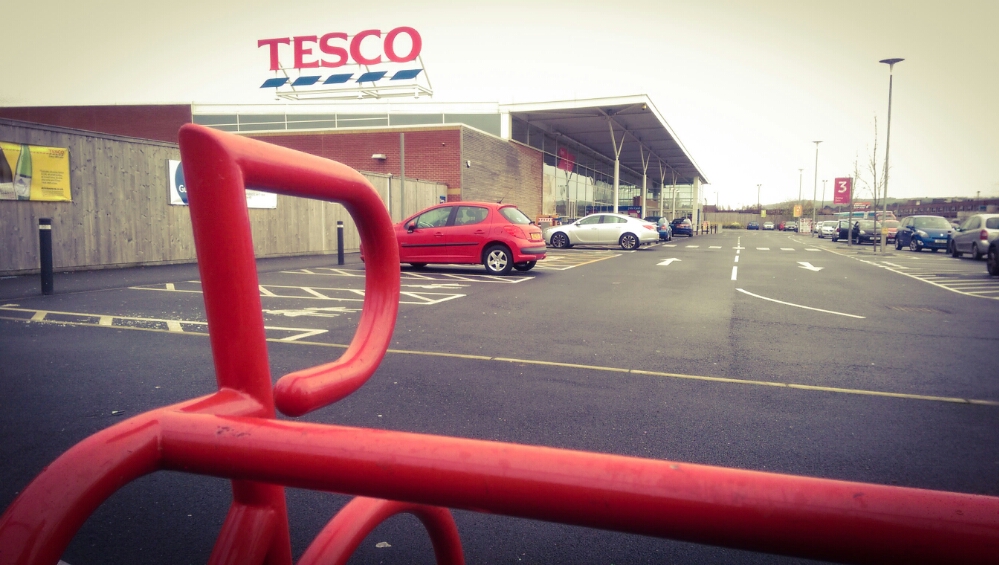 The bicycle area is very exposed, both lacking shelter (while all the trolleys on site benefit from a roof) and no CCTV coverage adding to the worry that thieves will be off in a flash out onto the road and away.
Its an unfortunate score for the store with second most bicycle racks in Belfast, but Tesco should swallow pride on this experimental location and put the racks where customers clearly want them – right beside the front door.
---
Tesco Dunmurry

Racks there were none.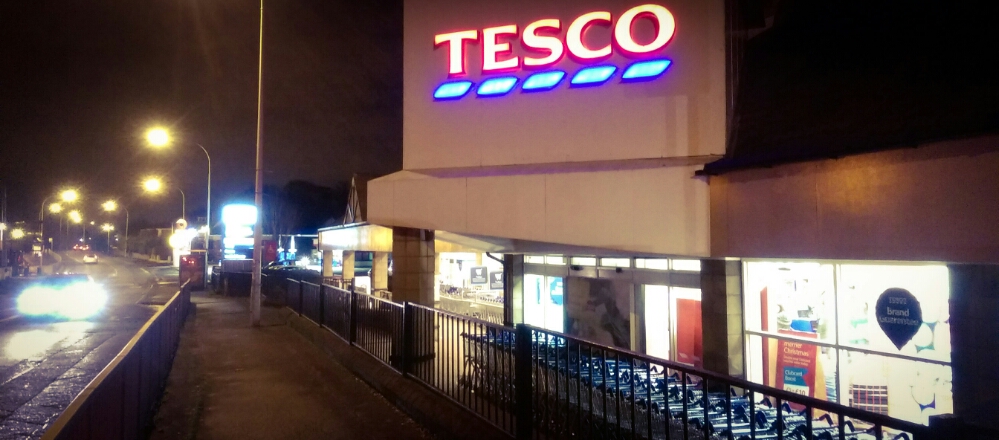 ---
Tesco Knocknagoney

A disappointing 3 points for Tesco Knocknagoney given the sheer scale of the superstore on the eastern edge of Belfast. There are 6 good quality racks which are nicely sheltered, but the pillars obscure a clear sight of the CCTV camera.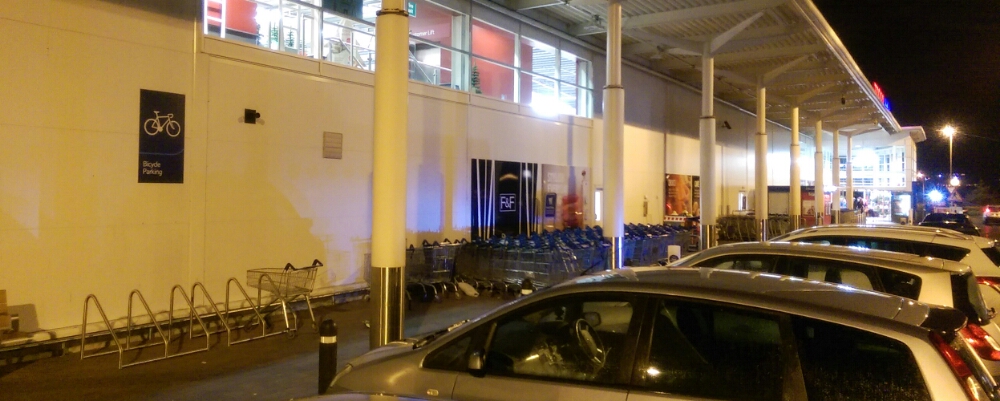 The walk to the front door is one of the longest in Belfast unfortunately, and it's not for want of space elsewhere. A tame effort at a flagship store.
---
Tesco Lisburn Road

It would be fair to say this is the most surprising omission in the whole of the city. South Belfast being the heartland of cycling in Belfast, and this store being within an easy cycle (but not walk) of student accommodation as far away as Malone Road, and… nothing.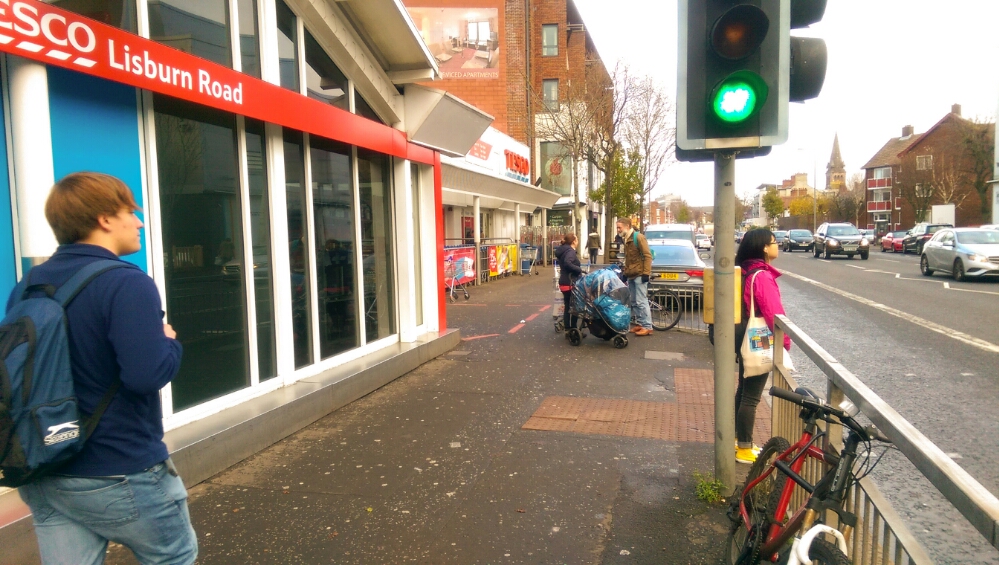 Frustrated customers (understandably) take to locking bicycles on the barrier outside, which is there to stop kids running across the busy pedestrian crossing – not for bicycle parking. The streetscape is clogged due to Tesco inaction.

There's plenty of space in the nice underground car park here, but again no bicycle racks. Just a strange decision which needs urgently revised.
---
Tesco Newtownbreda

Is this the current gold standard in Belfast? A very respectable 6 points for Tesco Newtownbreda out of 7 as it ticks every box except for offering additional services for bicycle users – close to being perfect.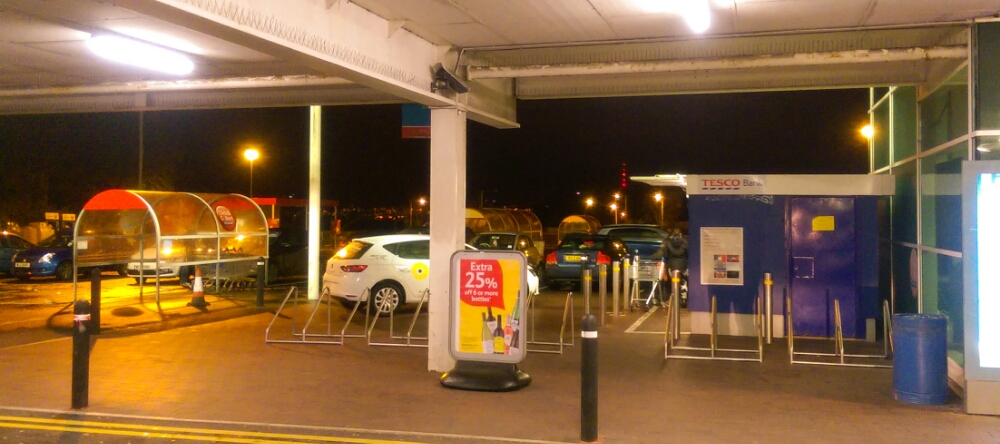 15 racks are placed right at the entrance to the store, under the shelter of the store itself (which is on the first floor) and a wonderfully outsized CCTV camera points right down on the scene – probably more for the adjacent ATM machines, but the message sounds loud and clear.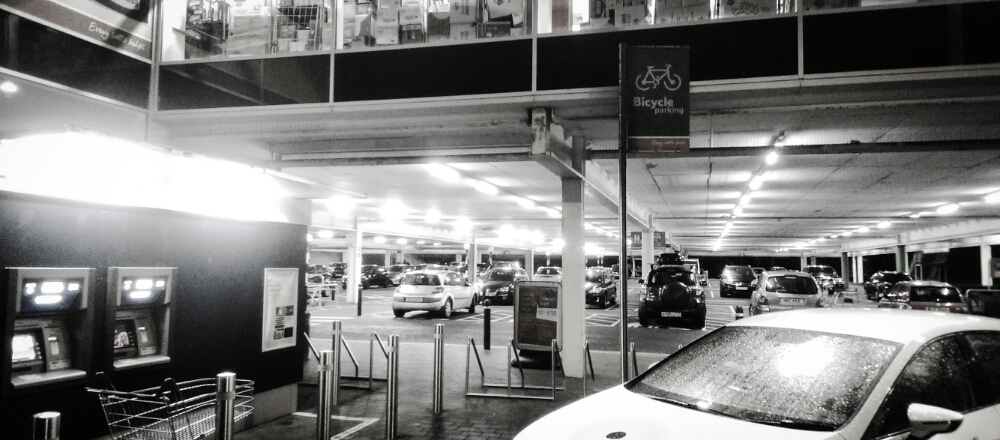 There's even a big sign saying Bicycle parking which is almost non-existent apart from in Tesco supermarkets in Belfast – a small but important sign of pride.
More of this please.
---
Tesco Yorkgate

A creditable 4 points for Tesco Yorkgate which gets off to a difficult start with the quality of the racks. We give a point as at least you can lock the frame to the stand and rest your bicycle safely, but we'd like to see Sheffield-style stands (and many more of them) by this time next year.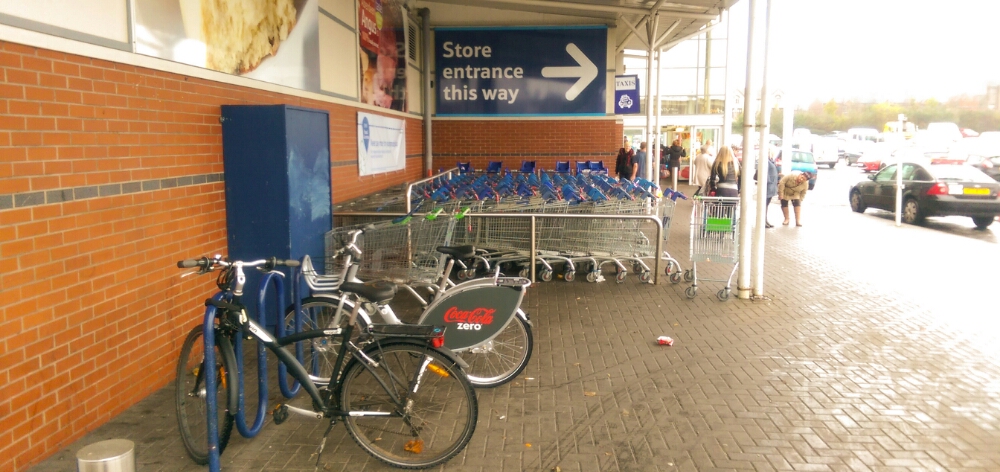 Otherwise the area is under cover and right beside the store entrance so 4 easy points.
This store will become student central very soon with the opening of the Ulster University Belfast Campus, while the developing plans for the York Street Interchange now have excellent dedicated cycling links from Belfast city centre. This is one store that must be prioritised for improvements to match coming demand.
---
What Tesco says..
"We actively encourage colleagues and customers to cycle. Locally we work with planning authorities to ensure our stores can be accessed by bikes and cycles can be securely parked.

"Our colleagues actively participate in the 'Cycle to Work' scheme, offering discounted bikes and incentivising cycling locally.

"Finally cycling forms part of our community initiatives, with colleagues cycling and being active while raising funds for great local causes."
---
Verdict

We'd expect to see the mighty Tesco challenging at the top of the table, but an overall average of just 2.78 out of 7 is a cause for concern. There's good work going on in some stores, but it feels like a bout of consistency has tried but failed to break out. From rack design to signage to placement you can see the seed of a push towards the top spot in 2016, but Tesco really shouldn't have stores which ignore some customers' needs entirely.
---
How does Tesco rank for bicycle facilities against other supermarkets in Belfast in 2015? Find out in Store Wars VII: The Cycling Revolution Awakens..
Note: Visits to each of the 40 supermarkets in Belfast were made in November and December 2015 and facilities (or lack of) were recorded as observed at the time – NI Greenways is happy to correct any errors identified in this survey.