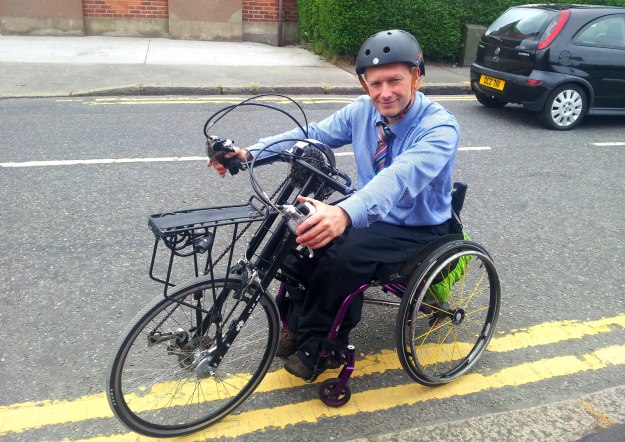 Diarmuid is a teacher at Grosvenor Grammar School in Belfast, a father of 3 and a wheelchair user for nearly 30 years. He talks about how handcycling has revolutionised his daily routine to the point where he's sold his own car. His unique experience of travelling around Belfast challenges many myths about cycling as a viable form of transport, for people of all abilities..
While in university in 1984 I suffered a spinal injury in a hill walking accident. I was at university preparing to go into teaching, so I was lucky that after taking a year out the adjustments I had to make in life didn't throw me off my career path. I've been teaching in Grosvenor Grammar School in Belfast for about 20 years now. It's really encouraging to see Grosvenor trying to get a cycle to work scheme organised for the staff.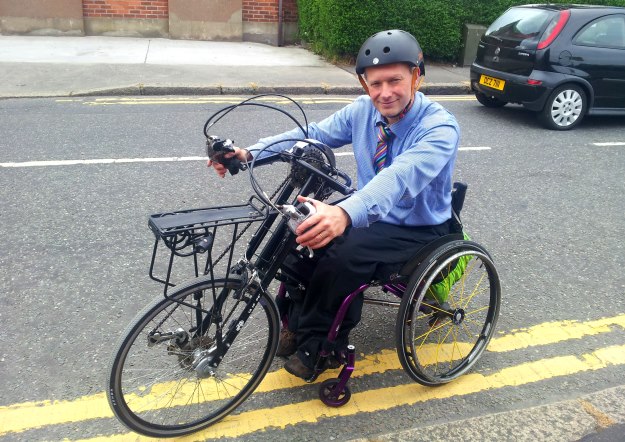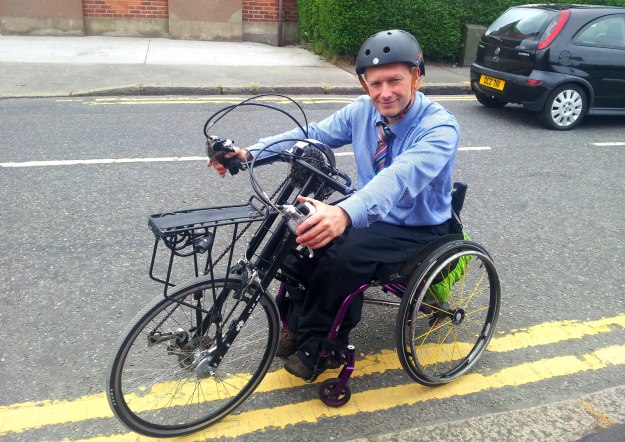 Ten years ago a friend from England with the same injury as myself introduced me to handcycling. He'd been disabled through a hit-and-run incident while cycling himself. He's probably quite unique in that he's run the London Marathon and also pushed it by wheelchair. Long distance wheelchair pushing was something I was very used to – I've even managed to push the length of Japan's main island Honshu – but he convinced me to try handcycling, and to be honest it was revolutionary.
This will be my mode of transport
My handcycle is a 24-gear second-hand Prashberger, attaching to the front of my wheelchair, allowing me to get out onto the roads. I keep a more comfortable wheelchair at home, but when I'm out and about I can just detach the handcycle section and use the remaining wheelchair. Initially I enjoyed using it to go out at weekends for day trips, then a friend who cycles across Belfast for work suggested I try it commuting too.
I gave it a go, and and now I cycle to work year round – all weathers and all seasons. I've solved wet weather riding problems with a coat and cape over it, and overshoes too. Grosvenor is 5 miles from my house, so that's a 10 mile round trip every day. Each way is about 45 minutes across town. I guess it's a mental thing – I've decided this will be my mode of transport – it does take a bit of effort to get into it, but it's worth it. So much so I've sold my own car. We didn't need to keep shelling out for insurance, VED, maintenance and monthly repayments, when the handcycle is all I need to get around.
Some people look at me and say 'I'd need a shower if I did that', but like any type of cycling you build a fitness for it. If I'm really busting a gut I'll get a bit warm, but I prefer to be good at just keeping going, and it's not hard work at all. If there's a very steep hill I can switch to pushing the wheels, but it's very rare that happens. I go through tyres very quickly due to wear and tear on the roads, especially in the summer time. It's not just commuting, we get out cycling together as a family when we can. We did a family group ride with friends recently, going from Titanic Station along the Comber Greenway all the way to Castle Espie and back.
Eye contact is crucial
The majority of people are nice and give you decent space on the roads. There's always a minority – like one guy the other week told me to 'get off the effin' road, you don't pay any effin' tax, you're holding everyone up'. We still have a family car, so the tax thing is nonsense, but cyclists aren't meant to be on the pavements anyway. Imagine how uncomfortable and unsuitable it is for a speeding wheelchair.
Things are better than they used to be for me – like more diabled toilets all over the place. I reckon people are catching on to the idea of bus lanes as well, which makes you feel a little bit more secure and protected. The Castlereagh Road is annoying with cars treating the cycle lane as their personal car park, and the Cregagh Road roundabout can be a bit hairy. You try to be aware of people's faces and whether they're watching you – eye contact is crucial.
I have been knocked over once, luckily a very slow motion crash. A lady was pulling out from a side street on the Ormeau Road without looking my way. Luckily I'd spotted that and managed to stop, but she still drove into me and wrecked the wheelchair. It was a welding job afterwards. It did shake me up, and you feel vulnerable out there sometimes. It makes you think how many people perform simple manoeuvres without looking all around them.
Better cycle lanes would be great
Being quite sedentary in a wheelchair, it's very important to keep an element of exercise. Building in an hour and a half of cycling on a  daily commute is the most efficient way to balance exercise into busy family life. It's hard going up hills and getting through bad weather, but we all need exercise built into our lives and fitting it in is the hard bit. The easiest way is to get yourself a bike. Why is driving to the gym seen as more sensible than cycling in our society? You're taking a heck of a lot of time to get there, park, change, shower – how can young parents spare the time and justify the expense?
My son will be doing the same 10 mile round trip commute with me from September. As an adult I can handle dealing with road danger, but I do worry more for him. Better cycle lanes would be great. Most of the lanes in Belfast appear out of nowhere and disappear just as fast, for example on the Castlereagh or Stranmillis Roads. They may look very nice, but what's the practical purpose? The crux for the moment is getting people to be more aware of cyclists, and learning to share the road with all users.