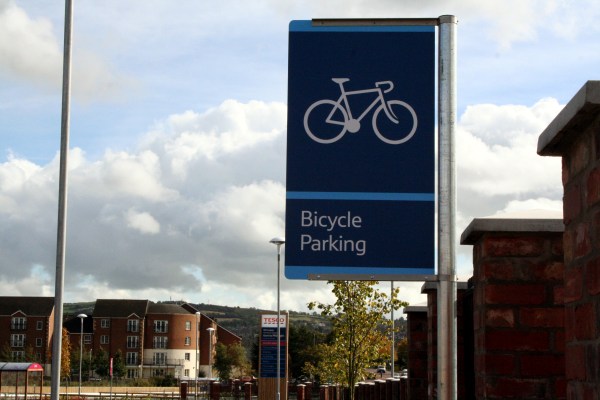 The new Tesco Superstore on the Castlereagh Road opens on Thursday 4th October, but it's hoping to attract more than the traditional supermarket customers. At the north entrance a sign has been erected to target passing cyclists. A lot of local supermarkets have developed facilities such as disabled parking, parent and child parking, but it's the first time I've seen such a prominent advert for bicycle parking.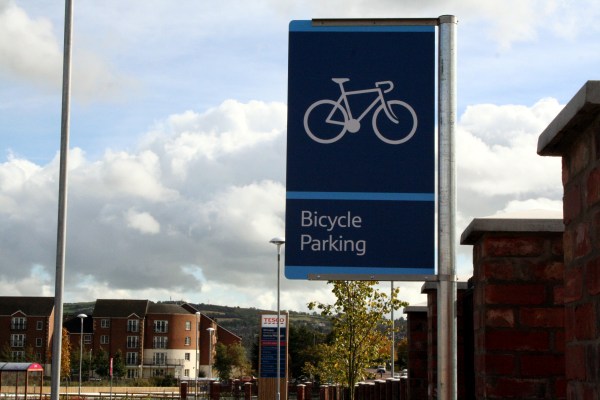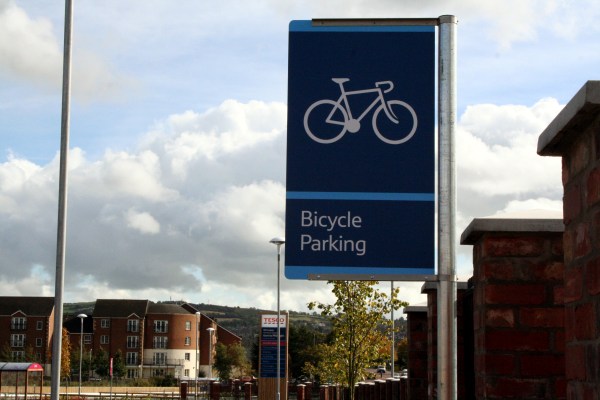 There are a number of reasons why this is a good move by Tesco. Beyond the anecdotal evidence of increasing numbers of cyclists on Belfast streets, the Castlereagh Road benefits from half decent cycling provision. There is a long city-bound bus lane for the morning rush hour, and an equally long advisory cycle lane with urban clearway restrictions running countrybound. Even if the cycle lane is usually just one long car park during rush hour, it's a start.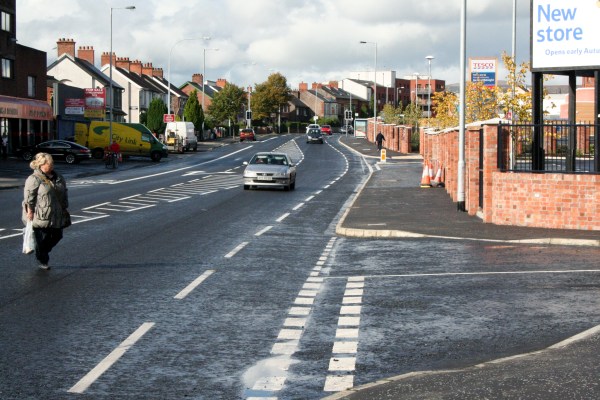 The cycle lane was first obstructed then removed during the construction phase, but has now been reinstated on the new widened road section – a huge improvement on the former bone-shaking surface. Although only an advisory lane, it has been afforded the rare position of a continual marking across the Tesco access and at Orby Link, hopefully improving driver awareness and caution when exiting these two junctions.
How many cyclists will stop by for groceries? Let's be honest, not a great many, as Belfast doesn't have more than 3% of journeys on bike at present. But this move sends out an important message to both local residents with bikes, and a challenge to independent retailers in Belfast – a short trip to the shops doesn't always need to be by car. And Tesco will be more than aware of the unique position of the site, bordered as it is by the Loop River. The Connswater Community Greenway project will see East Belfast linked by a 9km linear park, running right past Tesco.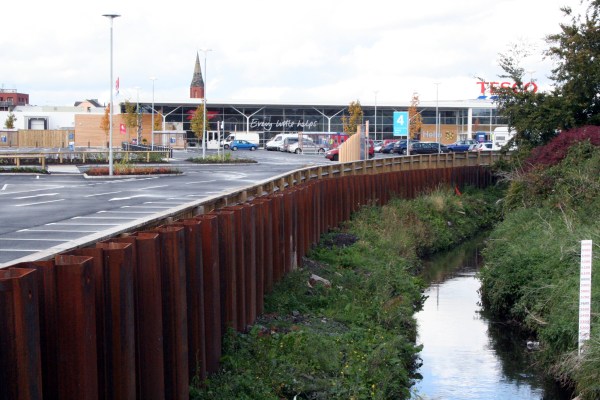 What's slightly disappointing here is the continued use of an advisory cycle lane, the default position for Roads Service in Belfast. Roads Service doesn't favour mandatory lanes as their "introduction…can be a contentious issue and would generally lead to a displacement of parking, often to other locations that are less able to accommodate it, such as residential streets in the general vicinity." This doesn't apply to this section as roadside parking is unnecessary given the large car park, and anyone parking here would create a danger for passing motorists, cyclists and crossing pedestrians. A bit of foresight, creativity and bravery from Roads Service could have seen some sections made mandatory, even kerb separated here to provide extra safety for all road users, and completely discouraging countrybound roadside parking.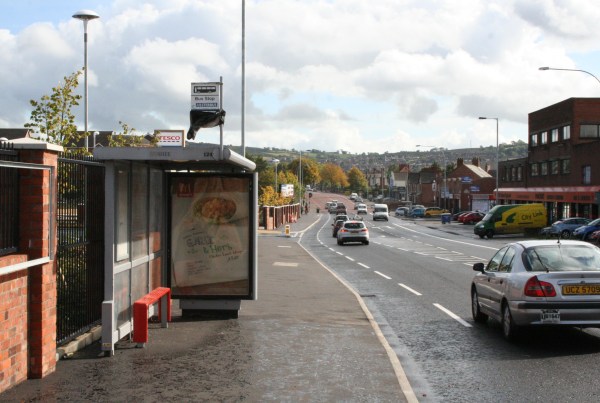 To be fair, observing traffic movements since the cycle lane reopened, it seems to be working well enough. The new surface makes the road marking stand out, and the addition of a new pedestrian crossing just north of the bus stop will help to slow traffic flows around the usually fast bend.
Opening a large superstore in this relatively quiet arterial route will cause some increase in traffic levels and disruption, not to mention difficulties it will cause to local independent retailers. But by actively seeking out a new market, and encouraging local shoppers to go for 'less car, more bike', Tesco have to be commended.