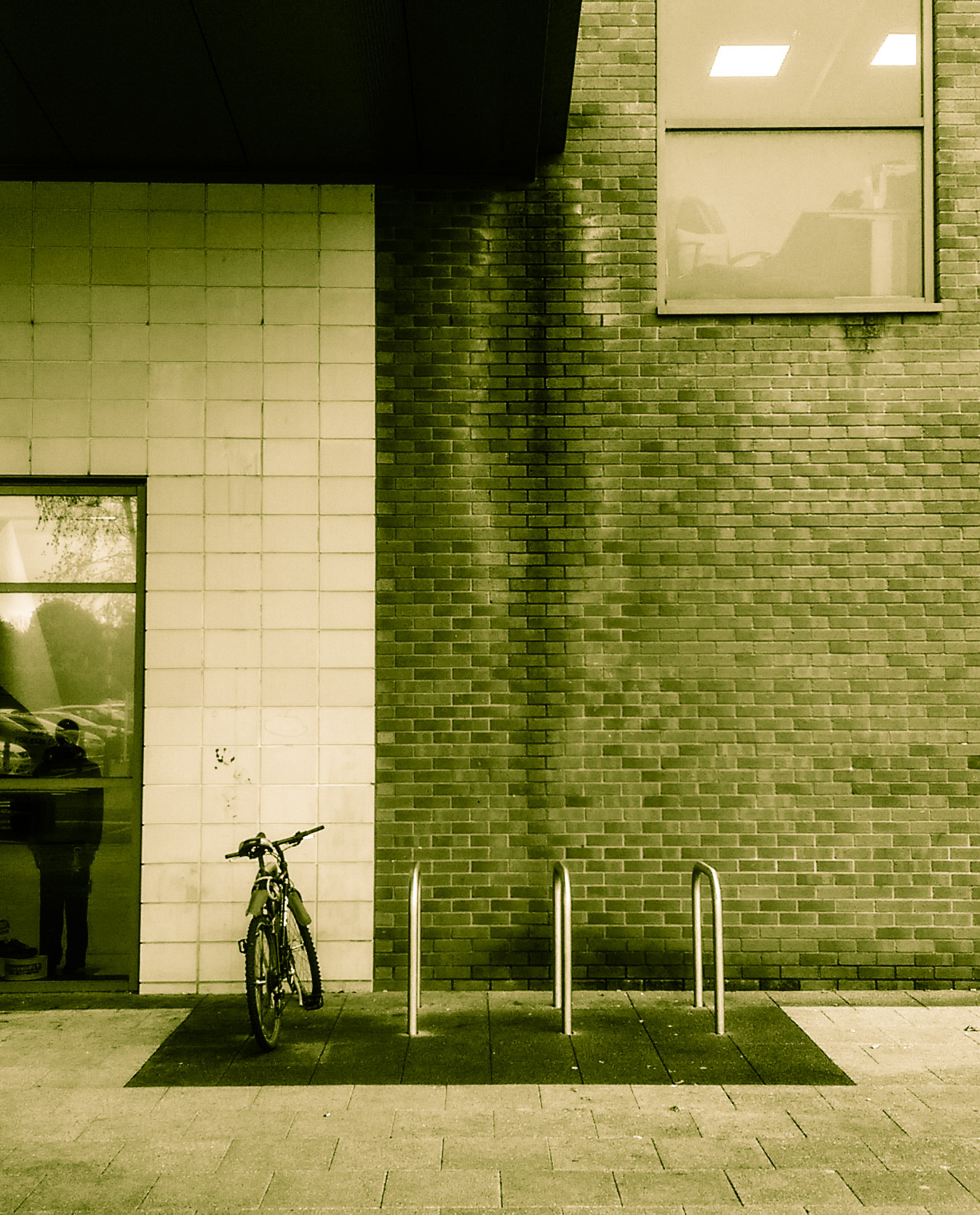 Over November and December 2015, Northern Ireland Greenways surveyed cycling facilities at the 40 chain supermarkets in Belfast. Sainsbury's 3 major supermarkets across the city were included.

This system means we can independently rate any supermarket against a consistent benchmark out of 7 points for the quality of facilities laid on for customers choosing to arrive by bicycle.  A score of 6-7 would identify a store offering adequate to good facilities. So how does each Sainsbury's store in Belfast rate for cycling facilities?
---
Sainsbury's Forestside

6 points out of 7 for Sainsbury's Forestside points to something decent happening in South Belfast. Yes the racks are a little close to the wall, but if the transportfiets pictured below feels comfortable here, it passes the test of quality. In fact there's a little of everything here except for racks into double figures – otherwise this would be hands-down the best supermarket bicycle rack in Belfast.
What brings this store up to 6 points is an additional service targeted at shoppers arriving by bicycle. The only supermarket in Belfast to actually go the extra mile, locks are available to rent in case you forgot to bring one.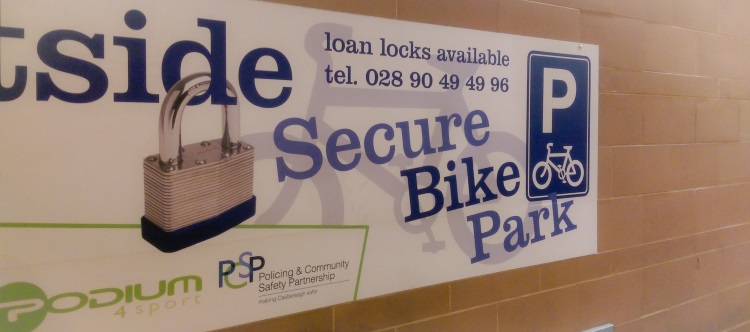 This is easily in the top three locations in the city – but is it the very best?
---
Sainsbury's Kennedy Centre

Sainsbury's might kick themselves here – great potential wasted on poor execution and planning means just 2.5 points out of 7. The racks are too far from the entrance for comfort, which is a further problem without CCTV coverage.
But we can only award half a point for a sheltered location – for some reason the racks were placed half under the roof and half out – with the unfortunate sight of poor drainage leading you to imagine a bike locked to the third rack might end up being dissolved in a heavy shower.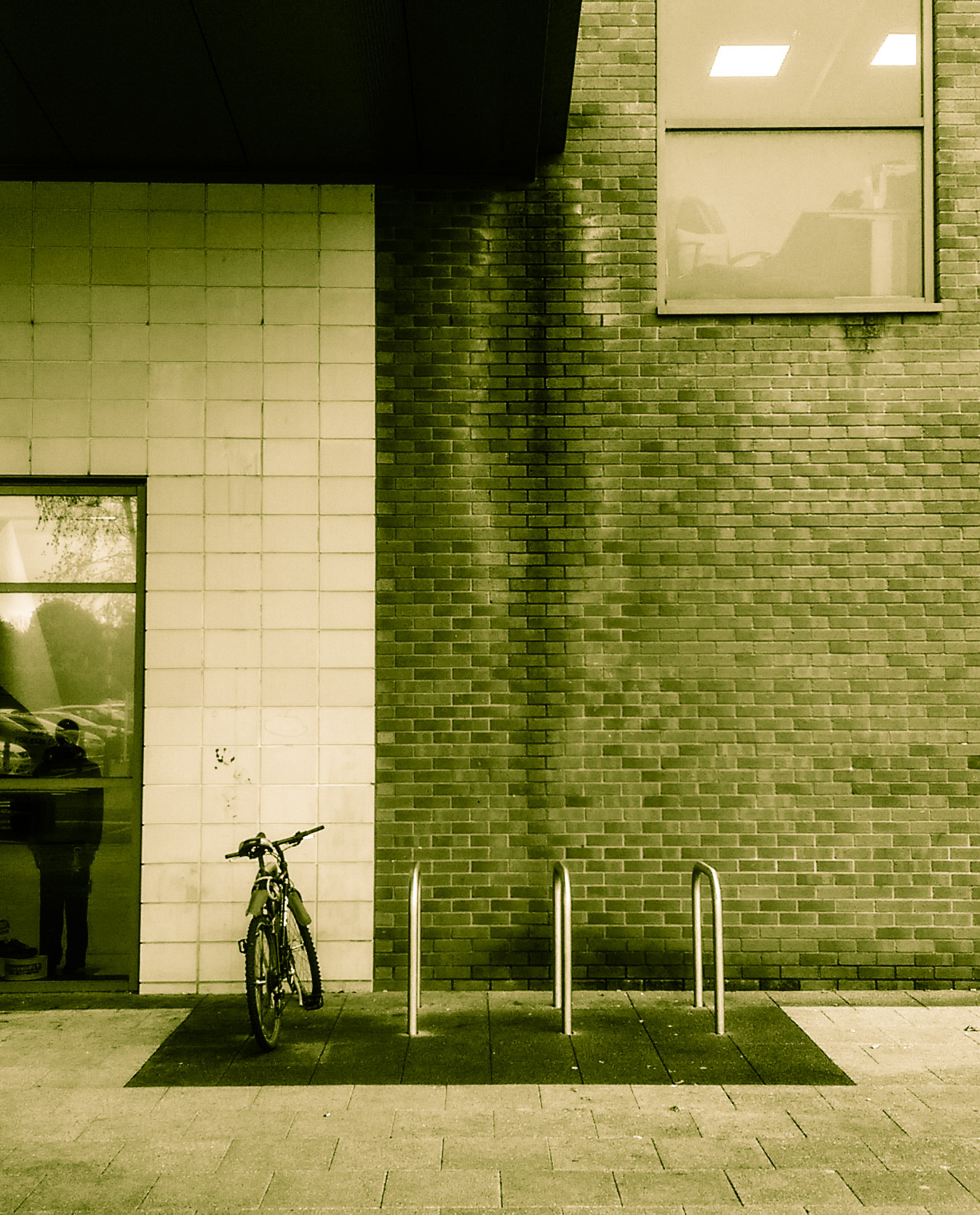 What could have been..
---
Sainsbury's Knocknagoney

Another strong showing from Sainsbury's down on the Harbour Estate with 5 points out of 7. This rack is just within the bounds of proximity to the entrance, saved somewhat by the view out from the store and CCTV coverage.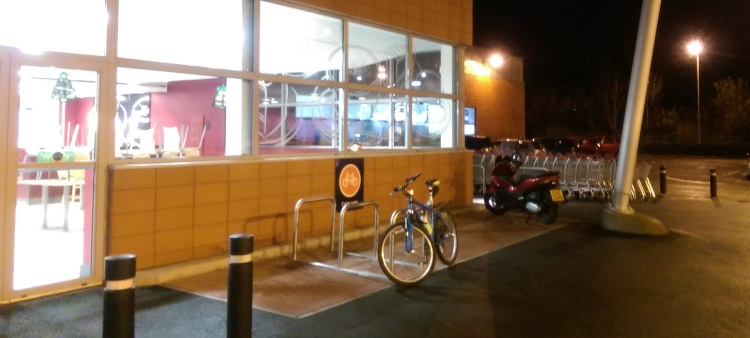 Store management could have a winner here with a little more thought and investment. Although Sainsbury's support for a Belfast to Holywood Greenway would go a long way to increasing two-wheeled custom and currying favour with me..
---
What Sainsbury's say..
"Holywood:

New bike racks added to store 8 months ago.
Cycle to Work scheme in place at their store.

Forestside:

In conjunction with the shopping centre there is a Cycle Club. Customers are encouraged to take part as well as colleagues and managers. Organise bike rides, hold events.
Bike racks out the front of the store.
Cycle to Work scheme.

Kennedy Centre:

After Christmas will be getting the City Bikes – massive boost for cycling.
Bike racks outside the store.
Cycle to Work scheme."
---
Verdict

Not the only supermarket chain with 2 stores rated with 5 or more points, but it's the consistency of good quality bicycle provision that gives Sainsbury's a decent average score of 4.5 out of 7 points. Sainsbury's are in a great position to make a few tweaks and sew up the top spot in 2016.
---
How does Sainsbury's rank for bicycle facilities against other supermarkets in Belfast in 2015? Find out in Store Wars VII: The Cycling Revolution Awakens..
Note: Visits to each of the 40 supermarkets in Belfast were made in November and December 2015 and facilities (or lack of) were recorded as observed at the time – NI Greenways is happy to correct any errors identified in this survey.