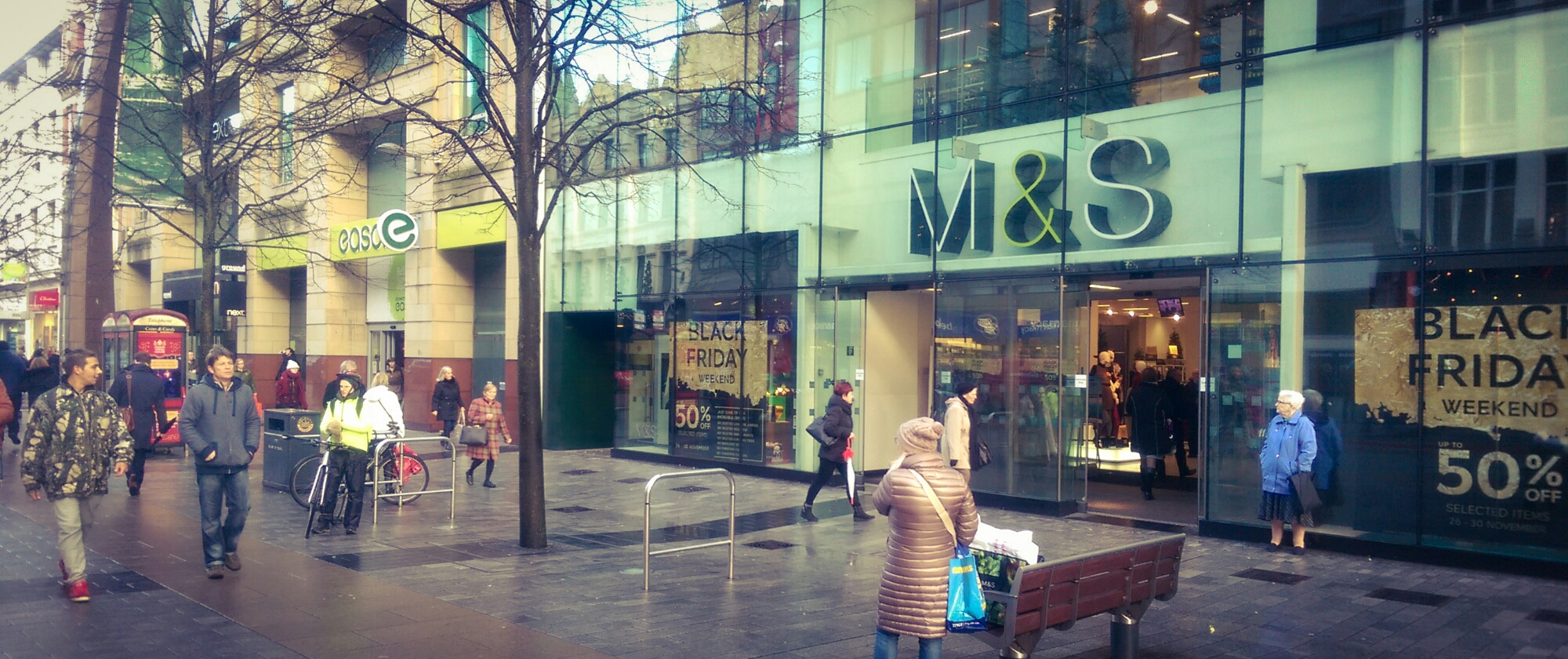 Over November and December 2015, Northern Ireland Greenways surveyed cycling facilities at the 40 chain supermarkets in Belfast. Marks and Spencer's 4 major supermarkets were included, as well as the flagship city centre Food Hall on Donegall Place.

This system means we can independently rate any supermarket against a consistent benchmark out of 7 points for the quality of facilities laid on for customers choosing to arrive by bicycle.  A score of 6-7 would identify a store offering adequate to good facilities. So how does each M&S store in Belfast rate for attracting customers by bicycle?
---
M&S Ballyhackamore

Ouch. Just a stone's throw from the Comber Greenway and this M&S Food Hall has no bicycle facilities.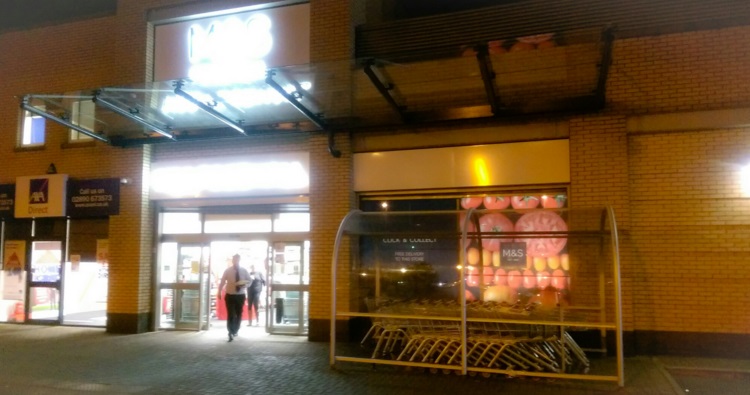 A bad start.
---
M&S Boucher

On the same block where the world's largest online bicycle retailer Chain Reaction Cycles has its flagship Belfast store, M&S has made a half decent effort to encourage customers to drop in and lock their bike outside.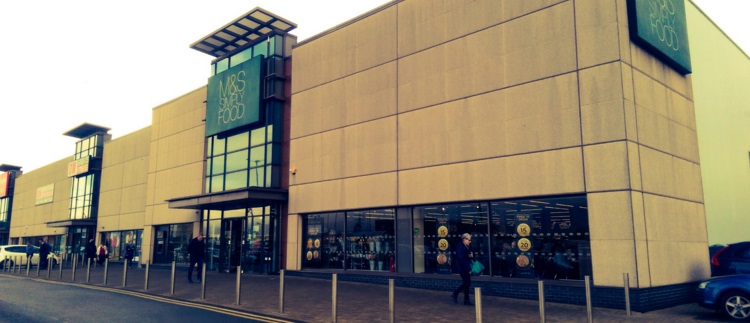 These two bike racks hide behind the bin and are easy to miss (I did first time round*) and although they benefit from being right beside the store entrance, the lack of shelter or CCTV, as well as the bin reducing the quality of the space, holds back the score to just 2 out of 7 points.
Space and cost isn't an issue for Chain Reaction – showing the way for M&S to improve..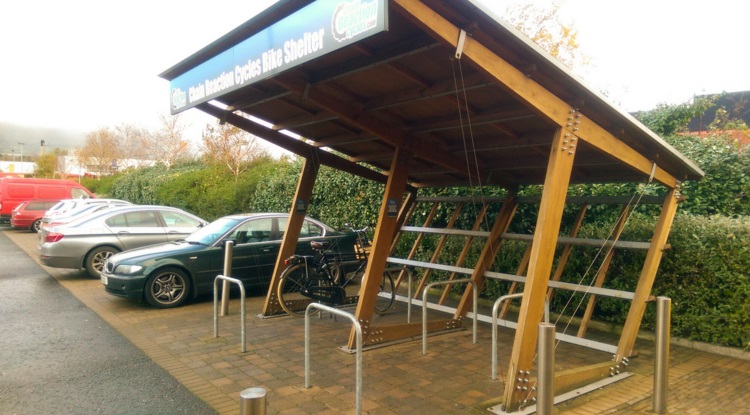 ---
M&S Donegall Place

A rating of 2 stars for M&S Donegall Place is probably down to the work of the government Streets Ahead project, with 3 good bicycle racks outside one of 3 main entrances to the flagship city centre store.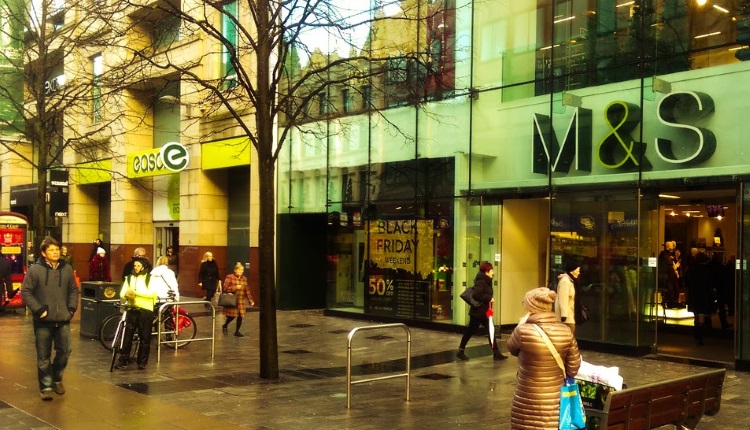 There's scope to add racks facing Belfast City Hall and in Callendar Street to make this a much more accessible store.
---
M&S Forestside

Whether the credit goes to Forestside management or M&S is debatable, but losing a point for quality is not debatable here. While the racks benefit from a close position to the dedicated M&S entrance, and a CCTV camera is a good deterrent to theft, the racks themselves suffer from some unfortunate conflicts.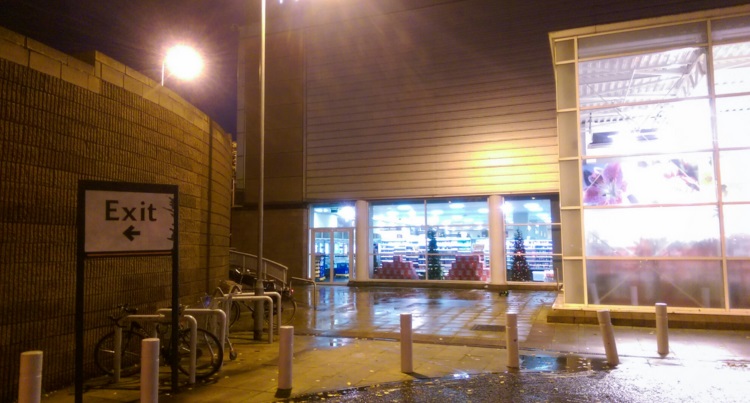 Whether it's the street light pole or the exit sign getting in the way of locking up your bike, this area occasionally gets seen as a dumping ground or other worthy causes..
Again, given the high quality facilities just around the corner at Sainsbury's Forestside, M&S should be doing better here.
---
M&S Lisburn Road

Gah – in Belfast terms (which isn't saying much) the Lisburn Road is a cycling superhighway. But no racks for passing customers on bicycles here.
So both Tesco and M&S on the Lisburn Road are currently failing in this department – I wonder which supermarket will react the quickest?
---
What M&S say..
"We offer a 'Cycle2Work' scheme which gives all our employees in the UK significant discounts and extras on bike purchases.

"Given the focus on cycling in Northern Ireland at the moment this is something we will look at in the coming months and speak with our landlords and retail park colleagues about."
---
Verdict

It's a disappointing average score of just 1.4 out of 7 for Marks and Spencer, and the racks at Donegall Place and Forestside may be more through luck than M&S design. There is much to do in 2016 for this premium brand, with Ballyhackamore and Lisburn Road stores representing the most obvious quick wins.
---
How does M&S rank for bicycle facilities against other supermarkets in Belfast in 2015? Find out in Store Wars VII: The Cycling Revolution Awakens..
Note: Visits to each of the 40 supermarkets in Belfast were made in November and December 2015 and facilities (or lack of) were recorded as observed at the time – NI Greenways is happy to correct any errors identified in this survey.
*This post was updated on 9/12/15 to amend the score of M&S Boucher as that store's 2 racks were missed on the initial visit. This changes the overall M&S score from 1 out of 7 to 1.4 out of 7. This did not affect the original overall 4th place rank of M&S on the league table.