Continuing a series of guest posts, Chris Ward shares his experience of cycling in Denver, from his perspective as a club cyclist and everyday bicycle commuter. What lessons can Belfast and Northern Ireland learn from one of the most bicycle-friendly cities in the United States?

As a city that sees over 300 days of sunshine every year (58 in Belfast) and less than 17 inches of rain (34 in Belfast) Denver, Colorado is particularly suited as a bicycling city. Due to its location at the foot of the Rocky Mountains and the all-year-round clement weather, Colorado is inundated with cyclists (both pro and amateur) wanting to test themselves on the infamous climbs. With Colorado already situated at over a mile high in altitude, this adds an extra dynamic to the challenge.
History of professional cycling in Colorado
Colorado has a long history of association with pro cycling: USA cycling, the governing body of cycling in the United States, is located in Colorado Springs. The Coors International Bicycle Classic (1980-1988) was a major stage race sponsored by the Coors Brewing Company situated just outside of Golden, Colorado. Coors had originally been the second sponsor, with the first being Celestial Seasonings who named the race after its premium tea Red Zinger (it ran in this incarnation from 1975).
The event grew in popularity due to the availability of an interesting and varied parcours: one in particular was a recurring stage that saw the riders tackle Suicide Hill near Snowmass, a road so steep that it was heated in winter. It was considered in many circles as America's National Tour. With the growth in popularity the race also saw an extension in length, going from 3 days of racing in its initial conception to two weeks in its final form. This even saw the race dip into neighbouring states, something which is popular with the more established grand tours.
The Coors Classic saw such illustrious winners as Jonathan Boyer (first American to enter the Tour de France), Greg LeMond (first American to win the Tour), Davis Phinney (father of current pro Taylor) and even Bernard Hinault (5-time winner of the Tour).
The Coors Classic set the stage for the emergence of American riders into the Tour de France in the '80s and paved the way for the current wave of American professional riders. The USA Pro Cycling Challenge, the reimagining of the Coors Classic, was established during 2011 in Colorado, it had been announced the previous year by Bill Ritter the then Governor of Colorado and Lance Armstrong. The USA Pro Cycling Challenge is one of only 2.HC rated races in the United States and is considered by many to be one of the most important pro cycling races in the US.
Casual cycling in Denver
With cities such as Boulder, Fort Collins and Denver placing an emphasis on legislation, programs and infrastructure developments that promote cycling as a mode of transport, the League of American Bicyclists has rated Colorado as the second most bicycle friendly state in the United States.
I was lucky enough to spend a week here while at a conference in downtown Denver during November. I was immediately struck by four things, no doubt things that would only appeal to any cyclist:
the number of cyclists on the road
cycle lanes and segregated paths
bike racks on the front of buses
a comprehensive "Share the Road" campaign
Upon further exploration, myself and my fiancée, Kat found that Denver played host to one of the most comprehensive bike sharing schemes in the world.
The Freewheelin' programme started in 2008 with Denver hosting the Democratic National Convention. Major John W. Hickenlooper saw this as a challenge to make the convention the "greenest in the history of mankind". Brainstorming began with contributions from local bike advocates, transportation planners, Host Committee staff, Greenprint Denver, the Department of Public Works staff, Bikes Belong and Humana. This initial investment of 1,000 bikes made up a short-term bike sharing program called Freewheelin'. During this time the participants logged 5,552 rides, totalling 26,463 miles, burned an estimated 818,899 calories and offset approximately 9.3 metric tonnes of carbon. It goes without saying that this also had an impact on reduced motor congestion, lowering levels of obesity which in turn led to a reduction in spending by hospitals and a welcome boost to the local economy.
When the accounts closed on the convention, the host committee found itself with an unexpected surplus available to give back to the community. This foresight saw a special legacy programme receiving $1M to form Denver Bike Sharing, a non-profit organisation to take charge of the project.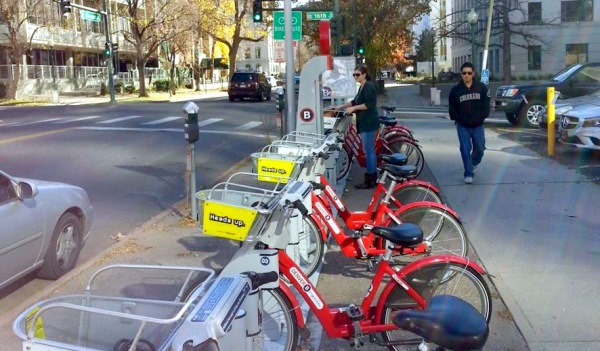 Without this initial success the B-cycle scheme would never have come to fruition. Humana, Trek Bicycle corporation, Crispin Porter + Bogusky came together in 2009 to form the first fully web-enabled, credit card-operated bike sharing system in the United States. This was then purchased by the Denver Bike Sharing organisation and has been running since April 2010.
For a fee of $8, one can rent a bike for a day and, provided it is returned to any docking station within 30 minutes, your ride is free. With stations of bikes located throughout the city and in front of many of the main attractions, a day of cycling sightseeing is extremely possible; but I am not the person who needs convincing.
I consider myself a competent cyclist. I tend to rack up about 180 miles during the week with almost 2/3 of that done on the commute between Millisle and Belfast. Traffic doesn't phase me, neither do motorists and I consider myself lucky that I've only had a handful of close calls in the last couple of years. It's easy to forget, as I mentioned before, that I don't need to be convinced to get on my bike to head to work; it's the people that don't that need the push, and to do that we need to keep moving with the bike advocacy mentioned.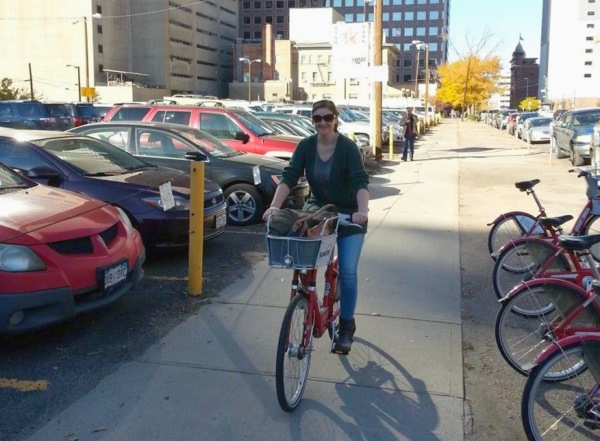 It was Kat who mentioned taking the bikes to go sightseeing. Perhaps it was the sheer number of bike commuters she saw, or the number of B-cycle stations that convinced her that cycling was a safe option and provided confidence that we could navigate the streets. She said:
"I noticed the B-cycle stations on our first day in Denver as they are located every few hundred yards around the busy downtown area. The process to purchase a 24-hour pass was simple as it could be done with a credit card at any docking station and it was nice to not have to be tied into a longer contract which we might not have benefited from. The streets were clean and well paved which made for a pleasant journey. And the motorists were courteous – not a beeping horn or obscene hand gesture in sight! I would highly recommend to anyone as a simple way to ensure you make the most of a city too large to walk."
Finding a station was easy enough as there are a massive amount of them in downtown Denver. Checking out the bike was simple and in no time we had consulted the map and were on our way to Denver Zoo. Helmets are not provided, and while I am an avid wearer I would never legislate for it – but that is another blog post in itself. Apart from a few stops to check the map we made it to the Zoo with no problems. I was amazed at the respect given to us by car drivers. Never once were we harassed or felt intimidated, no doubt due to motorists having more interactions with cyclists and a comprehensive safety campaign.
On our way back we chose a route which featured a bike lane our whole way. These are ubiquitous in Denver, while I couldn't find figures for the amount of non-segregated bike lanes, Denver hosts over 850 miles of paved, off-road bike paths. These are key to its success, as they allow for a significant portion of Denver's population to be bicycle commuters, and have led to Denver being known as a bicycle friendly city.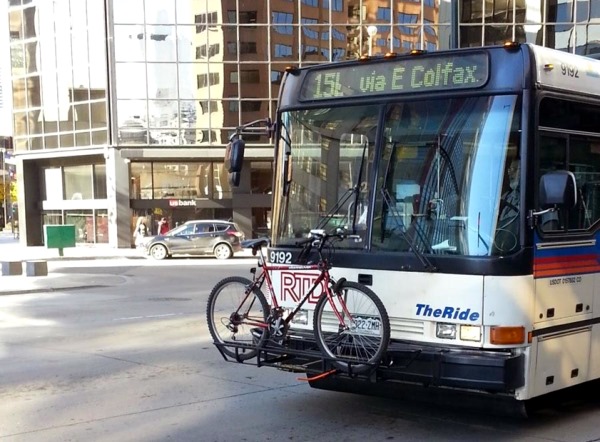 What can we learn?
How can we apply these lessons to Northern Ireland?
First off, weather is not an excuse and we are lucky that we tend to have quite a mild climate. There is no such thing as bad weather: only poor clothing. With adequate set-up there is no reason why one cannot cycle all year around. With the average commute in the UK being less than 8.5 miles we are in a prime position to take advantage of this.
Our road system is a mess: most recently Belfast was highlighted as one of the most congested cities in the UK and with the price of petrol increasing it is becoming a more viable alternative for people to cycle. With the addition of more bus lanes in Belfast we need to see more of a drive to get cyclists out there, and more pro-cycling campaigns which will help with congestion.
Translink need to revise their 'bikes on trains' policy and offer a subsidy for bike use on both trains and buses.
Belfast biking sharing has already gone out to tender – more news in future.
Subsidies for companies that promote cycling for their employees (showers, locker facilities, secure bike parking) and in turn can have more healthy and productive workers.
With the Giro d'Italia starting in Belfast next year we are in a prime position just like Denver was: can we ride the wave of success and continue to grow cycling in Northern Ireland? Only time will tell.