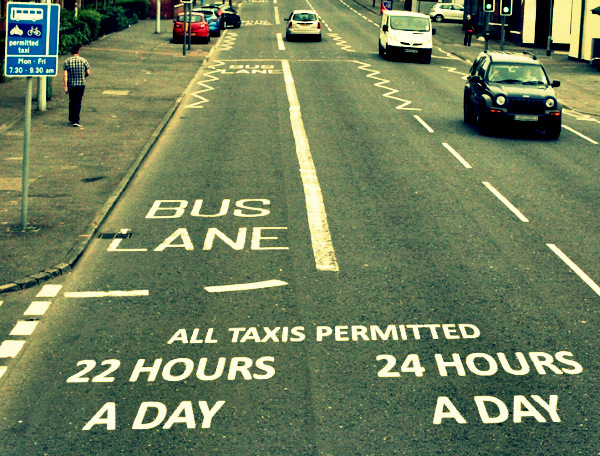 It's not surprising that an issue like taxis in bus lanes can turn emotive. The toll on perception of cycling safety has been passionately expressed through public comments in a 2013 petition. (Current) 'private hire' taxi drivers in the media convey a sense of an important public service being denied a rightful place in bus lanes, describing access as "essential", "important" or key to "enhancing and improving the taxi industry".
But what is the actual impact of restricting bus lane access for these taxis? NI Greenways got hold of a bucket of white paint and added some much-needed perspective..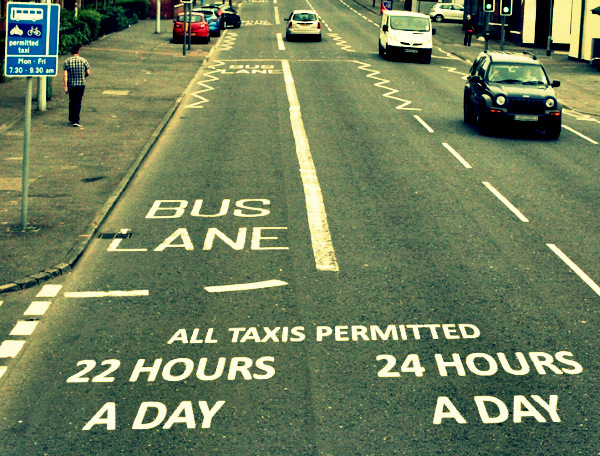 Is this really so restrictive in the grand scheme of things, only on weekdays? The addition of new Belfast city centre bus lanes with longer operating hours makes muddying the waters easy for the taxi lobby, but this simple idea holds true across most of the city.
But how much of the city has this (dare I say) minor restriction for (current) private hire taxis?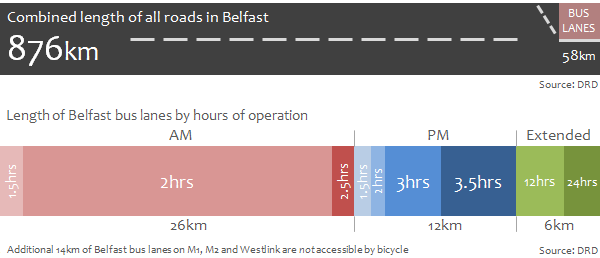 58km of roads with a bus lane seems like a pretty small proportion of the city's total road network, even if they're situated on routes with high traffic demand. Amazingly even Belfast's cycle lane network is longer!
The majority of Belfast's bus lanes operate for just 120 minutes or less in the morning rush hour. Bus lanes with extended operation account for just 6km, and includes many areas outside of the city centre.
With around 100 bus lanes across Belfast where taxis could be put into competition with cyclists by allowing access, the median bus lane length is just 320 metres. Is this really so crucial to overall taxi journey times in the city?
Demands, but little demand
When the owners of the big taxi firms play up the importance of bus lane access for their businesses and customers (and they will) remember this:
"It is also important to highlight that of the total number of taxis operating in Belfast, the majority do so at evenings and weekends – times when there is little or no use of bus lanes by other road users." 
William McCausland [fonaCAB] and Stephen McCausland [Value Cabs], correspondence with Regional Development Committee, April 2013
Taxi firm owners can't have this both ways – if bus lanes aren't essential to the majority of their operational fleet, then why do they demand access?
If only there was government-commissioned research to give us an important perspective on the size of their passenger market during bus lane hours..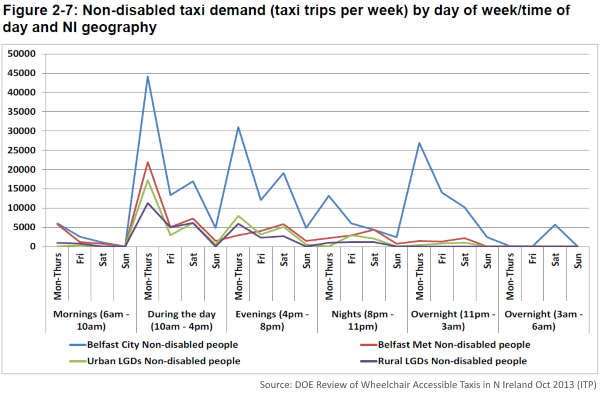 Almost every AM bus lane in Belfast (city and metropolitan area) ceases operation at 9.30am – well ahead of the peak demand for taxi trips in the city. There's little doubt that peak demand from commuters by bus, motorcycle and bicycle (not to mention private vehicles) is exactly in morning bus lane operating hours. So why is bus lane access so essential for (current) private taxis again?
There's greater taxi demand in the evening (in the city but not metropolitan area) but the city's PM rush hour is less congested than the AM version – you only need look at the PM bus lane lengths and hours of operation (in blue, above) to see the difference.
Those little windows of opportunity for enjoy calm and clear bus lanes are greatly valued by people cycling in Belfast, and are crucial to the continued success of the Metro bus system. They're clearly coveted by private taxi firms and drivers, but it's important to remember how little of the road system bus lanes take up during short periods, and how little use taxis claim they'll make of them – backed up by a remarkable lack of demand.
Next: 4,000+ taxis in bus lanes..