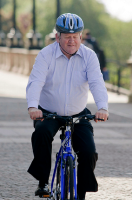 Bike week is upon us! It's that time of year when the Regional Development Minister and various politicians are handcuffed to bicycles and horsewhipped around the Stormont Estate for their annual photoshoot. Delve into government and political press releases, articles and interviews and you'd be forgiven for thinking Northern Ireland was an international beacon of active travel. Millions of pounds have flowed into making cycling easy and safe, increasing journeys is a high priority, obesity must be tackled…and so on..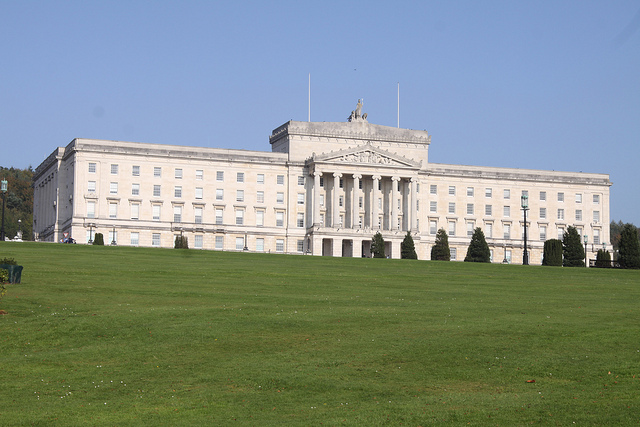 Meanwhile reality continues to bite on our roads every day, and very little actually happens to build the conditions for everyday cycling. So when Danny Kennedy tells you how much he wants to see cycling thrive, remember this is the Minister still considering whether to allow thousands of taxis into Belfast bus lanes.
And what of the other parties in Northern Ireland? Brace yourself for an onslaught of free and easy statements of support, but judge for yourself the context. Policies and priorities are in a constant state of change, and interesting developments may be happening behind the scenes. But your political parties represent you on the basis of a mandate from the Assembly elections just 2 years ago. Was cycling (and by extension active travel) important enough to reach party manifestos in 2011?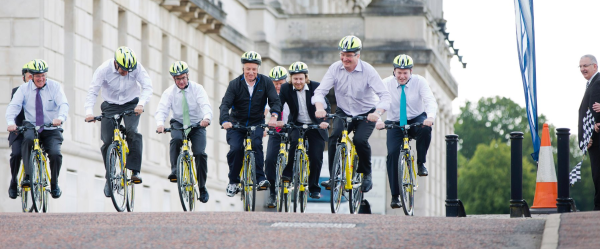 From 2011 manifestos as listed on the Conflict and Politics in Northern Ireland (CAIN) website.
Alliance
Alliance 2011 Assembly Election manifesto
In Northern Ireland, 28% of all journeys less than one mile and 67% of journeys between one and two miles are made by car. Alliance supports the continued provision and maintenance of cycle lanes on our roads. We recognise the importance of safe road use. In particular, we believe there is a need to educate children in the safe use of roads. We therefore propose primary schools include cycling proficiency as part of the physical education curriculum.
Democratic Unionist Party (DUP)
DUP 2011 Assembly Election manifesto
Continue to minimise road casualties through road safety engineering, collision remedial schemes, traffic calming, school safety zones and improved pedestrian and cycle networks.
Increase the number of regular cyclists. [Tackling obesity]
Green Party
Green Party 2011 Assembly Election manifesto
Introduce measures to give pedestrians priority in residential streets, including a 20mph speed limit in built-up areas.
Ensure most children are able to walk or cycle to school and support employers who promote cycling to work. Giving the highest priority to safe routes to so that most children are able to walk or cycle to school.
Encouraging all other initiatives to incentivise a change of travel mode to cycling – including alterations to allowances paid by employers to their employees for their necessary travel and government tax relief for work related cycling on a scale no less generous than car allowances.
Progressive Unionist Party (PUP)
PUP 2011 Assembly Election manifesto
No mention.
Sinn Féin
Sinn Féin 2011 Assembly Election manifesto
No mention.
Social Democratic and Labour Party (SDLP)
SDLP 2011 Assembly Election manifesto
However, going forward there must be a fundamental shift in the spending balance in order to address the inadequate provision of alternatives to car use and make sustainable, accessible, value-for-money transport the first choice for the people of this region.
It is widely accepted that reducing the speed from 30 mph to 20 mph on urban residential streets through creative urban planning has been proven to increase the number of cyclists on the roads. The SDLP therefore brought draft legislation to the Assembly which would reduce speed limits in urban areas. By making our streets a safer place for all, we will increase uptake of active transport, namely cycling and walking.
We initiated the draft legislation and also demanded a reversal on cuts to the active transport budget following the startling 98% cut in the Budget. In the next mandate, we will build on our work to date by expanding and promoting the 'bike to work' scheme to encourage employees to cycle to work if and where possible, incentivising the scheme by enabling employees to purchase bikes tax-free.
In addition, we will establish a bike scheme in Belfast, whereby bikes are available for short-term public hire across the city, given the success of a similar scheme in Dublin, as well as evidenced in many cities across Europe. Looking beyond our main cities, we support the expansion of the cycle network across the North and an increase in the number of dedicated cycle routes.
Traditional Unionist Voice (TUV)
TUV Assembly Election Manifesto 2011
No mention.
Ulster Unionist Party (UUP)
UUP 2011 Assembly Election manifesto
No mention. [Current holders of Regional Development Ministry]
United Kingdom Independence Party (UKIP)
UKIP General Election Manifesto – Transport 2010
(Although UKIP did not contest the 2011 Assembly Elections, they have since absorbed and assimilated David McNarry MLA, late of the Ulster Unionist Party. As well as gaining NI's first UKIP MLA, this gave UKIP a voice on the Regional Development Committee, and therefore immediate influence on transport policy. The closest manifesto and policy for this comparison was the General Election of 2010.)
Support responsible pedal cycling but have zero tolerance on dangerous practices such as running red lights. We will consult on proposals for cyclists to display a cheap 'Cycledisc' to deter theft and give 3rd party insurance for car damage.
Worker's Party
Worker's Party 2011 Assembly Election manifesto
Improve safety that will reduce the number of people killed or seriously injured on our roads and encourage the use of more sustainable forms of transport including public transport and cycling and walking.
The Programme for Government 2011-15
The Northern Ireland Executive (made up of Ministers from DUP, Sinn Féin, Alliance, UUP, SDLP) agreed a Programme for Government to cover the Assembly term. The only implied and explicit mentions of cycling were:
Invest over £500 million to promote sustainable modes of travel (DRD)
By 2015 create the conditions to facilitate at least 36% of primary school pupils and 22% of secondary school pupils to walk or cycle to school as their main mode of transport (DRD)
Looking ahead to the next election
A great deal of work is needed between Bike Week 2013 and the next Northern Ireland Assembly elections in 2016. Cycling organisations have a role to play, but ordinary people – citizen cyclists – must act to see detailed and stretching ambitions locked into all party manifestos. If we look to Scotland and the Pedal on Parliament campaign, we can see inspiration for a set of goals for Northern Ireland which should be pressed for in the run-up to 2016.
NI's Executive looks set to continue as a multi-party coalition for the foreseeable future. This means any of the main parties could choose Regional Development under the D'Hondt system. Also, the Programme for Government priorities are agreed between all Executive Ministers (and parties), so having everyone singing off the same hymn sheet before the elections is half the battle.
Cycling as an issue doesn't fit with the traditional voting patterns in Northern Ireland. It cuts across religious or community identities, but in itself will not be likely to influence voter choice as a single issue. Working to ensure that all political parties include headline policies to ensure funding, strategies and targets for cycling is the most likely route to success. Your work begins this Bike Week.