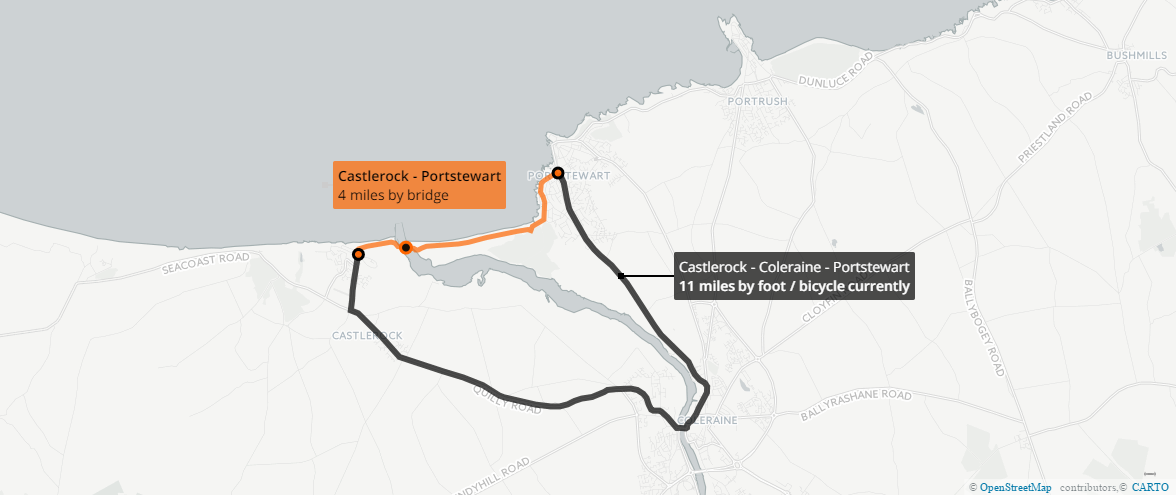 Bridging the divide is a series of articles proposing three investments which can boost active travel by linking communities divided only by the cost of a bridge. On the wild Atlantic north coast, the River Bann divides Castlerock and Portstewart – could a bridge invigorate the region's tourism economy?
Atlantic Gateway
An iconic bridge across the River Bann barmouth as it meets the Atlantic Ocean would directly connect two important tourist destinations, reducing the reliance on vehicle travel on the North Coast.
Castlerock and Portstewart are separated by just over three miles as the crow flies. Looking east from Downhill House the towns appear to sit side-by-side, with a sandy strand linking the two settlements.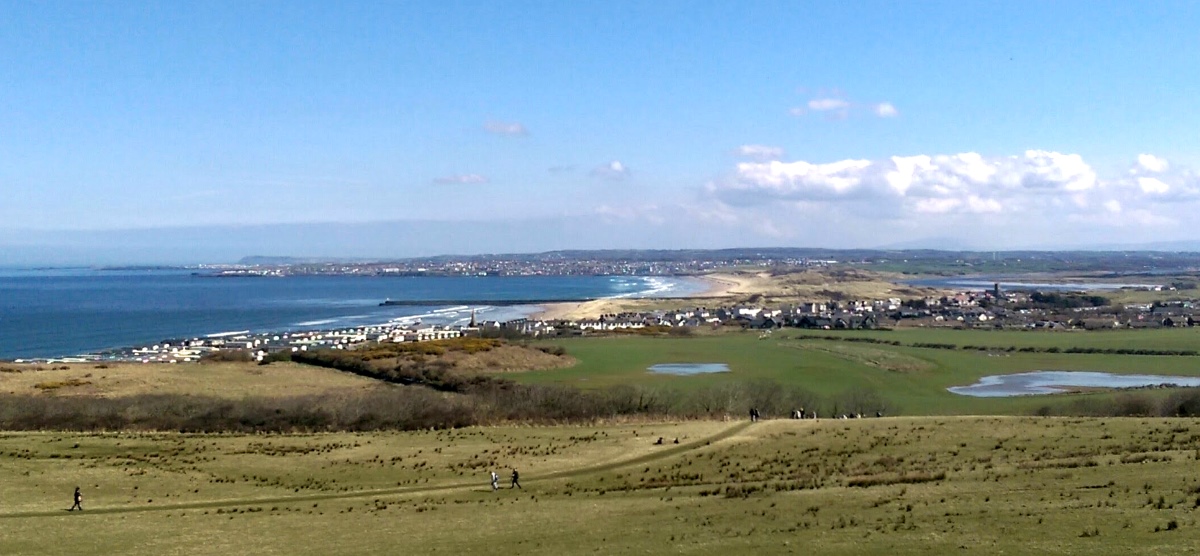 On closer inspection the River Bann poses a formidable barrier between the two. The Bann runs for 99 miles from Slieve Muck in the Mourne Mountains, through Lough Neagh and into the Atlantic here beside Castlerock.
A barmouth constructed in the 19th century keeps the Bann open to navigation.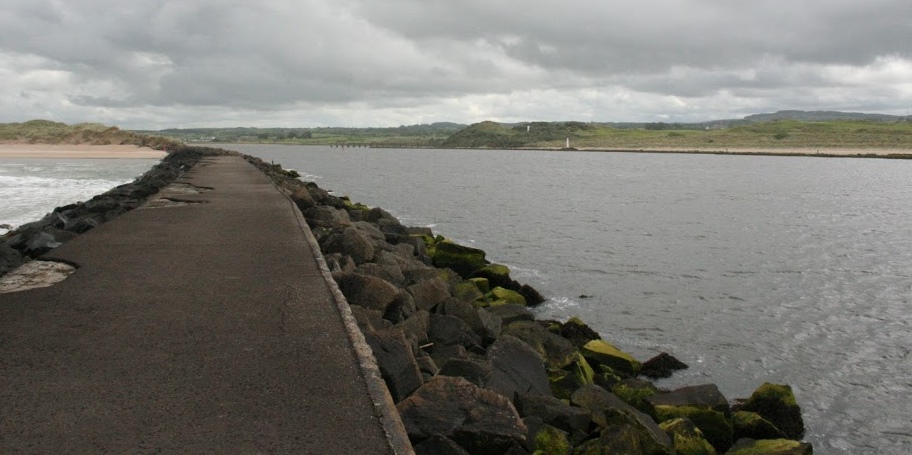 Due to this physical barrier, travel between Castlerock and Portstewart means a road journey through Coleraine of about 11 miles.
There are just two reasonable options – by car (taking roughly 25 minutes) or by public transport. Castlerock benefits from regular train and bus services, but getting to Portstewart requires a changing bus or train at Coleraine, both much slower options:
39 minutes by train then bus (£5.40 discounted adult return, £8.90 before 9.30am)
55 minutes by bus then bus (£2.70 discounted adult return, £4.10 before 9.30am)
For a family of four that's anywhere from £8 return up to £22 for a day travel family card (depending on your mode of travel and time of day) with up to two hours total travelling time out of your day – for little more than three miles as the crow flies.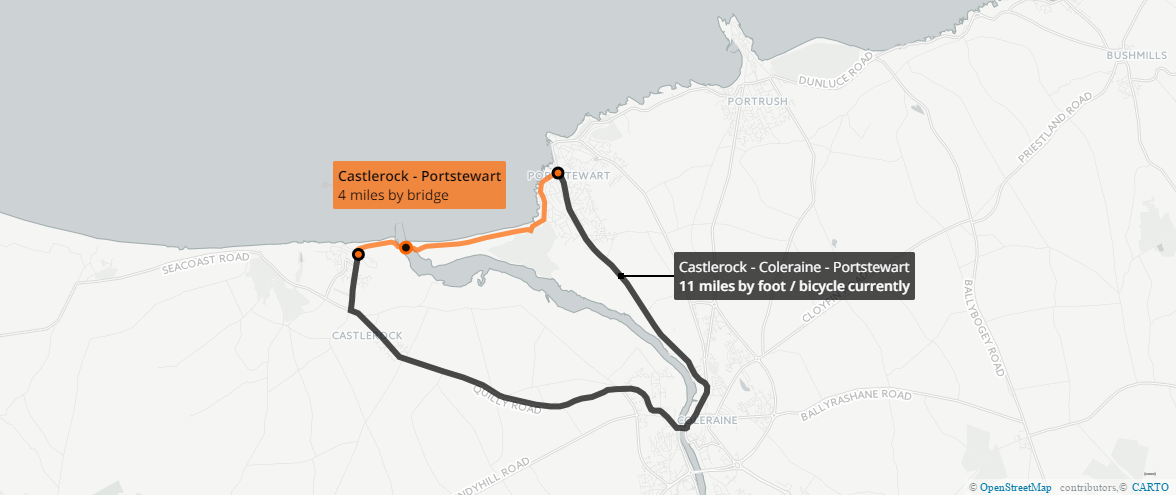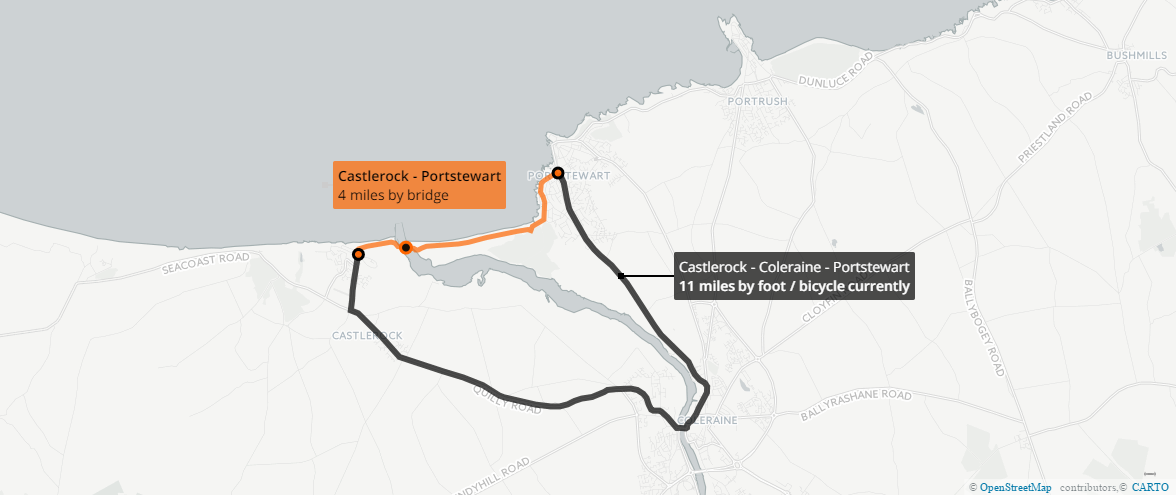 The alternative to this – highly attractive to local residents and the summer flood of tourists alike – would involve building a bridge across the barmouth. The shortest span at this point is about 190 metres, and a bridge would need to be high enough to maintain navigation through the Bann.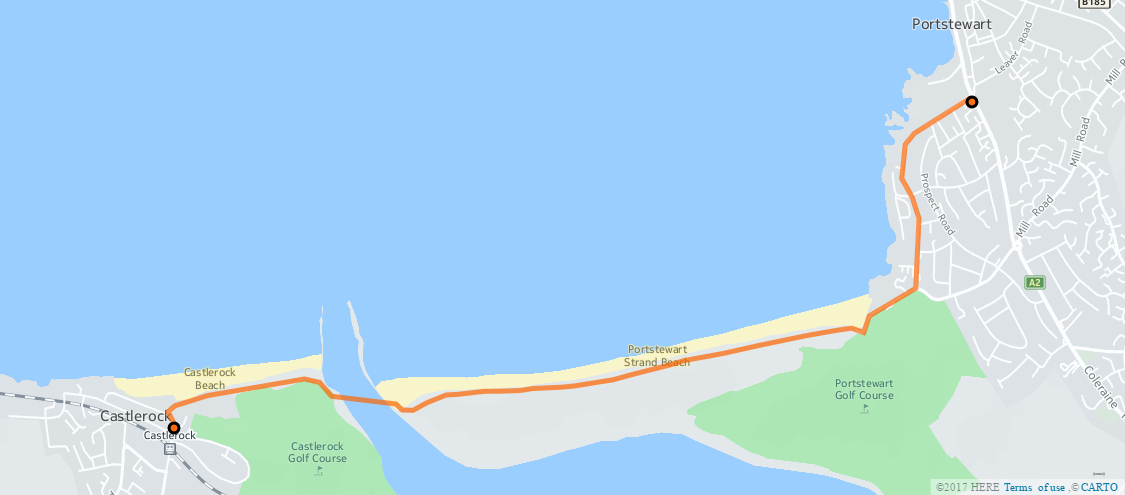 On the Castlerock side the bridge would be approximately 800 metres from Sea Road or 500 metres from the end of the private caravan park behind the golf course.
Across on the Portstewart side of the bridge, the 1.6 mile long strand is a challenging walk and an impractical (at times impossible) cycle or wheelchair journey.
Both sides of the bridge have extensive sand dunes between the Bann and the towns. An environmentally sympathetic option – to provide high quality and practical access all year round – would be to use a three metre wide elevated boardwalk, suitable everyday cycling, wheelchair and mobility scooter journeys.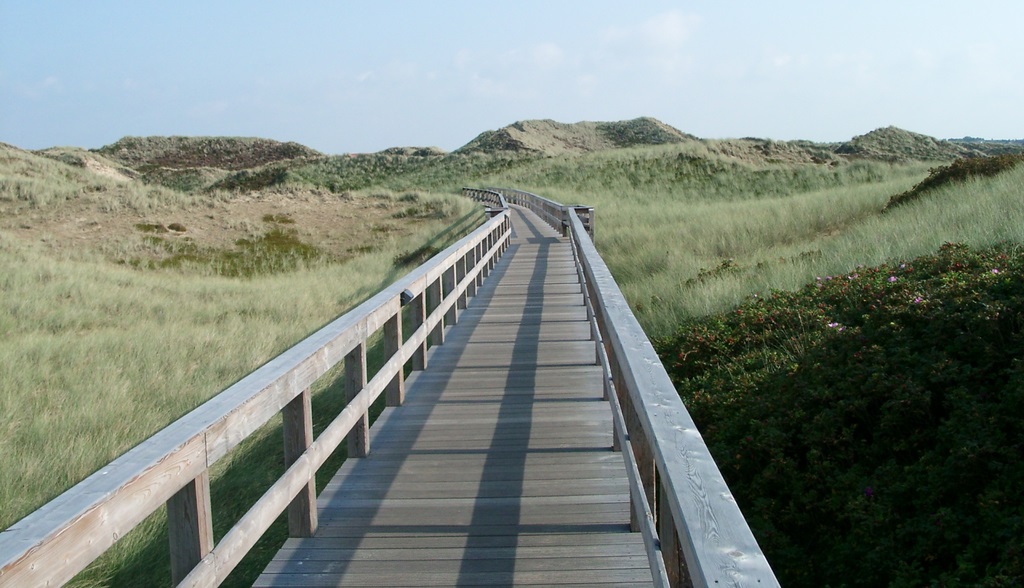 Portstewart Strand is a National Trust managed property which currently allows vehicle access onto the beach, and is home to the world famous Harry's Shack restaurant. The proposed 2.5 mile boardwalk route (including bridge) would put Downhill House and Mussenden Temple within a 4.5 mile cycle from Morelli's on Portstewart promenade.
There are already cycle hire companies on the north coast such as Causeway Cycle Adventures, but this type of medium distance route grafted on to existing seaside towns, major tourist attractions, and the existing traffic-free cycle route on towards Portrush, would surely support more local employment opportunities.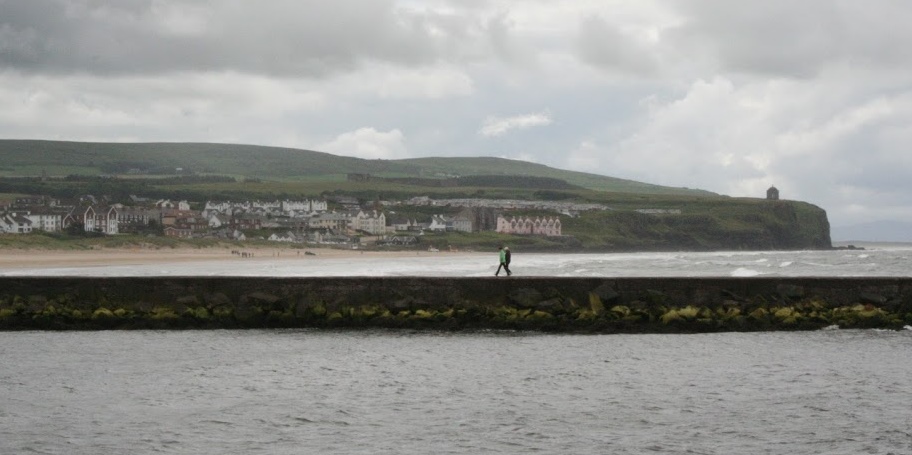 Further on past Portrush the Department for Infrastructure is proposing to run its Greenway Network all the way to Dunluce Castle, Bushmills and the Giant's Causeway. To the west lies Downhill, Binevenagh, Limavady and on towards Derry City and its growing greenway network. An Atlantic Gateway would bypass the long diversion into Coleraine – while also creating an attractive 13 mile triangular route between Portstewart, Coleraine and Castlerock.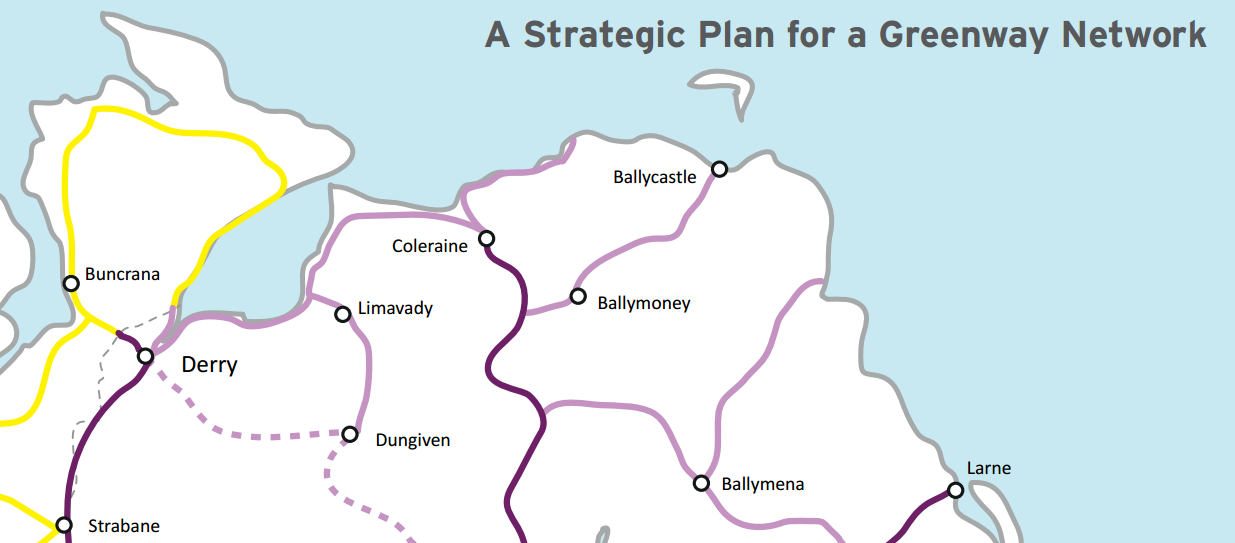 This bridge and route could bring immense benefits to local residents and visitors alike. It can actively displace a significant proportion of year-round resident and visitor journeys from cars to bicycles, given the potentially identical travel times. It also opens the possibility of creating a new architectural centrepiece for our tourism offering with the Atlantic Gateway bridge itself.
---
What do you think of the Atlantic Gateway idea? Please take the time to leave your comments below and share through your social networks. Election season is also a great time to contact your local MLA candidates to ask for their support! 😉