Some remarkable facts and new developments are worth noting as cycling continues to benefit from a fair wind at the Northern Ireland Assembly.
20% of MLAs are now directly involved in cycling matters
This fact should be celebrated for, whatever individual politicians' and parties' views and policies, 22 of the 108 Members of the Legislative Assembly (MLAs) are working through various issues to do with everyday cycling.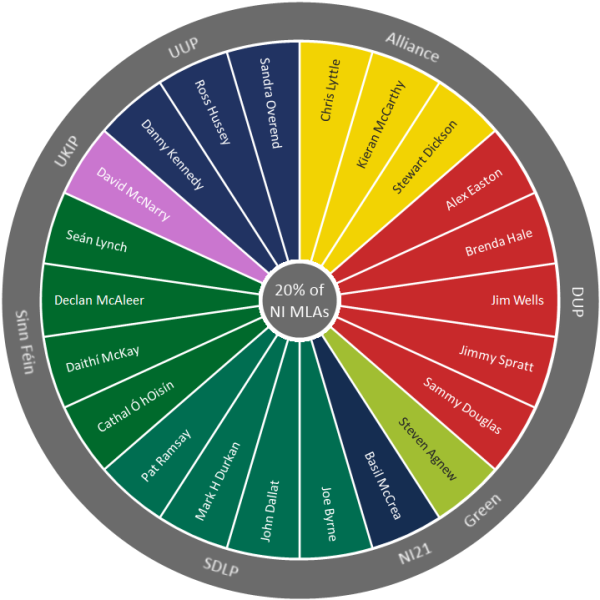 This level of exposure to the economic, safety, social inclusion and strategic transport issues can only benefit local cycling in the short to medium term. (Although some more women MLAs working in this area would be most welcome..)
Inquiry into the Benefits of Cycling to the Economy
The Regional Development Committee has launched an inquiry into cycling with an interesting twist – what the benefits are to the economy? This is a fantastic opportunity to build a locally-focused business case for investing in high quality and safe cycling facilities in Northern Ireland.
The inquiry's terms of reference includes:
assessing the structure, operation and future suitability of NI's cycling network
identifying and quantifying success or failure against government objectives
analysing opportunities to achieve future objectives
developing a short list of recommendations or reforms (short, medium, long term)
identifying additional funding and sources to deliver agreed objectives
The Committee wants submissions from organisations and individuals to feed into their inquiry and report. Find out more about the inquiry and get involved on the Northern Ireland Assembly website. The deadline is 21st March 2014.
Department for Regional Development Cycling Policy Unit
The plans for the new DRD Cycling Unit are starting to unfold. The Unit is taking on staff, and details of plans and budget bids for 2014/15 are emerging.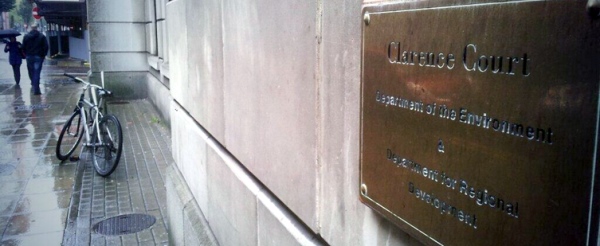 The head of the new Unit Andrew Grieve briefed the Regional Development Committee on 5th February and raised some interesting points:
Planned budget: £3m capital / £1.5 resource in 2015/16 rising to £5m / £2.5m in 2016/17
Belfast will be initial focus of cycleway and quietway development – 4 cross-city cycleways are being planned with Belfast City Council (an unproblematic N-S, E-W, NE-SW, NW-SE pattern)
Cycleways will build on existing routes and infrastructure and upgrade to a more coherent network
Quietways to build upon developments like the Gasworks Bridge to provide new routes
5 main areas of work – research, policy/strategy, road scheme assessment, cycling measures, promotion
influencing road design & maintenance, ensuring the needs of cyclists are incorporated at an early stage, assessing the feasibility of cycling measures
supporting greenway development including a possible extension of the Comber Greenway and linking the Newry Canal Towpath with an east coast greenway to Dundalk
That headline second year budget figure of £7.5m is interesting. Over the last five years the average annual budget for cycling has been a woeful 58p per head in Northern Ireland. In year 2 (with little prompting) DRD want to advance to £4 per head of population, about double the present rate in GB. While still far short of the roughly €30 per head annual spend in the Netherlands, it's a positive first step – especially when the Unit head is saying:
"We're aiming to have a specific budget under the control of the Cycling Unit. We know of cases where cycling cities will allocate 10% of their transportation budget to cycling. Ultimately the key is: what priority are we going to give to cycling?"
You can listen to the full briefing (from 1:02:06 onwards) with the NI Assembly's audio recording:
[soundcloud url="https://api.soundcloud.com/tracks/133209302″ params="color=00aabb&auto_play=false&hide_related=false&show_artwork=true" width="100%" height="166″ iframe="true" /]
NI Assembly All Party Group on Cycling
The group, which was announced at the start of the autumn Assembly term, will begin its substantive work over the next few weeks. Drawing in MLAs from most Assembly political parties (the politicos among you will notice one party missing from the graphic above), the group's stated aims are:
To promote awareness and development of cycling policies and provision in Northern Ireland on a cross-departmental, cross-sector and cross-party basis.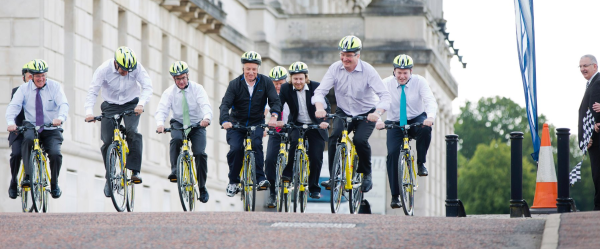 This will hopefully provide an interesting forum for discussion between politicians, organisations and the public on everyday cycling issues, and may even build on Westminster's Get Britain Cycling Report with some local research and campaigning output.
20mph Private Member's Bill
The SDLP's Pat Ramsey has re-introduced the Road Traffic (Speed Limits) Bill first brought to the Assembly by former MLA Conall McDevitt. Pat briefed the Regional Development Committee in February, and you can listen using the same audio above (from 14:10 onwards) to hear his plans for the Bill.
The aims of the Bill are broadly in line with the 20's Plenty For Us campaign, and would be a significant step forward for Northern Ireland to adopt reduced speed limits in residential areas. Successful implementation would be a boost for road safety, liveable streets and active travel.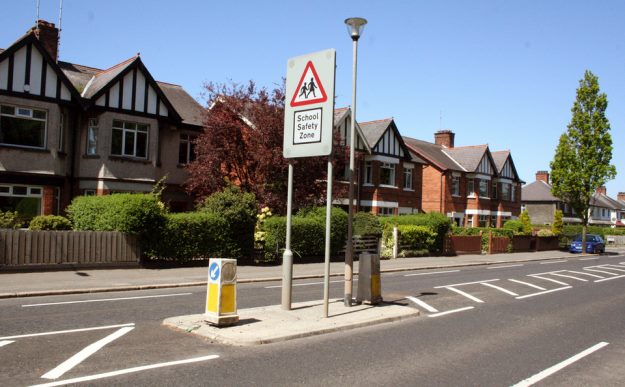 Private Member's Bills are notoriously hard to progress through the Assembly to receive Royal Assent. It will take hard work from Pat and his team, but also needs your support through lobbying your local MLAs to ensure they back the Bill at its various Assembly scrutiny and voting stages.
All of these groups will need public input and support, and if you want cycling to remain on politicians' minds, the next 2 years of elections provides a great chance to use your vote to keep cycling on the agenda.