As with so many of Roads Service cycle lane schemes in Belfast, Amelia Street shows all the hallmarks of compromised good intention. Cyclists are finding the lane blocked every day, leaving the lane useless and cyclists to dangerously negotiate a one-way street. The cycle lane itself is only 100m long, but this microcosm explains the problems Belfast faces in getting a quality cycling infrastructure.


Amelia Street sits opposite the famed Europa Hotel in Belfast, and across from one of the main transport hubs in Northern Ireland, Great Victoria Street Station. In recent years the street has been reworked to a one-way system, removing east-bound traffic to discourage cars turning right from Great Victoria Street.
Despite this, Roads Service recorded many cyclists continuing to use the street to access the office district behind the City Hall. In response, in January 2011 a contra flow cycle lane was created to meet this demand. Was this a high profile demonstration of Roads Service commitment to innovative cycling infrastructure in Belfast?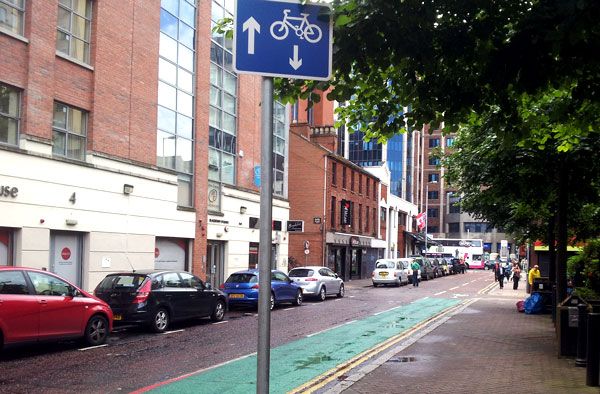 Now 18 months on, and the cycle lane users are running into daily problems, if not actually running into cars, vans, trucks and taxis parked on the cycle lane. The issue appears to stem from the catch-all solution to providing cycle space in Belfast – the advisory cycle lane.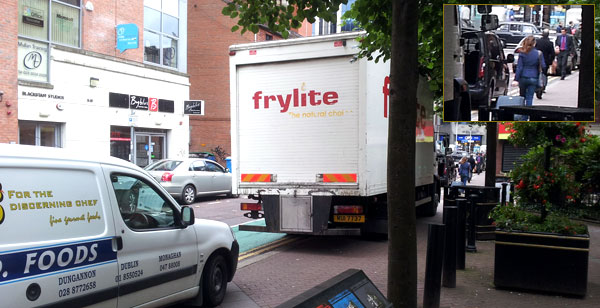 More instances on the Belfast Bike Lanes blog
An advisory cycle lane is identified by a broken white line, and places no legal restrictions on other vehicles travelling or parking within its boundaries. This differs from a mandatory lane, with an unbroken white line, which prohibits other vehicles from entering. It is important to note that cyclists themselves are not legally obliged to cycle within either of these types of lane.
The first problem is that a contra flow advisory cycle lane is inherently dangerous – it is not illegal for oncoming vehicles to enter this lane. Second is the lack of restrictions on parking, waiting or loading on the cycle lane; an advisory lane requires the addition of a clearway restriction or yellow lines for this. In Amelia Street there is a double yellow line running the length of the cycle lane. So cyclists wonder why this daily problem isn't being dealt with – surely any blockage is prohibited?
I stood with a friendly neighbourhood traffic warden and pointed out a cyclist having to round a parked truck. The cyclist was forced out into the oncoming traffic lane, blind to what was approaching. Apparently, traffic wardens operate a general 5 to 10 minute grace period for loading / unloading. Yet the Highway code states that: "Double yellow lines mean no waiting at any time, unless there are signs that specifically indicate seasonal restrictions." There are no signs on Amelia Street to this effect. Keyland's Place behind Robinsons would seem to be the obvious place for loading /unloading, so why are vans and trucks not directed there?
Road Markings information on the nidirect.gov.uk website (PDF)
Are Road Service traffic wardens actually applying the law correctly here? If not, why not? Or if they are correct, then why have Roads Service built a cycle lane which it is perfectly legal to block at any time?
One of the main gripes seems to be with taxi drivers using the cycle lane as an overflow. Challenging an individual driver blocking a cycle lane is usually counter-productive and misses the point. We are too quick to forget that taxi drivers were part of the glue that held this city together during The Troubles. Where policy is not strong, direction is not clear, and enforcement is confused, a vacuum exists. This is the fault of DRD Roads Service and no one driver or group.

A change in culture required
What Amelia Street needs, as with many other areas in Belfast, is a stronger commitment to cycling infrastructure by Roads Service. Amelia Street is perfect for a mandatory cycle lane, bounded by a kerb rather than an unbroken line, to ensure cyclists have a safe journey at all times.
The current blanket approach to creating advisory cycle lanes in Belfast is an easy option, yet not effective in providing dedicated space for cyclists. Shiny new cycle lanes might lead politicians and road users to conclude that Roads Service is pro-cycling. While this may be true for the great work coming out of the cycling team, mainstream Roads Service appears to retains primacy for road layout decisions and there is significant cultural resistance.
Better enforcement by traffic wardens can make the most significant difference to the experience of cycling in Belfast, as this video shows. I've made a related argument that Belfast traffic wardens can be high visibility champions for cycling by taking to bikes themselves. This has added benefit in greater and faster area coverage, and naturally bringing cycle lane blocking into sharper focus and higher priority.
Cycling in Belfast leaves you with the impression that you are a minor annoyance, barely tolerated at certain times of the day. What Belfast really needs is more cycling space created ONLY for cyclists. Amelia Street is the starting point.