Over November and December 2015, Northern Ireland Greenways surveyed cycling facilities at the 40 chain supermarkets in Belfast. Asda's 2 major (grocery) supermarkets in the city were included.

This system means we can independently rate any supermarket against a consistent benchmark out of 7 points for the quality of facilities laid on for customers choosing to arrive by bicycle.  A score of 6-7 would identify a store offering adequate to good facilities. So how does each Asda store in Belfast rate for cycling facilities?
---
Asda Shore Road

Asda Shore Road gets 5.5 points out of 7, one of the best scores in Belfast – but it's held back by a minor detail. 10 racks of half decent quality (why so close to the wall?) are within a wee dander of the entrance, and covered by CCTV.
BUT while staff and customers have a handy sheltered smoking area in the background, the second row of bike racks are open to the elements, so just a half point here. Nearly spot on.
---
Asda Westwood

No racks.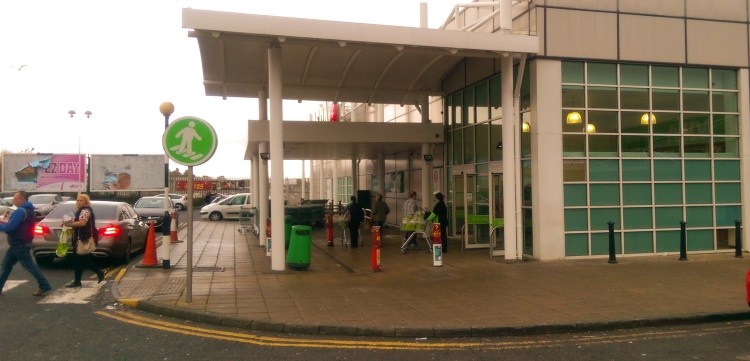 This is a shame for such a big store, and Sainsbury's just up the road is doing such a good job too..
---
What Asda say..
No comments received.
---
Verdict

The smallest sample of stores in the survey so it's one good, one bad giving an average score of 2.75 out of 7. Shore Road lifts Asda above most other chains in Belfast and helps put North Belfast (unusually) on the cycling map of the city. Replicate (or even better, surpass) those efforts up in Andytown and Asda can cruise towards the top next year.
---
How does Asda rank for bicycle facilities against other supermarkets in Belfast in 2015? Find out in Store Wars VII: The Cycling Revolution Awakens..
Note: Visits to each of the 40 supermarkets in Belfast were made in November and December 2015 and facilities (or lack of) were recorded as observed at the time – NI Greenways is happy to correct any errors identified in this survey.