BELFAST TO HOLYWOOD GREENWAY
"Sydenham Greenway"
A potential new community greenway for Belfast, linking the existing Comber Greenway and Connswater Community Greenway with the North Down Coastal Path at Holywood – and importantly, George Best Belfast City Airport and the Harbour Estate – providing a vast range of viable commuting, shopping and leisure alternatives to private car travel.
| | |
| --- | --- |
| Length | 4 kilometres |
| Estimate | £1.6 million |
| Timescale | 2026 to 2040 |
| Type | New greenway idea |
| Border area | No |
| Councils | Belfast City Council |
| | Ards and North Down Borough Council |
| Major stakeholder | Belfast Harbour |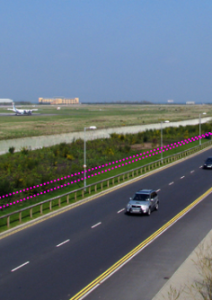 "The North Down Coastal Path, and the surrounding local economy, is one major project away from fulfilling its tourism and leisure potential. A new high quality traffic-free link is needed to address the current disconnection from Belfast.

This will integrate with the growing urban greenway network, encourage Belfast residents to visit North Down more regularly, and open up a new seam of tourism opportunities.

Considering the current options for route development, an intriguing new greenway project is proposed."
EXPLORE THE POTENTIAL ROUTE
GREENWAY PROJECTS WHICH INTERSECT
A developing system of urban cycleways to link every part of the city and the surrounding greenway route network.
A popular 11km route developed by Sustrans along the old Belfast to Comber railway line opened in 2008 – the original Northern Ireland greenway.
A standard-setting 9km linear urban park in East Belfast developed along the Connswater River incorporating major flood alleviation works.
The 16km traffic-free North Down Coastal Path winding through Holywood, Cultra, Helen's Bay and Crawfordsburn into Bangor.
Successful greenway projects don't happen just because someone made a webpage – those that actually get built are proposals driven by the passion of local people.
Left to their own devices, planners will opt for keeping the A2 Sydenham Bypass as the main route for active travel between Belfast and Holywood – which is ridiculous.
An urban/residential greenway serving the immediate needs of the local community, and opening up active travel possibilities for the whole city to use, is worth developing instead – the Connswater Community Greenway shows what is possible.
If a park and ride site at Tillysburn is to go ahead, it should not happen without this important active transport investment tied to it.
Make a real difference right now by:
signing the petition opposite and sharing it through your social networks
making your voice heard in the Tillysburn Park and Ride consultation
Whether you support, oppose or are neutral on the park and ride development, register your support and the need for a greenway link as part of your response and you'll ensure the Sydenham Greenway must be given consideration as part of the planning process.
If you have an update to share, a story to tell about the history of the area or want to be part of the future of the Belfast to Holywood Greenway, please get in contact.