With the Gasworks Bridge back on the agenda for Belfast, regular cycling may become a serious transport option for many people in southeast Belfast. Yet the current barriers to cycling must be overcome to extract maximum benefit for the people of Belfast. The Ravenhill Road may become the focal point to set a new Belfast standard for designing roads for people, not vehicles. By looking at best practice from the Netherlands, a simple plan can be set out to revolutionise the experience of cycling in Belfast, and provide the backbone for a new high density active travel network.
Ravenhill is a 'B' road which suffers from being the most direct route between the northern and southern sections of Belfast's ring road. Yet it's also a narrow, leafy residential road, with two major parks, large schools and a handful of locally-focused businesses – a quiet backwater in contrast to the bustling parallel Ormeau and Cregagh Roads.
It also runs through the highest density of cycling commuters in Northern Ireland, with around 5% of residents from Ormeau to Cregagh choosing to regularly bike to work. Yet there is little evidence of a wider cycling culture here outside of the typical commuter profile. The current advisory cycle lanes send out the message that cycling is for commuters only, and contributes to the unhealthy gender profile of Belfast cyclists.
To open up journeys to everyone – young and old, men and women, families, shopping trips, leisure rides, all day and night – needs a tried and tested simple solution, dutch-style separation. If your instinct says this is too radical for Belfast, you might be surprised to know an example of high quality separation is just 200 metres away.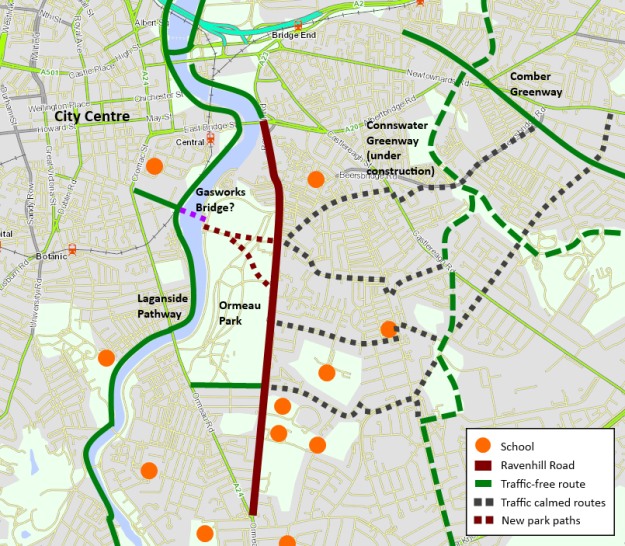 Planning for the Ravenhill Road to become an important link in many journeys between suburbs and centre, and between parallel greenways, requires 3 simple steps.
Separation
Whether through lack of funding, commitment or vision, Belfast's cycle network has been allowed to develop as a series of disjointed on-road lanes. Worse still, they are designed around the needs of motor traffic – exceptional at keeping cyclists out of the way of cars, vans and trucks in higher speed sections where conflict isn't necessarily an issue, and removed when cyclists' needs are greatest, at junctions and roundabouts.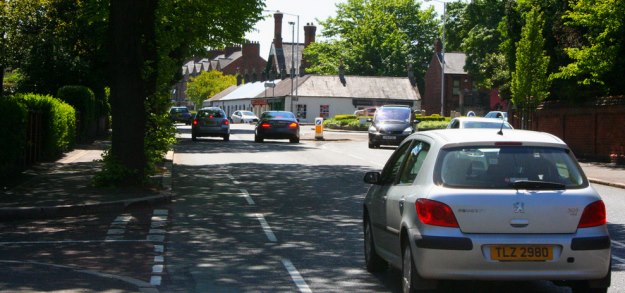 Predictably the cycle lanes disappear at the approach to the Ormeau Road roundabout. Less forgivable is the disappearance at the other end of the Ravenhill Road, solely to cater for traffic using a major city rat run at My Lady's Road (see video).
The issues with advisory cycle lanes in Belfast are well known to readers of this blog, and the Ravenhill Road has featured on the Reclaim Belfast's Cycle Lanes two surveys. Each side of the road has an urban clearway for 1.5 hours each weekday, which means for 96% of the week parking is perfectly legal; these spaces cannot truthfully be described as "cycle lanes".
The following video shows how the quiet adjacent Park Road has a high quality separate lane, while the busier Ravenhill Road has much poorer facilities in comparison.
Paint on the road will not encourage parents to let children ride to school alone, parents to take small kids to nursery on bikes, those too afraid to cycle into the city centre to work, or for short trips to the shops. This approach has delivered little more than 2% of traffic on bikes across Belfast. It's time to take a bold step – redesign a major road with fully separate cycling infrastructure.
Redesigning Ravenhill Road
The current road layout is quite standard for Belfast, with:
a fairly consistent 16.5m span
roomy footpaths
on-road advisory cycle lanes
2 traffic running lanes
a central island lane running almost the full length to aide turning movements

Taking inspiration from Haarlem in the Netherlands, a reworked configuration would see the central island lane removed. Two running lanes are retained at approximately 3 metres each way, with 2 metre footpaths and 2 metre cycle tracks with a standard 0.5 metre kerb separation from the carriageway.
"Channelisation" on urban 30mph streets – another lazy enemy of Belfast's cycling revolution https://t.co/iRa78lUtSs pic.twitter.com/eye5mM1bOC

— NI Greenways (@nigreenways) December 14, 2014
Separation benefits cyclist not just through actual safety and the perception of safety, but also removes limitations of being part of traffic. Short side road to side road trips are possible on a two-way cycle track on either side of the road, allowing many children to cycle to school without having to cross a road to join traffic.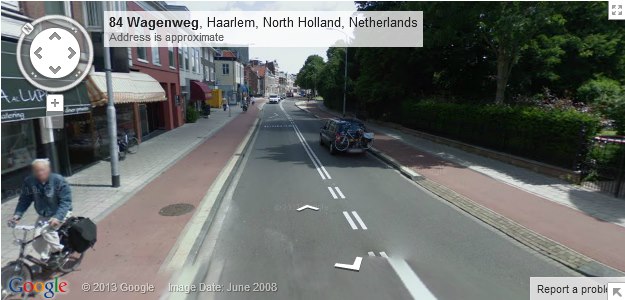 What about the tough places where the cycle lanes disappear? Again the Netherlands have decades of experience when it comes to junction design. The Ormeau Road roundabout may be jealously guarded by road engineers, but the Park Road/Ravenhill Park junction is ripe for a Dutch-style experiment, and the Ormeau Embankment junction could benefit from a southbound pass-through lane and better separation on the other approaches.
[youtube=http://www.youtube.com/watch?v=FlApbxLz6pA&w=640&h=360]
Traffic calming
Ravenhill Road
The loss of right hand turning boxes may be the most controversial suggestion, but consider how Roads Service balance the needs of all roads users with this central island. Running between Ravenhill Avenue and Rosetta Park (1.8km) there are 22 turning spaces for vehicles, compared to just 7 pedestrian crossings, and only two of those give pedestrian priority (pelican crossings). Vehicle needs and safety trumping those of vulnerable road users.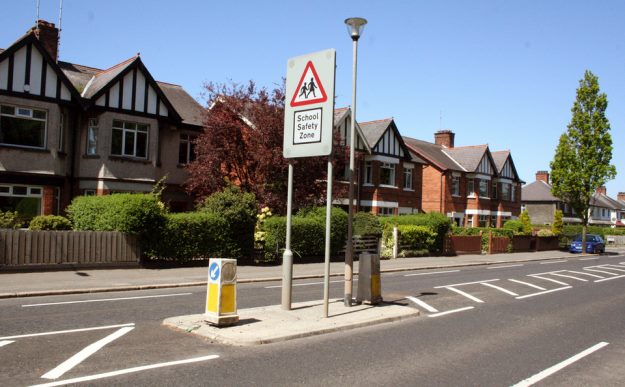 For the majority of desire lines (at more than 20 side roads and paths) there is no direct crossing, so people are forced to wait for a break in the traffic to cross, or make a long diversion.
Creating a series of zebra crossings on the redesigned road to cater for more pedestrians and cyclist crossing is essential. The needs of through-traffic from the south of Belfast and beyond to the city centre must be placed second to the needs of local users, especially those walking or cycling the school run.
In rural areas the right hand turning box is primarily a safety feature. In a 30mph urban/residential road it is there to enable the efficient flow of traffic around turning cars. It's time to consider whether high average traffic speed should be the goal of urban road design, especially if it suppresses other transport needs and more liveable streets.
Side streets
The success of cycling in the Netherlands isn't solely about separation. There is the understanding and empathy fostered by virtually the entire population cycling, and sustainable safety principles governing all aspects of design, not least at junctions and side roads.
Looking at the example below, cycle tracks and footpaths continue across side roads, giving priority to the more vulnerable users, but also a strong visual cue that you're entering a different classification of road, and the sense of needing to adjust speed.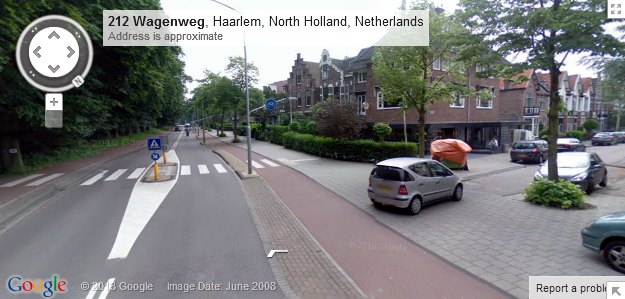 You might think road regulations won't allow for such a design in Northern Ireland; you may not be right.
The rat run at My Lady's Road is a blog post in itself for another time, and London Road and Ravenhill Avenue don't suffer from particularly heavy traffic flows – traditional calming methods could be easily deployed to discourage through-traffic.
Conall McDevitt's 20mph Bill will be debated in the Assembly in the Autumn, and is understood not to be supported by the Department for Regional Development. Blanket 20mph limits on the residential streets here would be a great boost to active travel.
Ravenhill Park
To develop a high quality east-west cycling corridor with Ravenhill Road as the axis requires one major piece of road management. Linking the Connswater Greenway at Cregagh to the Ormeau Park and Lagan Towpath is possible by creating a traffic-calmed route along Ravenhill Park.
At the moment Ravenhill Park is one-way going west, which makes it a fast popular rat run route for traffic trying to reach the Ormeau Road from East Belfast. It's also an unnecessary barrier to eastbound cycling journeys using the Park Road cycle lane – even (illegal) footpath cycling against the traffic isn't possible due to high kerbs.
A simple, if radical, solution would be making Ravenhill Park and Onslow Parade 2-way again, but placing a barrier to vehicles beside Ravenhill Rugby Ground – removing all through traffic, calming speeds to solely residential users, and opening a new cycling corridor. Retractable bollards would be an ideal solution to allow fully flexible traffic management for Ulster Rugby matches and events at the new Ravenhill Rugby Ground. The Onslow side has a natural cul-de-sac turning circle at the stadium, and the nearby Ravenhill Park Gardens junction could provide a similar function on the park side.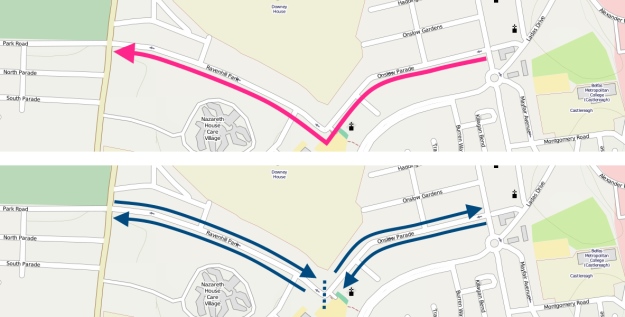 Eastbound rat run traffic is unlikely to divert to Ardenlee Avenue, reverting to the more suitable Mount Merrion corridor. Westbound traffic wishing to use Park Road and Ardenlee as a cut-through from Ormeau to Cregagh can be discouraged by the lack of right turning boxes, changing the design of Ardenlee to a more residential style with raised entrances and cycle track priority, and further traffic calming.
Ormeau Park cycleways
Ormeau Park actually creates a minor barrier to the success of the future Gasworks Bridge. To be a truly transformative active transport corridor, new cycleways across the park, with lighting for the winter months, would be needed to for the most efficient journeys.
The lack of a bridge over the Lagan means there are no direct 'desire line' paths going east-west across the park. The 'cage gate' entrances designed to discourage cycling and prevent motorcycles accessing the park must be replaced with a better solution.
[youtube=http://www.youtube.com/watch?v=hZEum3RpJ8I&w=640&h=360]
Belfast City Council's parks opening hours (7.30am in the morning until sunset, as early as 5pm in the winter) would also cut into a large portion of homeward 'rush hour' and the potential to drive citybound evening economy journeys. Diverting people around the park would make the corridor and cycling less attractive. Ormeau Park would need a new 6am to midnight year-round policy.
Re-imagine Belfast and demand better
The potential Gasworks Bridge opens a range of possibilities and the chance for new thinking on how to move people around Belfast. Our streets are dominated by vehicles, but this is as much down to road design as to personal preference. Ideas and discussion are important to changing mindsets and building the space for active travel. In a city with rising congestion, falling car ownership, troubling levels of obesity and a more dangerous environment for cycling, tacking little bits of advisory cycle lane onto intimidating roads is no longer an acceptable waste use of public money.
Northern Ireland must learn from and implement best practice from the Netherlands for how to develop the safest and most attractive cycling space. This is how London is approaching its cycling vision, and Belfast realistically has an opportunity to lead the United Kingdom in cycling uptake, given the natural advantages for cycling. Belfast Bike Hire, the Giro D'Italia, rising commuter levels, the Gasworks Bridge – the stars are aligning for something truly special to happen in our city.
Give the people safe space to cycle and they will choose to do so in droves. Continue to pretend that Belfast's roads are fit to promote as an genuine active travel option and we will all lose.