ANTRIM TO DRAPERSTOWN GREENWAY
"O'Neill's Greenway"
A potential greenway connection out of Antrim through to Randalstown, joining the former railway at the existing viaduct, then along the north shore of Lough Neagh and into Toome.
From here, a river crossing over the Bann, takes the route around to Magherafelt and through Desertmartin into Draperstown.
| | |
| --- | --- |
| Length | 45 kilometres |
| Estimate | £6.8 million |
| Timescale | 2026 to 2040 |
| Type | Former railway |
| Title | Belfast and Northern Counties Railway (NCC) |
| Border area | No |
| Councils | Antrim and Newtownabbey Borough Council |
| | Mid Ulster District Council |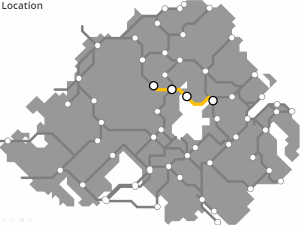 EXPLORE THE HISTORIC ROUTE
GREENWAY PROJECTS WHICH INTERSECT
A 15km route along the Six Mile Water valley between the towns of Doagh and Antrim.
Successful greenway projects are driven by the passion of local people. If you have an update to share, a story to tell about the history of the route or future of the Antrim to Draperstown Greenway, or if you want to submit a picture or video to this page, please get in contact.